Barbara Walters' Jewels Head to Auction
The Bonhams New York sale will feature a Harry Winston diamond ring and several bespoke JAR earrings.
New York—Barbara Walters' jewelry collection is heading to auction at Bonhams New York next month.
The auction house will host the
"Barbara Walters: American Icon"
sale on Nov. 6 in New York, offering various items from her $8 million estate, including jewelry, art, furniture, personal items, and more from her Upper East Side home where she lived for three decades.
Walters, who died last year, was a trailblazer for women in journalism. She was the first female co-host of a U.S. network news program on NBC's "Today" show and the first female network news anchor on ABC Evening News.
Her list of interviewees includes every U.S. President and first lady from Richard and Pat Nixon to Barack and Michelle Obama, cultural icons like Katharine Hepburn, Elizabeth Taylor, and Oprah Winfrey, royalty like then Prince Charles (now King Charles III), and international political figures like Fidel Castro. 
The broadcast legend's 120-piece collection includes "everything one could want in a jewelry collection," said Jean Ghika, Bonhams global head of jewelry, including jewels by JAR and pieces from renowned American designers like Harry Winston, Angela Cummings, and Seaman Schepps.
"Walters clearly had a genuine love for jewelry, and it reflected a large part of her identity, acting as a form of armor and feminine adornment in a male-dominated world," said Ghika.
"She lovingly wore all of her pieces regularly, both privately and in her professional capacity where she used the language of jewelry as a signifier. Her jewels of choice were big, bold, and audacious, which suited her personality. She wasn't afraid to mix costume pieces with real gemstones – it wasn't about value but the style and look, reminiscent of Coco Chanel's ethos. For Barbara Walters, jewelry made her feel dressed."
A star lot of the auction is Walter's Harry Winston platinum diamond engagement ring from television producer Merv Adelson.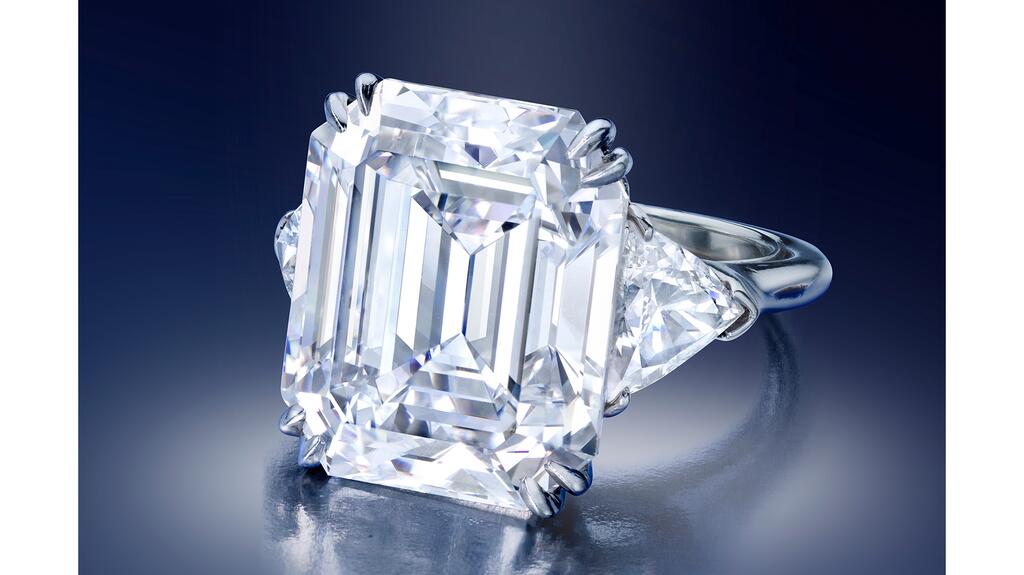 The pair were married in 1981, divorced by 1984, then were remarried from 1986 to 1992.
The emerald-cut diamond of D color and VVS2 clarity weighs 13.84 carats with trilliant-cut diamond side stones weighing 1.46 carats.
The ring has an auction estimate of $600,000 to $900,000.
Walters wore the ring to many events, said Bonhams, including in 1985 to honor the American GI liberators of World War II at the Century Plaza Hotel in Los Angeles.
Also up for auction is an 18-karat white gold and diamond pendant necklace weighing 1.92 carats, hand-crafted for Walters by Harry Winston.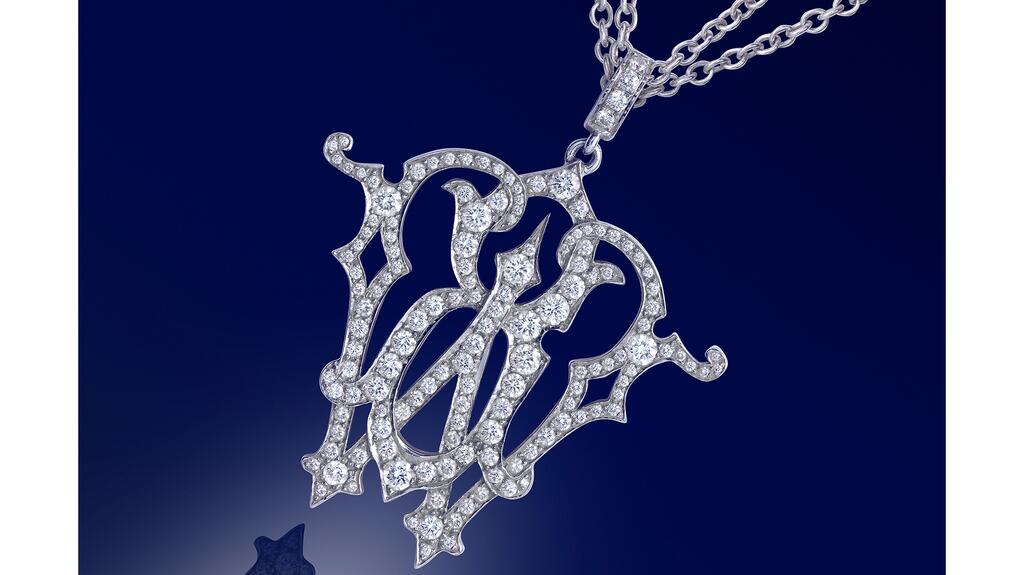 The pavé-set diamond monogram "BW" necklace is on a cable-link chain. The auction estimate is $4,000 to $7,000.
"My mother was a devoted journalist, loyal friend, and loving mother. Our home was always filled with interesting and beautiful reminders of her incredible, diverse life," said Walters' daughter, Jacqueline Danforth. "I know she would find comfort that these pieces she cherished so much will be enjoyed and cared for."
Walters also owned a number of pieces by JAR, or Joel Arthur Rosenthal, who Bonhams calls "the Faberge of our time."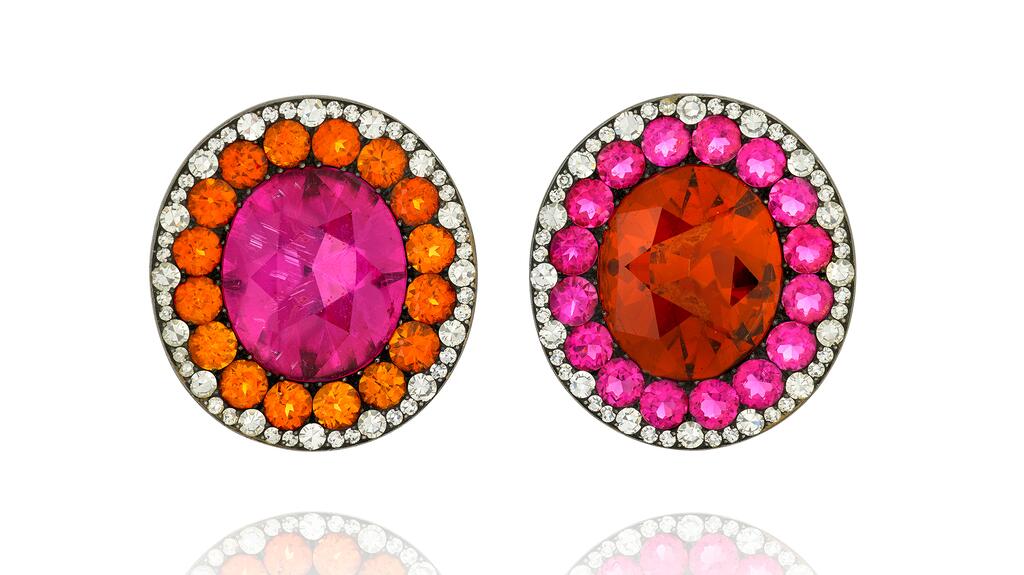 These bespoke JAR earrings feature alternating centers of an oval-shaped spessartite garnet and rubellite tourmaline, surrounded by garnets and tourmalines and accented by round brilliant-cut diamonds. The estimate is $200,000 to $300,000.
These JAR paisley design earrings, also bespoke, were a personal favorite of Walters, said Bonhams. Set with peridot, tourmaline, sapphire, and diamonds, the pair is estimated to sell for $180,000 to $250,000.
Another pair of bespoke gold JAR earrings feature a drop-shaped motif with an oval-shaped tourmaline at the center surrounded by round-cut yellow sapphires and diamonds, weighing 2.75 carats. The estimate is $150,000 to $250,000.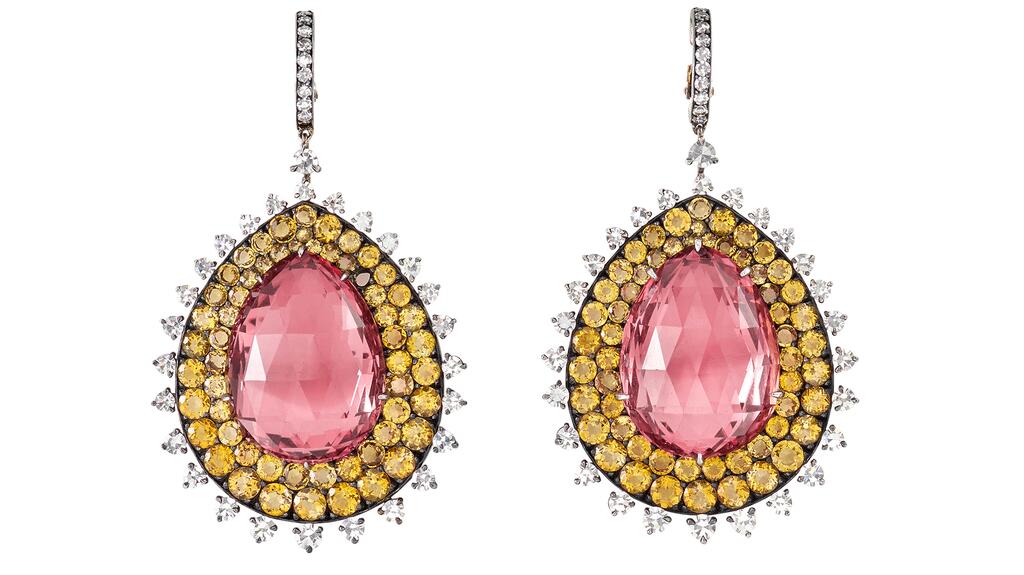 Other auction highlights include a Belle Époque diamond bow brooch set with old-cut diamonds weighing approximately 11 carats. It has an estimate of $15,000 to $20,000.

Walters wore this piece to several occasions, including to Sir Elton John's 60th birthday party held at Cathedral Church of St. John the Divine in New York in 2007. 


 Related stories will be right here … 
Another highlight is a ruby and diamond floral brooch set with invisibly set square-cut rubies and round brilliant-cut diamonds. It has an estimate of $12,000 to $18,000.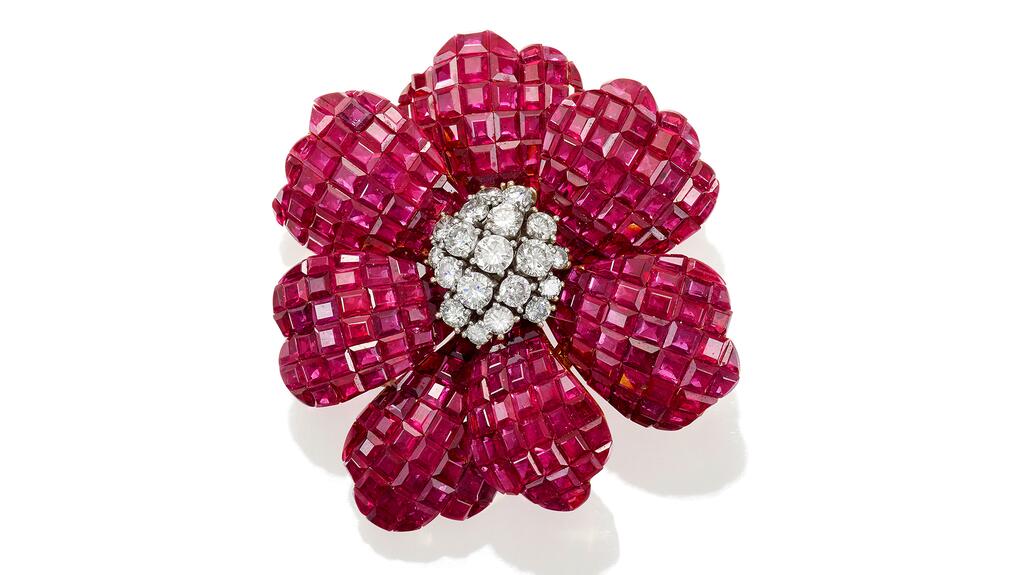 She wore this jewel to the Eighth Annual Night of Stars Fashion Festival at the Waldorf Astoria in New York in 1991.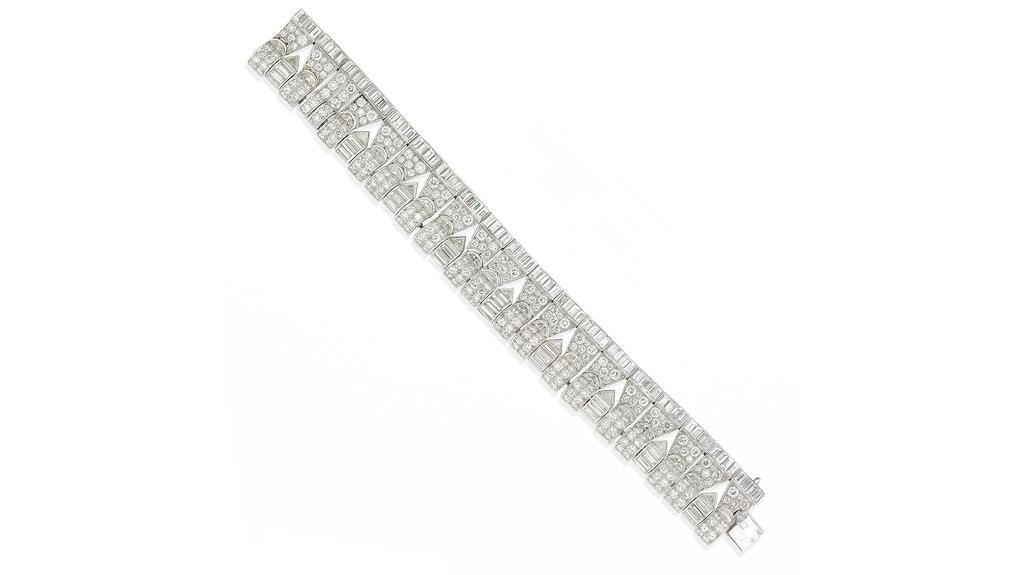 This
Ostertag
diamond bracelet has an openwork design, set with old-cut diamonds. The estimate is $40,000 to $70,000.
"Barbara Walters was a remarkable woman who conquered many milestones throughout her illustrious life," said Bruno Vinciguerra, CEO of Bonhams and the Bonhams Network. 
"We are privileged to present her collection and recognize the immense importance of preserving her legacy, ensuring that her achievements continue to inspire and captivate generations to come."
Walters received numerous awards for her achievements, including 11 Emmy Awards, an induction into the Academy of Television Arts and Sciences' Hall of Fame (1990), a Lifetime Achievement Award from the National Academy of Television Arts and Sciences (2000), and a star on the Hollywood Walk of Fame (2007).
More on Auctions