Meet the Brand Making Lab-Grown Diamonds Cool
Minty Diamonds stands out for its fashion-forward collection.
Artists must learn the rules of their trade before they subvert them.  
Pablo Picasso and Jackson Pollack first learned traditional painting techniques before they pioneered their signature abstract approaches to the medium.   
The same holds true for many professions, diamond dealing included.  
Amir Sidis-Simkhai
isn't a tech entrepreneur with dreams of disrupting the traditional jewelry industry model with his lab-grown diamond and gemstone jewelry line,
Minty Diamonds. 
Rather, he's a fourth-generation industry member with decades of natural diamond expertise.  
Sidis-Simkhai's great-grandfather was the first to enter the jewelry world, paving the way for his grandfather, who specialized in diamonds. Sidis-Simkhai's father is also a diamond dealer and his mother has her own jewelry brand.  
The Israeli-born Sidis-Simkhai initially pursued law school before developing an interest in the family trade.  
In the beginning of his diamond career he traveled extensively, buying diamonds in India and South Africa, with Israel as the ideal geographic base between markets including New York, Antwerp, and Hong Kong.  
Eventually tiring of the travel, he joined his father's company and set up shop in New York City where he raises his four children—two sets of twins.  
It's from this insider's perspective that Sidis-Simkhai approaches lab-grown diamonds.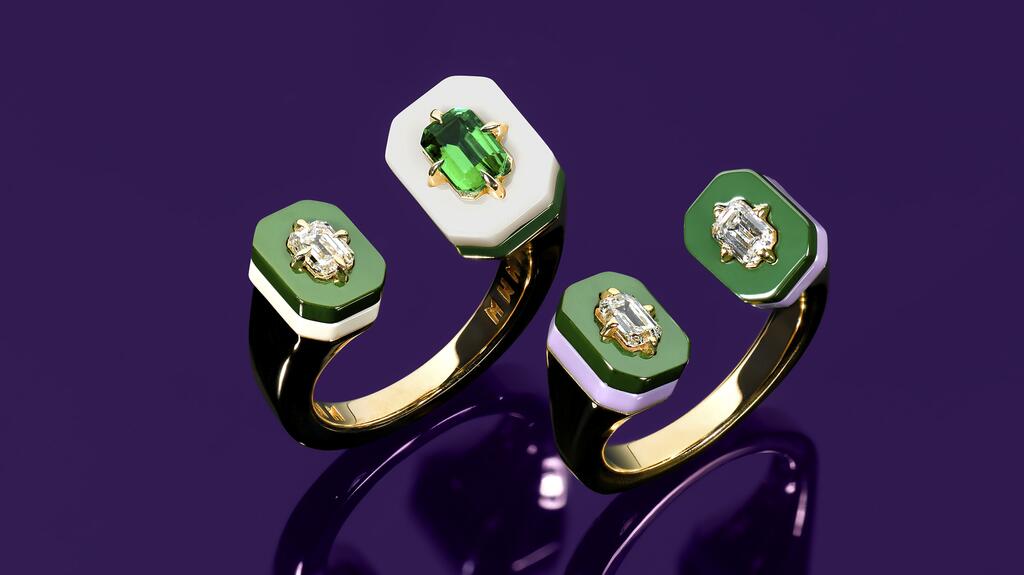 "In the beginning, people were very scared of lab-grown diamonds," he recalls, "and there were people who were intrigued by it." 
He was in the latter camp, curious about the possibilities of this new slice of the market, watching as production methods were refined and colors improved to the point that, "now, perfect stones come out." 
While diamond dealers and retailers initially were polarized over the topic, Sidis-Simkhai notes that today, most simply want to offer their client what they want. 
"I started offering [lab-grown diamonds] as an option to my natural diamond customers who wanted something bigger," he says, noting that clients had started asking about them.  
While many people remain opposed to the material, Sidis-Simkhai's family's reputation in the diamond industry made people trust him as he began working with lab-grown stones and sought to forge his own path.  
"I didn't want to be like everyone else," he says.  
Natural diamonds still constitute the majority of Sidis-Simkhai's business.  His vision for lab-grown diamonds and other gems isn't simply as another center stone option for a diamond engagement ring. 
He has bigger ideas in mind. For him, lab-grown diamonds represent his "obsession with materials." 
They could be part of a new language of jewelry, he surmises, in which core concepts are the same but expressed in unique ways.  
By chance, Sidis-Simkhai met an up-and-coming jewelry designer—who remains quietly and anonymously behind the scenes in their work for Minty Diamonds—who shares his passion for reimagining classic styles.  
"We don't want to reinvent the wheel," Sidis-Simkhai says of their shared design inclinations, "but we want to look at [jewelry styles] a different way." 
The two began to experiment with ceramic, sourcing a "jewelry-grade" zirconium dioxide used for high-end watches that is produced in northern Europe and analyzing how it looked when different colors were layered.  
After years of experimentation, the building blocks of their brand were laid and Minty Diamonds was born.  
Fine jewelry staples, like a tennis bracelet  and eternity band, take on a new personality with lab-grown diamonds set in a two-layer ceramic bezel. The lab-grown stones have a practical element in these designs too, Sidis-Simkhai explains.  
D- to F- color, VS clarity diamonds are necessary to pop against the chocolate brown, dusky navy blue, hunter green, and light pink ceramic shades. Natural diamonds of the same clarity and color grades would cost significantly more.  
The ceramic colors lend Minty Diamonds a playful element but are restrained enough to feel grown up, rather than ultra-trendy. For some, the ceramic layers call to mind a layered cake, while for Sidis-Simkhai they evoke luxurious Italian
Marchesi
candies.  
"We wanted each color to pop [by pairing a dark with a light]," he says. "When they are layered in a stack, it gives the colors purpose, almost." 
So far, the Minty Diamond customer has proved to span a variety of ages and genders.  
"It's very current and different without being crazy," says Sidis-Simkhai of the collection's widespread popularity. "You don't have to make a big statement by wearing it. It ends up appealing to everyone." 
The years of experimentation and refinement have crystallized the production process. Ceramic and recycled gold is set with lab-grown diamonds from Israel and the United States. There is some assembly in Italy—for the tennis bracelet, for example—and some assembly and finishing in New York.  
Minty Diamonds officially launched in 2022 and found its first retail home this year at
Moda Operandi
. For that collection, Sidis-Simkhai and his design partner ventured into lab-grown sapphires and emeralds, as well as an ivory-colored ceramic that is exclusive to Moda.  
The collection has expanded to two-stone rings and huggie hoop earrings, among other styles.  
Minty doesn't adhere to a biannual collection schedule but intends to expand its offerings annually.  
The excitement of envisioning the possibilities of lab-grown diamonds keeps Sidis-Simkhai invigorated for the future.  
"Now we're closer to this idea where you could make an entire ring shank out of a [lab-grown] diamond; you can use lab-growns as different parts that you don't usually use for [natural] diamonds in jewelry," he says. 
 Related stories will be right here … 
More on Editors