Looking Ahead: 4 Factors That Could Shape Lab-Grown Diamonds' Future
Growing supply and falling prices likely will make differentiation a necessity and a reality, according to analyst Paul Zimnisky.
New York—Lab-grown diamonds are the category currently sparking the most conversation in the industry, from the
debate over stocking the stones
, to the questions of
who is buying them
, and who might be selling them
in the near future
.
But in his latest report, industry analyst Paul Zimnisky is taking a more long-term view of the market, telling National Jeweler, "I think the key is to really take a step back and [ask], where is this going to go longer term?"
Published in early August, "What a Mature Lab-Grown Diamond Jewelry Market Could Look Like" outlines the four primary factors Zimnisky believes could shape the lab-grown diamond jewelry market in the next 10 to 15 years.
The first is
limitless supply
.
According to Zimnisky's data, the volume of rough diamonds grown for use in jewelry really began to take off around 2018, the same year De Beers Group
launched its lab-grown diamond jewelry brand
, Lightbox.
He predicts production will continue to climb through the end of the decade, nearing 25 million carats (excluding melee) by 2030, a substantial increase for the category but still just a fraction of global natural diamond production, which reached
120 million carats last year
.
China and India, where multiple longtime manufacturers of natural diamonds have gotten into the lab-grown business, are expected to be the top producers.
As production of lab-grown diamonds continues to increase, so will the quality of the stones, which lays the groundwork for the second characteristic Zimnisky believes will shape a mature lab-grown diamond market—the stones likely will be
high quality across the board
. 
The development, the industry analyst contends, could render the grading of lab-grown diamonds unnecessary.
 Related stories will be right here … 

The lack of grading reports, coupled with an increased supply, will further drive down the price of lab-grown diamonds, which already are significantly cheaper than natural diamonds. 

According to Zimnisky, in mid-2018, a generic (non-branded) 1-carat, G VS1 lab-grown diamond retailed for $3,625, compared with $6,600 for a natural diamond of the same size and quality. 

Today, that same lab-grown diamond retails for $1,615 while the natural is $6,705. 


"Longer-term, it will likely be higher-priced lab-grown diamond jewelry that competes the most with natural diamonds." — Paul Zimnisky, industry analyst
The expectation that prices will continue to drop sets the stage for the final two factors to come into play—branding and proprietary design, and custom shapes and colors.
There are existing jewelry companies positioned to pull off a "luxurious" version of lab-grown diamonds by leveraging existing brand value, with Zimnisky noting in his report, "A product does not necessarily need to be limited by nature for it to be rare or luxurious."
He points to the Hermès Birkin bag as an example.
Hermès deliberately limits the supply to drive up value, and it works, with the coveted handbag trading hands for tens of thousands of dollars, at least, on the secondhand market.
"Theoretically, if Hermès came out with an exclusive, limited-edition lab-grown diamond ring, it would likely be perceived by consumers as an Hermès ring first, and a lab-grown diamond ring second," Zimnisky writes.
"Longer-term, it will likely be higher-priced lab-grown diamond jewelry that competes the most with natural diamonds."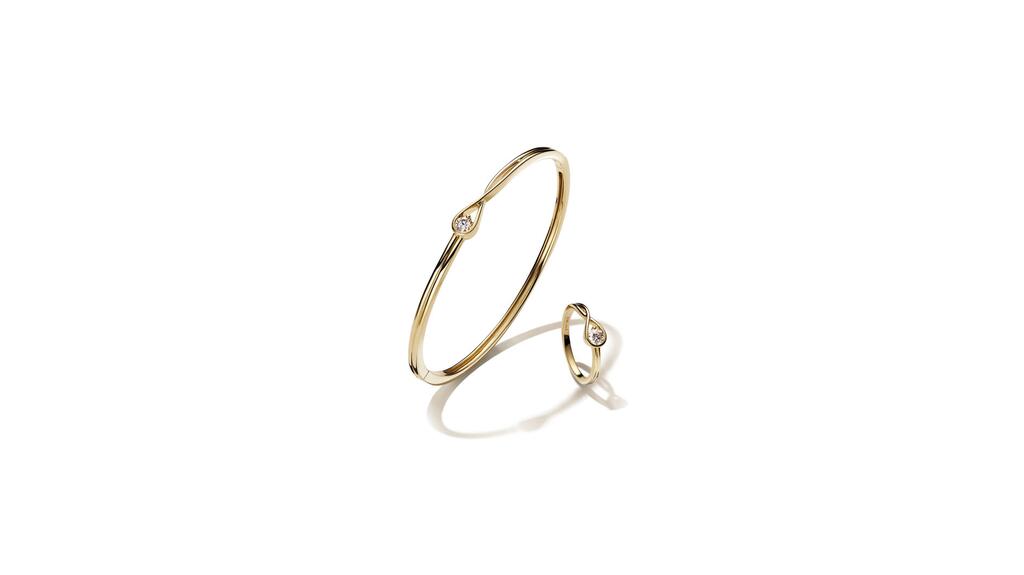 He does, however, see the opportunity for a "bridge" category of lab-grown diamond jewelry to emerge, lines that are lower-priced but affiliated with "premium" brands.
He points to "Pandora Brilliance," the popular charm brand's lab-grown diamond line that
arrived in the United States late last month
, as a current example.
Tested in the U.K. and proven to be more popular for gift-giving than for self-purchase, the line seems poised to take off in the U.S., with 33 styles to choose from in sterling silver or 14-karat gold and prices starting at $300.
"Pandora will be successful," Zimnisky said. "They already have the right customer, distribution lined up, the right price point. It fits their business model better than anyone [else's], in my opinion." 
Like branding, the fourth factor expected to shape the future of the lab-grown market—custom shapes and colors—will be a path diamond growers pursue in order to set themselves apart as prices fall and quality equalizes across the board.
Growers will take advantage of the stones' lower prices to experiment in ways not possible or financially feasible with natural diamonds, Zimnisky said.
Indeed, some shape and color experimentation has popped up in the market already.
In 2018, Apple's Jony Ive and design partner Marc Newson partnered with diamond grower Diamond Foundry in 2018 to create a
ring entirely made out of diamond
, while Swarovski rolled out of a line of
imaginatively named lab-grown diamonds in a wide variety of colors
in early 2020. 
"People will eventually be able to go to a website and get a diamond cut into whatever shape they want," Zimnisky predicts, whether it's a Star of David, a cross, or a cat.
"What a Mature Lab-Grown Diamond Jewelry Market Could Look Like" is available in its entirety on
Zimnisky's website
.
More on Lab-Grown