Citizen Launches the Tsuki-Yomi A-T Timepiece
According to the watchmaker, it features the first light-powered atomic timekeeping moon phase movement.
New York—Thirty years ago, Citizen launched its first atomic timekeeping watch. 

To celebrate, the watchmaker has just released three new models that feature what it says is the market's first fully analog moon phase movement for light-powered watches. 

They're called the "Tsuki-yomi A-T" collection, which translates to "reading the moon" and reference the ancient Japanese moon god, Citizen said. 

Each model has the Eco-Drive Cal. H874 movement. The watch calculates the phase of the moon each day by receiving signals from multi-band radio transmitters, a process that relies on a mathematical formula Citizen has developed called "Luna Program." 

A window at the six o'clock position displays the moon phase, automatically adjusting it per the signals the watch receives.  


 Related stories will be right here … 
The technology also enables a "North-South" shift, meaning the display changes to match the moon phase view depending on if the wearer is in the Northern or Southern hemisphere. 
The Tuski-yomi A-T requires no manual adjustment for the moon phase. 
The watches feature Citizen's "Super Titanium," meaning titanium that is processed via the company's proprietary surface-hardening technology called Duractect to create a scratch-resistant surface that is five times harder and 40 percent lighter than stainless steel.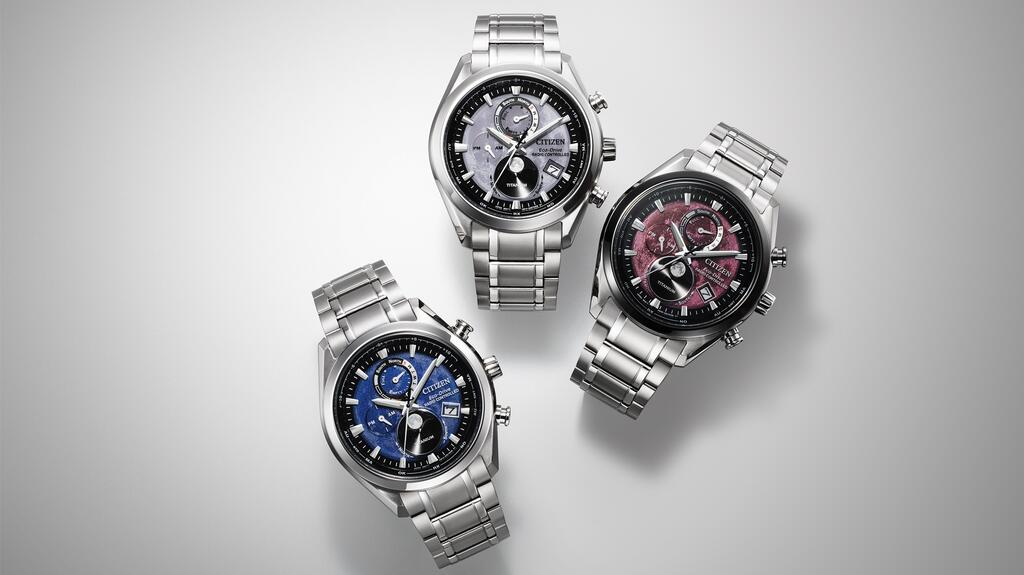 Each model has a Super Titanium 43 mm case and bracelet. 
Ref. BY1010-57L has a deep blue dial, Ref. BY1010-57H has a silver dial, and Ref. BY1018-55X has a "blood moon" or magenta dial and black Duractect DCL bezel. 
The new Eco-Drive Cal. H874 offers world time, perpetual calendar technology and 100 meters of water resistance. 
Available now
, each model is priced at $850.   
More on Watches