Newman's Own Rolex Daytonas Sell for $1.1M Each at Sotheby's
Plus, a Patek Philippe Ref. 1518 "Pink-on-Pink" goes for $3.9 million at the "Important Watches" auction.
New York—Two Rolex Daytona watches that belonged to Paul Newman sold for more than $1 million each at Sotheby's "Important Watches" auction on Friday.
Sotheby's said three bidders battled it out for four minutes for Newman's Rolex Ref. 16520 "Zenith Daytona," a stainless steel watch the Oscar-winning actor and race car driver received in 1995 after his team won the "Rolex 24 at Daytona," a 24-hour endurance race held annually at the Daytona International Speedway in Florida.
At 70, he was the oldest driver to ever win the race, a record that stands today.
The winning bidder paid $1.1 million for the watch (including buyer's premium), with the timepiece's hammer price falling within its
pre-sale estimated range of $500,000 to $1 million.
Four bidders were after another Rolex Daytona Newman owned, a Ref. 116519 that was a gift from his wife, Oscar-winner Joanne Woodward.
The circa 2006 white gold automatic chronograph with black dial was the last of three known Rolexes Woodward gave as gifts to her husband and was the only gold Daytona Newman ever owned, Sotheby's said.
Like Newman's
record-setting Rolex
that Phillips sold in 2017, the caseback features an inscription from his longtime love. It reads: "Drive Very Slowly Joanne," and can be seen below.
The watch also sold for $1.1 million (including buyer's premium) against a pre-sale estimate of $500,000 to $1.1 million.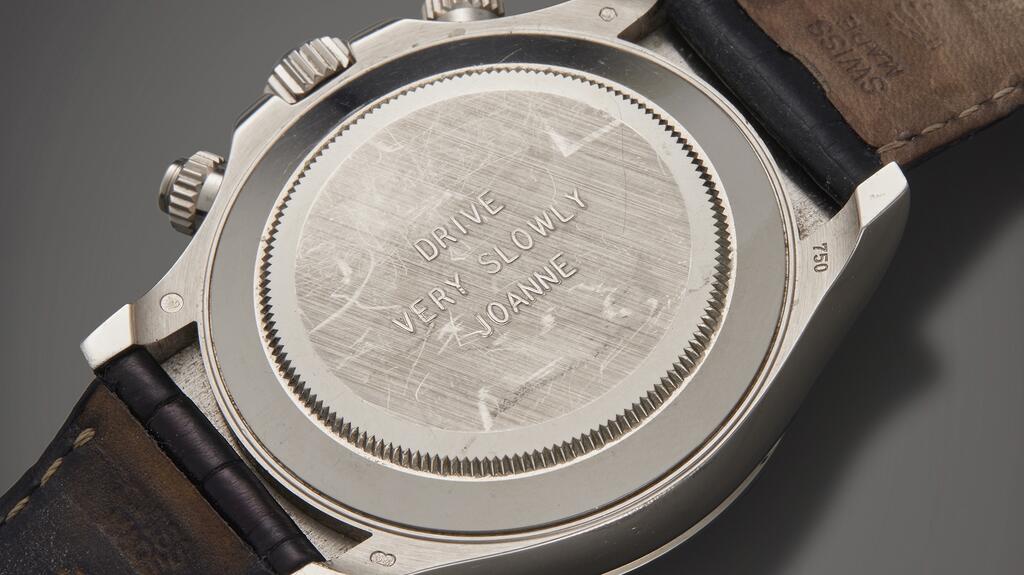 Sotheby's auctioned the two Rolexes alongside some of Newman's racing memorabilia Friday, while additional items belonging to Newman and Woodward are up for auction in a sale that closes today.
"A Life & Legacy: The Joanne Woodward and Paul Newman Collection"
includes furniture, clothing, photographs, artwork, film memorabilia, and even some jewelry.
In addition, RM Sotheby's, a classic car auction house partly owned by Sotheby's, is selling more of Newman's racing memorabilia in a separate sale called
"High Speed: Paul Newman's Racing Legacy,"
which started May 27 and runs through Tuesday.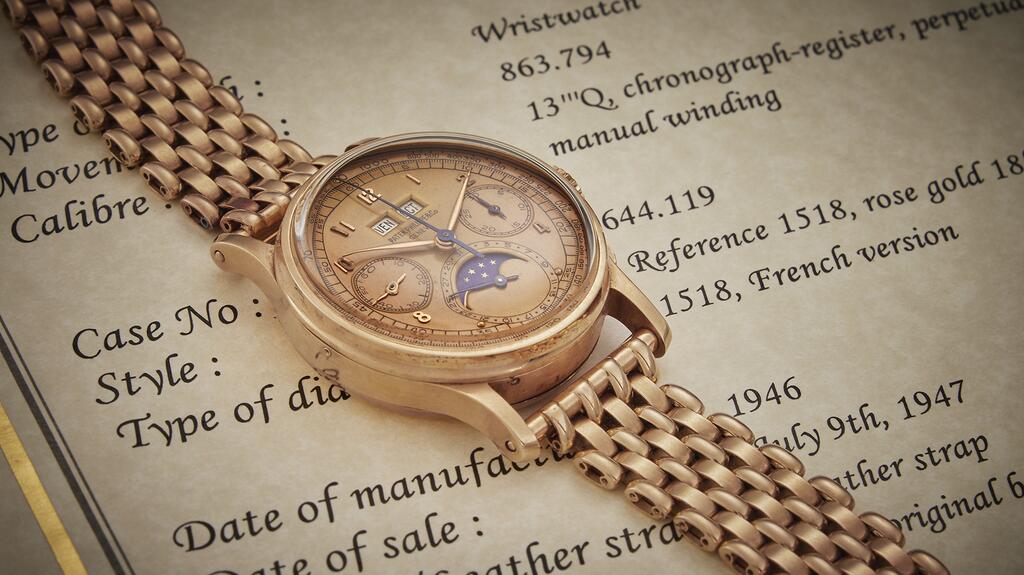 The top lot of Sotheby's Important Watches auction was a new-to-the-market Patek Philippe "Pink-on-Pink" Ref. 1518, a perpetual calendar chronograph in pink gold with a salmon pink gold dial. 
Introduced in 1941, Patek Philippe made fewer than 300 Ref. 1518 watches and even fewer in pink gold. This watch is the 15th known to exist, Sotheby's said. 
The Important Watches sale marked its auction debut, as the timepiece had remained in the possession of its original owner since its purchase in 1947. 
 Related stories will be right here … 
After a five-minute back-and-forth between two bidders, a private collector from Asia walked away with the pink Ref. 1518, paying $3.9 million (including buyer's premium). The watch's pre-sale estimated range was $2.5 million to $4.5 million.
It is the second highest price ever paid for a Pink-on-Pink, topped only by the December 2021 sale of the Pink-on-Pink from the estate of Prince Tewfik Tousson of Egypt, which sold for $9.6 million.
Overall, Sotheby's Important Watches sale garnered $16.4 million, with 94 percent of lots sold.
To see the full results, visit the
Sotheby's website
.
More on Auctions