Selling for $17.8M, Paul Newman's Rolex Sets Record
An anonymous phone bidder bought the Ref. 6239 Cosmograph Daytona and made it the most expensive wristwatch ever sold at auction.
New York--The Rolex Daytona that once belonged to Paul Newman sold for $17.8 million Thursday evening, becoming the most expensive wristwatch ever sold at auction.
The late movie star's Rolex Ref. 6239 Cosmograph Daytona led Phillips's "Winning Icons--Legendary Watches of the 20 Century" sale in New York, its first in the city.
Previously owned by James Cox, the former boyfriend and current close friend of Newman's daughter, it sold to an anonymous phone bidder after 12 minutes of activity.
According to
Bloomberg
, the starting $1 million bid was immediately followed by a $10 million bid, and the hammer almost came down at $15 million until a "showdown" in the last few minutes between two bidders.
The watch surpassed the previous record set by a stainless steel Patek Philippe Ref. 1518 that
went for $11.1 million
in November 2016 in Geneva, also sold by Phillips. (However, it still isn't the most expensive timepiece of all. That honor continues to belong to the
Henry Graves Supercomplication
at $24.4 million.)
Prior to the sale, the auction house had estimated that Newman's Rolex would go for "in excess of $1 million."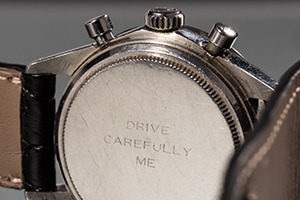 Newman, in addition to being a two-time Academy Award winning actor, also was a director, entrepreneur, philanthropist and racecar driver, the latter of which grew from his role as Frank Capua in the 1969 film "Winning."

He committed a lot of time to this part of his life, dedicating himself to training and going on to win a number of races.

But his wife, actress Joanne Woodward, was constantly was afraid he'd get into an accident, so she bought him the Rolex Cosmograph Daytona, a watch designed specifically for motor sports, and had the caseback inscribed with these words: "Drive Carefully Me."

She chose a rare and exclusive version of the Cosmograph Daytona to give to her husband, the Ref. 6239, which was the very first model of the brand's iconic "Daytona" series, produced from about 1963 until 1970.

It also was the brand's first chronograph with a tachymeter scale engraved on the bezel, designed to measure speed instantly and clearly.

During the 1980s, when the popularity of collecting wristwatches was growing, Daytonas fitted with this so-called exotic dial became known as "Paul Newman" Daytonas. Along with the red Daytona designation at 6 o'clock and the red outer seconds track, these watches also have subsidiary dials, Phillips said.
 
The Art Deco feel of the font and the hash marks with small squares used for the counters set them apart from the standard Daytona dials.
A portion of the proceeds from the sale will go to The Nell Newman Foundation, which supports organic food and sustainable agriculture, as well as the Newman's Own Foundation.
In addition to Newman's Rolex Daytona, Thursday's sale included watches from some of the most important collectors of the last century.
A Patek Philippe Ref. 1518 sold for $975,000; a Philippe Dufour Duality garnered more than twice its pre-sale estimate at $915,000; and an Audemars Piguet Ref. 5516 went for slightly more than its estimate when it sold for $675,000.
For a full list of lots and results, visit
Phillips.com
. 
More on Auctions