How Jewelers Can Make the Most of ChatGPT
From what ChatGPT is to how to use it, this is the explainer tailored to jewelers.
ChatGPT is the buzzword of the moment as artificial intelligence (AI) advancements stir up conversations and controversy.
As with most emerging technology, ChatGPT's been met with a mix of excitement and fear.
Earlier this month, I headed to Louisville, Kentucky, for the American Gem Society's annual Conclave, where I attended a session on ChatGPT led by
Ford Saeks
, CEO of marketing firm Prime Concepts Group Inc.
So, I'm going to dive into the ins and outs of ChatGPT, answering some basic questions and sharing how jewelry retailers can utilize this AI technology.
What is ChatGPT?
ChatGPT is an AI chatbot developed by
OpenAI
, a U.S.-based artificial intelligence research laboratory.
It was first released in November 2022, so it's not entirely new but has been a hot topic since its debut, particularly in light of CEO Sam Altman's recent
Congressional testimony
.
At its simplest, the chatbot is like Siri in that it gives you an answer to any question you ask, responding in a human-like, conversational way.
However, ChatGPT is more than a friendly quasi search engine, and its capabilities may surprise you.
Notably, ChatGPT is free for commercial use.
OpenAI specifies that you can, "use content for any purpose, including commercial purposes such as sale or publication," so long as you comply with its terms of use.
You can read the list of restrictions
here
, a list that includes using the service in a way that violates a person's rights.
How do I use ChatGPT?

ChatGPT is fairly easy to use, even for the most tech-challenged among us.
To get started, you need to create an OpenAI account, which requires an email address and a phone number, as well as a birthday to verify you're over the age of 13.
With this account, you also have access to DALL E 2, an AI art tool that can create images based on text prompts.
The ChatGPT window is similar to the layout of a text conversation. If you can text, you can use ChatGPT.
At the very bottom, you enter what's known as a prompt. That's the direction you're giving to the chatbot, being as specific as possible about what you want it to create.
You can ask a straightforward question like, "Who invented the telescope?," or give it a precise command like, "Write me a short story under 500 words about the creation of the telescope for children."
In the image below, you can see my first message sent via ChatGPT. I gave it context, saying this is my first time using it, and asked it what I should know, which prompted the chatbot to share some guidance.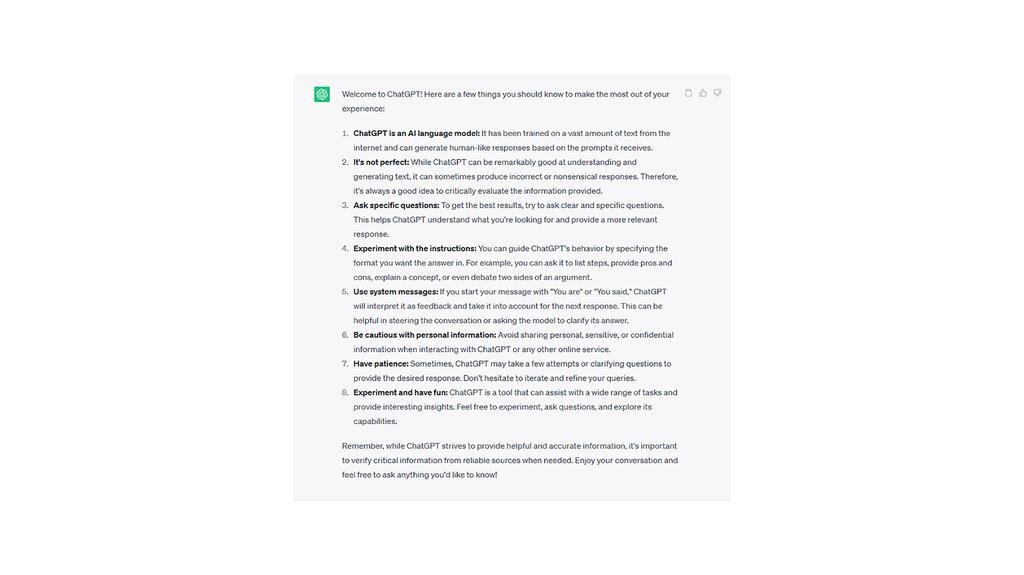 On the left-hand side of the screen, you'll see "new chat." You can create several different chat topics, like "marketing" and "social media," and the chatbot will remember the conversation and respond accordingly, rather than starting fresh each time.
On the right-hand side of the message, you can give feedback on the answer using a thumbs up or a thumbs down, or click the clipboard icon to copy the text to your clipboard for copy-paste purposes.
Though not particularly useful for business purposes, you can also chit-chat with the bot, asking it philosophical questions or anything else you'd like.
What can ChatGPT do?

Though it can answer questions, ChatGPT's most interesting feature is its ability to generate content, and it's this function retailers will find especially useful.
In terms of text, you can ask it to create just about anything.
In his presentation, Saeks went over a few interesting ways retailers could use the technology to make time-consuming work easier, especially when it comes to tasks that distract from your core responsibilities.
You could write out 100-plus product descriptions for your website yourself, or you could tell the chatbot a bit about the item and let the bot do it for you.
In the message below, I asked the chatbot to "write a product description under 100 words about a pair of South Sea pearl earrings."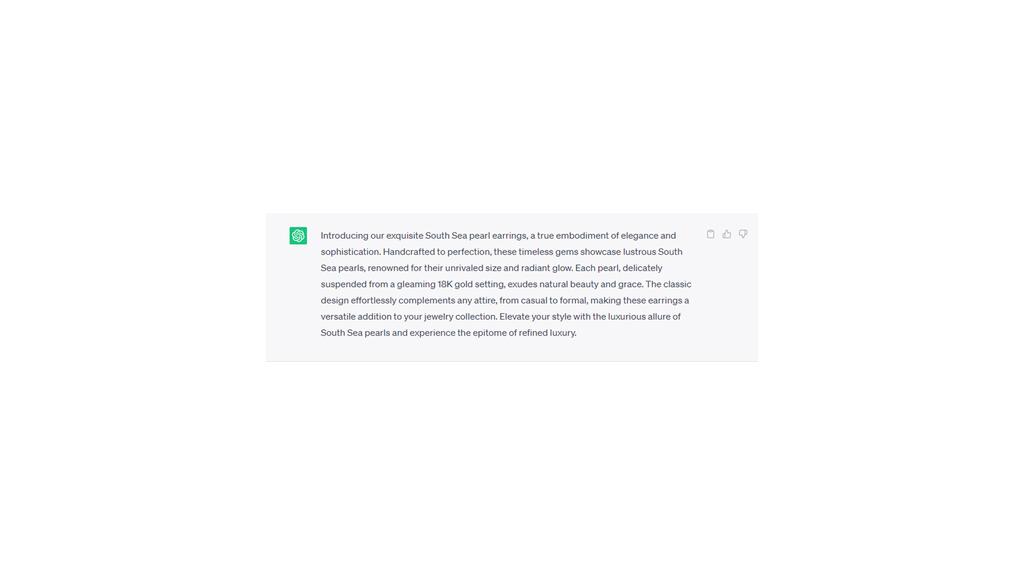 Now, you may need to change the gold karat weight, which it added without me specifying, and edit it a bit but overall, I'd say that's a good description.
As a professional writer, I know words don't come easily in all situations. I could write an entire article faster than I could come up with a catchy Instagram caption. ChatGPT can do that too.
I asked the chatbot to "write an Instagram caption with emoji about a pair of 14-karat gold hoops."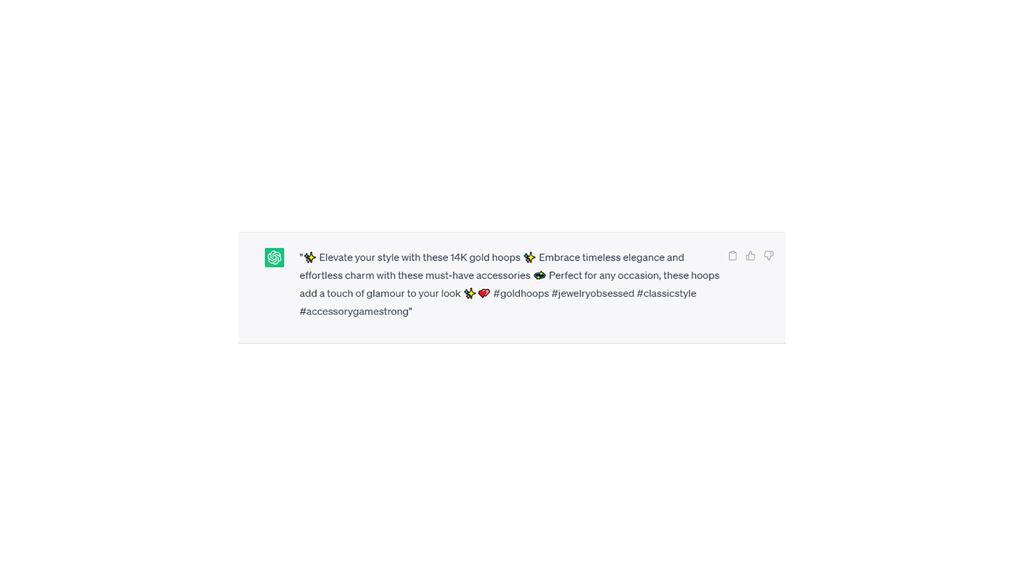 It responded with a catchy Instagram caption as well as relevant hashtags.
Perhaps you're hiring for a new position and need to write out a job description, or there's an upcoming event and you need to create a marketing email. ChatGPT can write those for you too.
For this prompt, I asked the chatbot to "write an email announcing a Memorial Day sale for a jewelry store in a playful tone."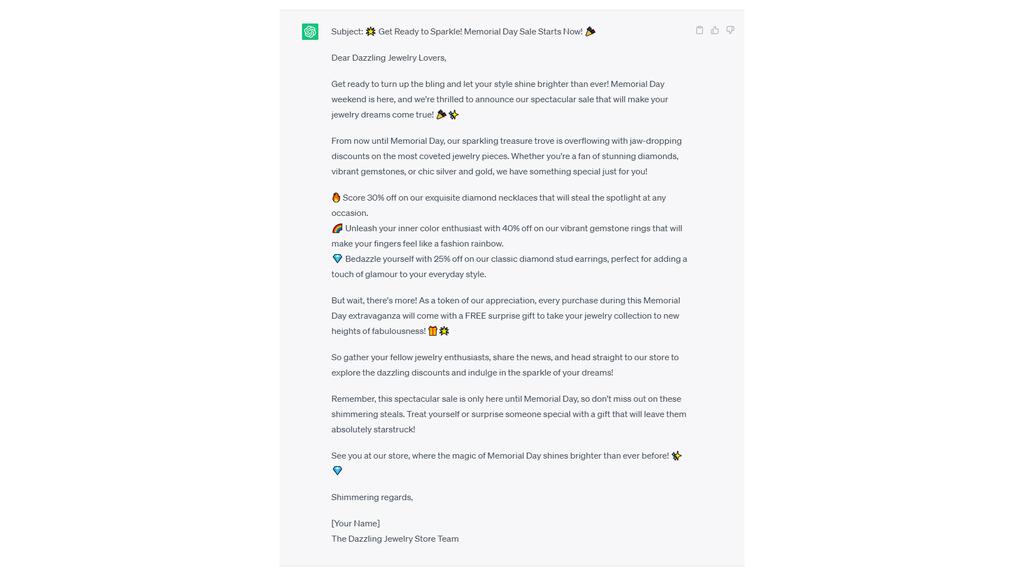 Now, the chatbot just made up the discounts, but that's information you can either give to it or fill in yourself.
ChatGPT also can be used for more complex tasks, like analyzing data, creating spreadsheets, market research, and code writing.
Ideally, every business would have a dedicated department for marketing, social media, human resources, etc., but ChatGPT is a solid stand-in, though not a replacement, a topic I'll touch on next.
Is ChatGPT going to replace people?
This question is worthy of another article entirely, but the short answer is no. Or, at least, it shouldn't.
For starters, ChatGPT, at its core, requires humans to work. Artificial intelligence can only improve by interacting with us.
Each time you ask the chatbot a question or tell it the answer it gave you isn't correct, it's learning and becoming a better tool for us to use.
I emphasize that it's a tool, another thing we can use to improve our workflow. Perhaps, for example, that time a designer doesn't have to spend writing out product descriptions can be used to sketch a new design.
The best-case scenario for AI is that it's used for the work we don't want to do, freeing up bandwidth for the things we enjoy.
How should I phrase my questions to ChatGPT?
It takes a little practice to learn how to phrase your questions for the best response.
"ChatGPT is sensitive to tweaks to the input phrasing or attempting the same prompt multiple times. For example, given one phrasing of a question, the model can claim to not know the answer, but given a slight rephrase, can answer correctly," said OpenAI.
Saeks had some helpful tips to share about question formatting, what he calls "effective prompting."
Type to the chatbot as if you're talking to a real person, he said, so be specific and provide context for what you're asking.
You can ask the chatbot to respond in a specific tone, like "professional" for a job description or "funny" for a playful social media post.
You can also ask for a specific perspective, like writing something in the first person, and specify how you want your answer formatted, like a list format.
Saeks recommended browser extensions, like
AIPRM
, to help train your chatbot.
In short, this free program offers one-click prompts for the chatbot, like "blog post title generator" or "Instagram post description/caption generator."
I would play around with this next level tool once you've gotten the hang of the basics of ChatGPT.
Is ChatGPT reliable?
Another reason ChatGPT won't replace people is that it's not 100 percent accurate.
"ChatGPT sometimes writes plausible-sounding but incorrect or nonsensical answers," said OpenAI.
The responses it gives need to be fact-checked against verified and reliable sources.
Saeks recommended asking the chatbot to cite its sources or justify its answer, then deciding if you trust that source.
I also wouldn't recommend copy-pasting its responses word for word. Human language is complex and the chatbot hasn't worked out all the intricacies yet, so be sure to read through the response before making use of it.
"The model is often excessively verbose and overuses certain phrases, such as restating that it's a language model trained by OpenAI," said the company.
I like to think of the chatbot's response as a framework that you can then tweak to your own personal style.
 Related stories will be right here … 
What does it cost to use ChatGPT?
The basic version of ChatGPT is free to use; the technology is in its feedback stage, so the company wants people using it.
However, OpenAI launched a premium service called
ChatGPT Plus
in February that costs $20/month, offering new features and priority access to the chatbot during peak usage times when it can slow down.
If you're just testing it out, the free version is a good place to start. If you find yourself using ChatGPT more often, the premium option may be better.
What is the controversy around ChatGPT?
As with most new technology, there are fears AI will replace human workers and concerns about its lack of accuracy, both issues addressed above.
There are also privacy concerns. ChatGPT needs data to train its technology, and so it takes that data from all over the internet. Personal information has been found mixed into that data set.
In a Wired article titled,
"ChatGPT Has a Big Privacy Problem,"
author Matt Burgess details these privacy concerns, which led Italy's data regulator, Garante per la Protezione dei Dati Personali, to issue a temporary emergency decision telling OpenAI to stop using its citizens' personal data.
The privacy issue is not limited to ChatGPT, the article notes, highlighting that processing data is how all artificial intelligence technology works and improves.
Elizabeth Renieris, senior research associate at Oxford's Institute for Ethics in AI, told Wired that the data sets used to train machine learning systems have been around for years, and it's likely that privacy concerns were not top of mind when creating them.
Another concern has been ChatGPT's potential effect on education. Students can use the chatbot to write their essays.
Whether it's ChatGPT now or CliffsNotes and SparkNotes years ago, students always have found a way to try to wiggle out of their assignments, and teachers almost always find out.
There are tools available that can detect if something likely has been written by AI, similar to the plagiarism tools on essay submission sites like TurnItIn.
The Brookings Institute, a Washington, D.C.-based think tank, recently shared a commentary titled
"The politics of AI: ChatGPT and political bias."
Though the chatbot obviously doesn't have its own thoughts or political leanings, where it gets its data from, including biased sources, can influence its responses.
The article notes that an unbiased chatbot is an "impossible goal," since bias is relative and what may be common sense to you is a biased position to someone else.
What's most important, the article argues, is making people aware that bias may be present in the responses.
The technology, though impressive, can be as flawed as the people who create and use it.
OpenAI also notes that, "while we've made efforts to make the model refuse inappropriate requests, it will sometimes respond to harmful instructions or exhibit biased behavior."
Inappropriate requests may include using racist or sexist language or giving instructions on how to do something dangerous. As hard as developers may try, some people just like pushing the boundaries and skirting the rules.
"We're using the Moderation API to warn or block certain types of unsafe content, but we expect it to have some false negatives and positives for now. We're eager to collect user feedback to aid our ongoing work to improve this system," said OpenAI.
Should I use ChatGPT?
My recommendation would be to give it a try and see if it's a good fit for your business.
ChatGPT is a useful tool for retailers when used correctly and with an understanding of its limitations. 
Like anything else, it takes practice to learn how to make the most of it.
The jewelry industry has a history of being slow to adapt to new technology, but I was happy to see how many people attended Saeks' Conclave presentation. The conversation in the room was open-minded and inquisitive.
New technology can be intimidating, but it can also be fun, and even the possibility of freeing up time in your day to do more of what you enjoy makes it worth giving ChatGPT a go.
More on Editors