Antique Rings Discovered by Retirees Perform Well at Auction
A 17th-century gold seal ring and an 18th-century memento mori ring met or exceeded estimates at a recent Noonans auction.
London—There was something extra special about the "Jewellery, watches, and objects of vertu" auction held at Noonans in London Tuesday.
Two antique rings that hit the auction block were discovered by surprise by retired men in the U.K.
In November 2012, retired schoolteacher Richard McCaie, then 71, was landscaping in the garden of his 16th-century farmhouse in the English village of Braunton when he found a 17th-century ring, buried about 10 inches deep in the ground.
"The ring dates from 1620 and very likely belonged to Humphrey Cockeram of Cullompton in Devon. The ring bears a seal with the coat of arms of the Cockeram family and the initials 'H C' behind," said Nigel Mills, a consultant on artifacts and antiquities at Noonans.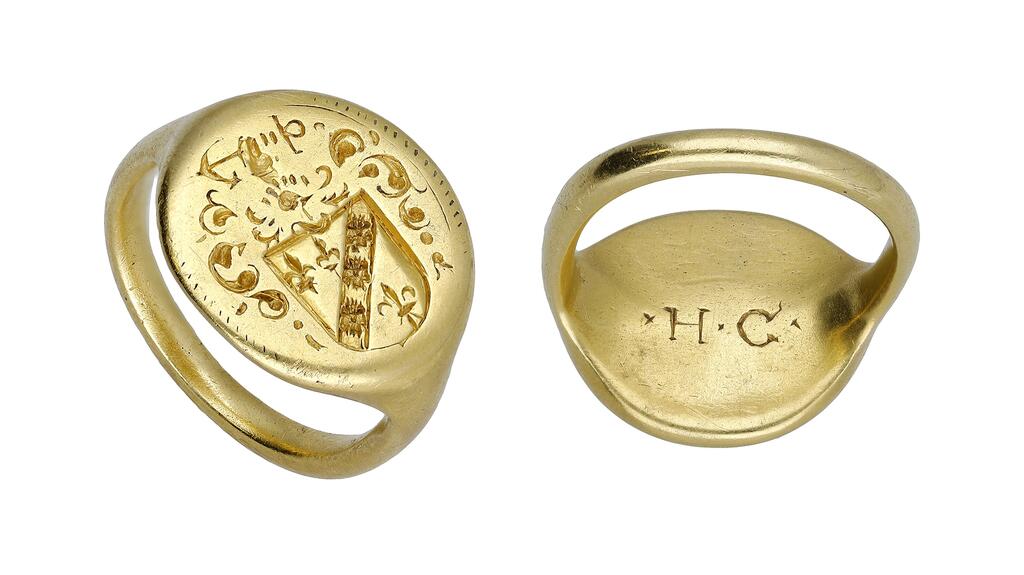 The flat oval bezel of the ring features a coat of arms, which includes a square-topped shield inscribed with three leopards' heads and three fleurs-de-lis.
Above the shield is a crest with an arm holding an anchor and a leaf design on either side. The entire design is encircled by a pellet border.
The gold seal ring sold for £12,000 ($14,300), meeting the high end of its £8,000-£12,000 ($9,500-$14,300) estimate.
McCaie said he planned to use the proceeds from the sale to help his children.
 Related stories will be right here … 
In 2022, retired civil servant David Nicklin, then 65, was using his metal detector in a field in the Vale of Glamorgan in the southeastern part of Wales.
In the newly plowed ground, he discovered a memento mori ring from the 1700s.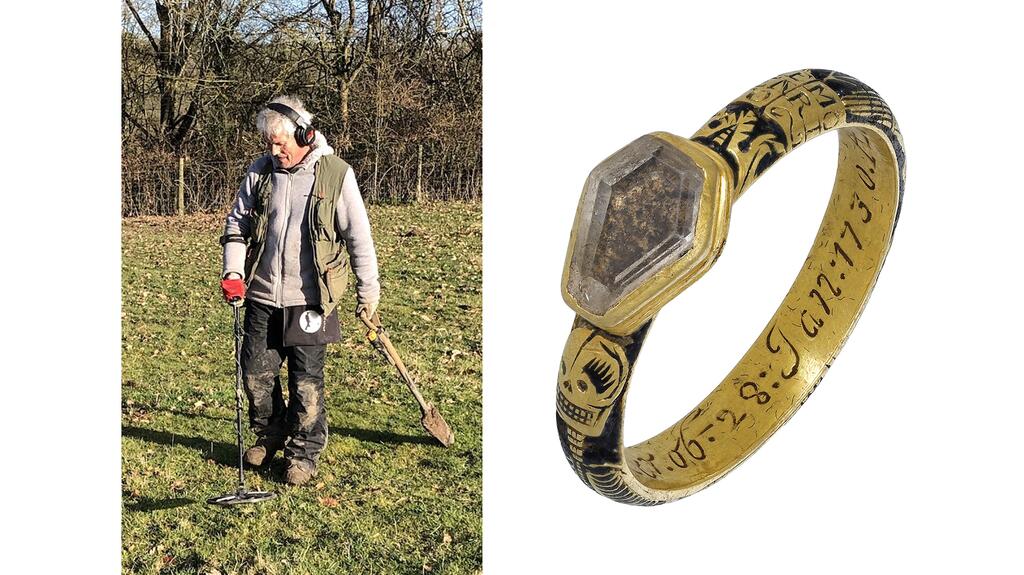 "The ring has a coffin-shaped rock crystal inset into the bezel and is dated on the inside 28th Jan 1730 with the name 'eliz tucker aged 65' and inscribed with 'Memento Mori,' which translates as 'remember thy death,'" said Noonans consultant Mills.
"Worn on the little finger, they were a reminder to the wearer to live a life without sin as they will be held accountable in death. This was the height of fashion in the early 18th century," he added.
The ring sold for £7,000 ($8,520), exceeding its initial estimate of £3,000-£4,000 ($3,500 to $4,700).
Nicklin said he and his wife planned to use the proceeds to buy new carpets.
The buyers of these rings were both located in the U.K., said a spokesperson.
The top lot of the auction was a 10.13-carat fancy light yellow brilliant-cut solitaire diamond ring, which sold for £80,000 ($97,400), exceeding its £40,000-50,000 ($48,700 to $60,900) pre-sale estimate.
For full auction results, visit the Noonans'
website
.
More on Auctions
Auctions
Sep 27, 2023