Designers to Watch in 2023: Arielle Ratner
After years of staying behind the scenes, the promising jewelry designer is stepping into the spotlight.
No matter when National Jeweler's jewelry
"Designers to Watch in 2023"
launched their brands, their prior life experiences are often an indirect but important part of their journeys. 
Arielle Ratner realized as much during a recent conversation with a client who told the designer she was drawn to her work because she was a ballet dancer. Growing up, Ratner also danced ballet, but had never made the connection between a dancer's lines and the flowing curves of the pieces she designs. 
"Everything is fluid and about curvature," she explained of her collection, which is designed to lay perfectly on the body. 
Ratner's professional background has been a more direct precursor to her elegant, eponymous line. 
After college, the Pennsylvania native studied jewelry at various trade schools around New York City, brushing up on everything from wax carving to computer-aided design and gemology. 
She worked for an independent designer, then the David Yurman design team, and finally, a factory that produces for the likes of Tiffany & Co. 
"That taught me a lot about manufacturing," she said of the latter. "It really set me up for creating my manufacturing business."
Seven years ago, she started a product development company helping large and small brands with all aspects of design and manufacturing. 
"I always had my own collection and sold my own pieces on the side," said Ratner, but she didn't advertise it, working on client commissions mostly through word of mouth. 
"I was used to working behind the scenes for other people," she explained of her reticence in publicizing her work.
That thinking may have been prudent, as it allowed Ratner time to develop as a designer and perfect her craft. In 2020, she was ready to take a leap. 
"Over the pandemic I had my son and my interest just shifted. I really wanted to push my work online. I felt more comfortable in my own designer skin and my line started attracting more people, especially on Instagram."
Elegant pinky rings with colored gemstones sit alongside articulated diamond collars in Ratner's collection. The line feels ageless but developed from a mature hand. 
Last September, she launched a line of engagement rings, with original settings like the "Perch" and the "Nebula," which throw diamond solitaires for a curve with their classic-yet-unique aesthetic.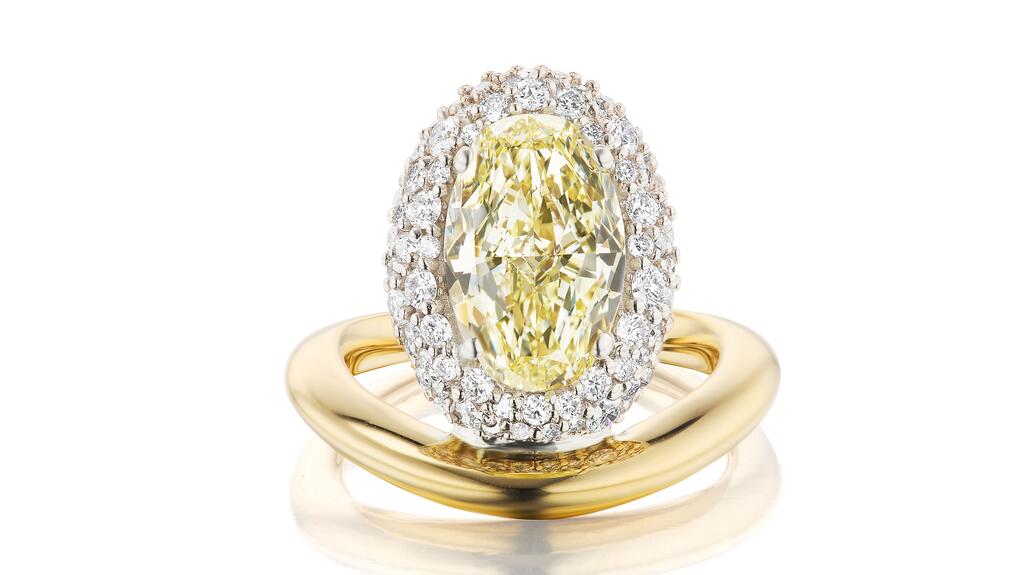 If Ratner spent years planting seeds in jewelry design and manufacturing, now she's reaping the harvest.
I chatted with Ratner about her jewelry beginnings, her passion for bridal, and finally stepping into the spotlight.  
This interview has been edited for length and clarity. 
Ashley Davis: How did you originally get into jewelry?
Arielle Ratner: I always had a deep fascination with jewelry from a young age. I loved fashion and design but fashion felt kind of disposable whereas jewelry felt more sustainable in a way and more special. 
I had a little beaded jewelry business from age 12 to 16 and people still bring up the pieces they have that I made from that time. In college I studied economics but I realized I wanted to pursue jewelry making. 
AD: Let's talk about the engagement rings you launched in September. What inspired the collection?
AR: I felt there was really a gap in the market. 
There are engagement rings that are mostly about the stone and not necessarily about an artful setting. Then, on the other end of the spectrum, there might be a very high-end piece from designers we all look up to like JAR and it seemed like there was nothing in between. 
If you wanted something that was well designed and beautifully made with exquisite stones and kind of a different take on engagement, I felt like there was not much to offer. That's my niche, that's my favorite thing. 
"I loved fashion and design but fashion felt kind of disposable whereas jewelry felt more sustainable in a way." – Arielle Ratner
AD: I'm curious about the shift you felt during the pandemic after you became a mom. Can you tell me more about that?
AR: When you have children you don't want to be in the trenches as much in your day-to-day work. 
At that time, I also was kind of growing up in terms of being a designer. I was sick of being the problem solver for other people because I wanted to do bigger-picture things.
The pandemic obviously made everyone question what they were doing. It allowed me to time to start thinking about myself. 
AD: Focusing on your own brand more than your consulting I'm sure is just as much work in a certain capacity, but is it more satisfying?
AR: Yes, it's satisfying creatively and gratifying to meet people and feel like I'm adding to their joy with their purchase. I wouldn't have been ready five or six years ago. I just wasn't there mentally. 
AD: In what way were you not ready?
AR: My skill set was there but I wasn't ready to be forwarding facing to the client. I wasn't ready to market myself. I liked to hide behind other people and just do the work. As a designer, these days with Instagram and everything, you to have to be so public about who you are and I wasn't ready at the time. 
AD: As a result of waiting, your work looks so mature. You can see your experience in the work. How would you describe your design aesthetic?
AR: There's a certain classicism. I'm a classic person. I love classic design, like old Art Deco design and style icons like Audrey Hepburn and Grace Kelly. But I also want to take a modern approach to jewelry.
I don't want to just recreate classics, right? I want to take them and modernize them slightly and add an edge. 
I was a very intensive ballet dancer throughout my childhood. The first thing I consider [in jewelry making] is of course the design of the jewelry, but it's also really important to me the way the pieces fit the woman or man's body, the way it lays on the collar bone or the way it accentuates your face. 
I'm always looking at the overall picture, asking myself how a piece is going to enhance how someone looks as opposed to just being a piece that they wear. It could be cool but is it going to be beautiful on them? Is it going to fit them? Is it going to accentuate them? 
Drawing from my ballet history I look at lines, at sculpture. I look for things that are very pleasing to the eye. I really try to make my jewelry flattering on the human form. 
"If you wanted … a different take on engagement, I felt like there was not much to offer. That's my niche, that's my favorite thing." – Arielle Ratner
AD: I want to touch on gemstones because you have so many great colored gemstone pieces. What gem are you the most attracted to?
AR: Non-commercial stones. I'm typically not drawn to aquamarine or peridot or anything that would be widely available and used commercially. I like stones that are unique.
Tourmaline has been a staple of mine. I love all the shades of it. Lately I've been working a lot in spinel, which has some really muted tones and pale tones but really packs a punch. I love ruby. I don't do a lot with big rubies but I do a lot in ruby melee. 
AD: When you're using multiple stones in a piece I've noticed you have a penchant for not matching the color exactly, like when you're using several green tourmalines, for example. Is that a signature for you?
AR: I don't really like matching. I like tonal variation. I like colors that play off each other. If were doing a melee layout I want to see a whole range of color within the blue range or within the pink range. It adds so much dimension and interest.
AD: As opposed to them being one color.
AR: We spend hours placing each stone to get the perfect layout. 
"I want to take [classics] and modernize then slightly and add an edge." – Arielle Ratner
AD: Are you interested in getting into retail stores?
AR: I do a lot of one-of-a-kind pieces and my product is not very uniform, but I'm looking into doing trunk shows with stores. 
AD: Do you have any other goals for 2023?
AR: I would be to get real exposure for my engagement ring line. It's been doing really well. 
It's so fun for me to meet couples and hear their story. Making their ring is so personal. I work mostly with antique diamonds and I love having the history in the provenance. It's just been really fulfilling. 
 Related stories will be right here … 
More on Editors