Reinhold Jewelers' Holiday Book Is an Ode to an Important Beverage
The 2022 edition of the retailer's annual publication pays homage to the coffee farms and shops of Puerto Rico.
San Juan, Puerto Rico—In the 22nd edition of its annual Holiday Book, Reinhold Jewelers pays homage to a crop that, like putting on jewelry, plays a central role in many people's morning rituals: coffee.
"The Coffee of Puerto Rico" is 174 pages, highlighting 11 coffee farms and 10 coffee shops from across the island, as well as 67 of the designers Reinhold stocks. 
Photographer Xavier Garcia shot the book, aided by graphic designer and videographer Josué Oquendo Natal and Reinhold Jewelers' Maria Cabrero, Mildred Marcano, and Maria Del Mar Ney.
They traveled the island photographing coffee shops and coffee farms, farms that were wiped out by Hurricane Maria five years ago but were rebuilt thanks to "countless individual and collective efforts," Yael Reinhold Lipnik wrote in the book's introduction.
The shoot for the 2022 Holiday Book took place before another storm, Hurricane Fiona, hit the island this September. 
"For this holiday season, in a year that continues to strengthen our resilience, we present to you the coffee of Puerto Rico," Lipnik wrote. "Please stop by and share a cup with us, we will be highlighting varied selections in each of our stores.
"We wish you wonderful holidays and happiness and growth in the new year."
Each two-page spread in the book features a specific farm or coffee shop, while the facing page showcases a designer, with the jewelry carefully selected to echo the image.
The spreads also contain quotes from the designers about coffee, a necessary beverage for many creatives, to which anyone who's ever attended a trade show can attest.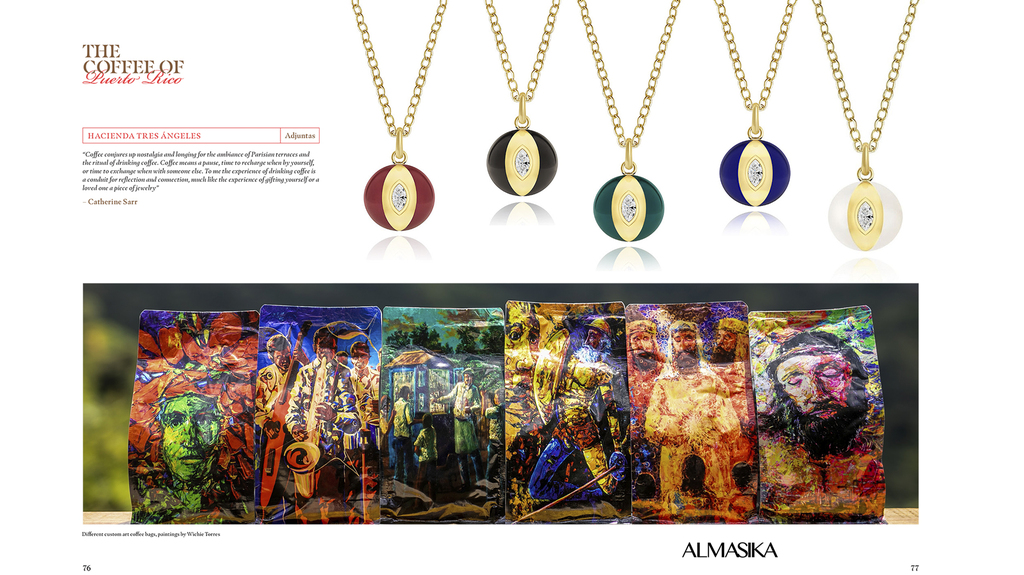 "Coffee means a pause, time to recharge when by yourself, or time to exchange when with someone else," Catherine Sarr, the designer behind Almasika, said.
"To me the experience of drinking coffee is a conduit for reflection and connection, much like the experience of gifting yourself or your loved one a piece of jewelry."
Five different versions of Sarr's new "Terra Nova" necklaces are displayed across the spread above an equally colorful photo of custom bags of coffee painted by Wichie Torres, a Puerto Rican painter.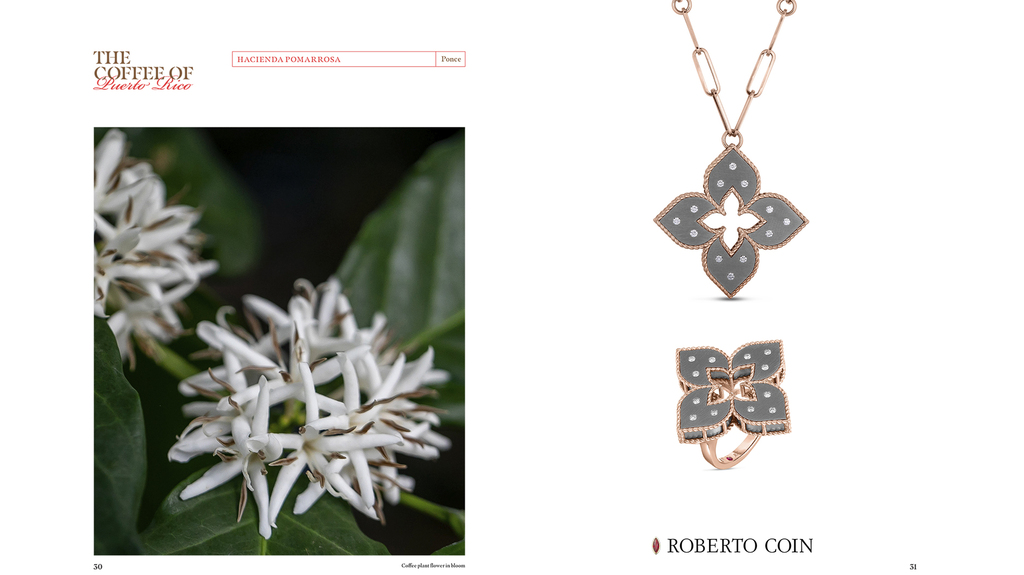 In another spread (pictured above), a "Venetian Princess" ring and a pendant from Roberto Coin are featured adjacent to a coffee plant in bloom at Hacienda Pomarrosa in Ponce, Puerto Rico.
The Italian designer writes of the high-octane beverage: "My entire memory has no space enough for coffee. I drink more than eight espressos a day, and coffee is one of my favorite drinks in the world.
"My love for coffee goes beyond flavor, as it represents a moment of celebration. I typically start an activity with a coffee and finish it with another one, as it also signifies the beginning and end of my daily moments."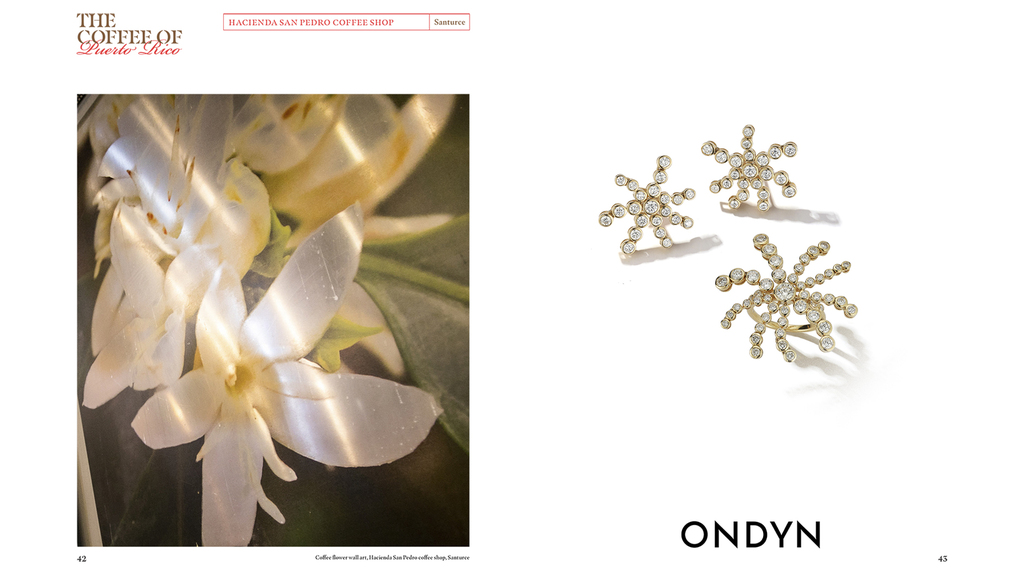 A photograph of a coffee flower that hangs in the San Pedro Coffee Shop in Santurce, a neighborhood in San Juan, is laid out opposite a page of the bloom-like "Supernova" gold and diamond stud earrings and "Big Bang" gold and diamond ring from New York City-based brand Ondyn, pictured above.
"As a little girl, coffee was a symbol of maturity and sophistication," wrote Ondyn designer Tara Maria Famiglietti. "Its dark color and bitter flavor was made only for the developed palate. 
"I longed to be that refined, so much so that my adolescent self would melt coffee candies and mix them with water to sip in an elegant cup, fancying myself the world sophisticate I believe the coffee conjured." 
 Related stories will be right here … 
Reinhold Jewelers' Holiday Book also includes the following passage from T.S. Elliott's poem "The Love Song of J. Alfred Prufrock," strategically placed adjacent to a Shinola watch.
"In a minute there is time
For decisions and revisions which a minute will reverse.
For I have known them all already, know them all:
Have known the evenings, mornings, afternoons,
I have measured out my life with coffee spoons."
The retailer celebrated the book with a launch party at its Plaza Las Americas store earlier this month that included a screening of a behind-the-scenes video (top of article) of the making of the book, a first for the store. The physical copies of the book contain a QR code for viewing the video.
The evening included an appearance by designer Monica Rich Kosann and coffee-inspired cocktails.
A digital version of the book can be viewed online in its entirety on the
Reinhold Jewelers website
.
More on Independents