JA Members Return to Capitol Hill to Voice Jewelers' Concerns
The topics up for discussion with lawmakers included inflation, rising interest rates, hiring challenges, and crime.
New York—Jewelers of America members headed to Washington, D.C. earlier this month to bring issues important to the jewelry industry to lawmakers' attention ahead of the midterm elections.
The fly-in marked the organization's first trip to the Capitol since the COVID-19 pandemic.
"We're thrilled to be back in D.C. for our annual fly-in," said JA President & CEO David J. Bonaparte.
"This was a chance to re-introduce the association and our members to key policy-makers and ensure the voice of the jewelry industry is heard loud and clear."
The trip was led by the Jewelers of America Political Action Committee, the only PAC representing the fine jewelry industry.
Bonaparte and Director of Public Affairs & Education Susan Thea Posnock, alongside Tim Haake, managing director of Haake & Associates, JA's government affairs firm, led the group.
Jewelers of America members attending the fly-in included Jon Bridge of Ben Bridge Jeweler, Dan Deans of Asurion, Susan Grant of Grants Jewelry, Joan Harris, Mathew J. Harris and David F. Harris of G&H Jewelers, Sudhir Kakadia of Sheetal Group USA Inc, Chuck Kuba of Iowa Diamond, and Constance Polamalu of Zachary's Jewelers.
The American Gem Trade Association's new CEO John Ford and 1st Vice President David Nassi also joined the fly-in.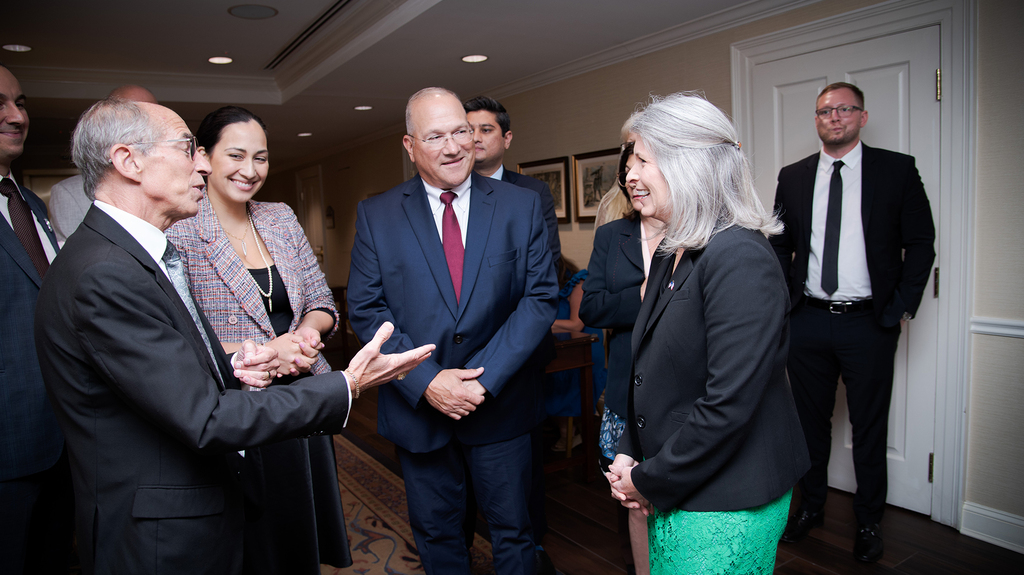 The issues up for discussion included a call for a pro-growth tax policy to help U.S. companies compete in the global landscape.
The members advocated for more government support for small businesses and spoke out against being burdened by business regulations and related compliance costs.
They also asked to work together on maintaining ethical and sustainable supply chains.
 Related stories will be right here … 
Other topics of concern included inflation, rising interest rates, hiring challenges, and a high crime rate in the industry.
Long-standing issues were also up for discussion, like the need to protect LIFO, the last-in first-out accounting method used by industry members, and sales tax fairness.
Sales tax is currently decided by the states, but a federal framework could be needed, said JA.
The delegation met with several lawmakers and congressional staff, including Senator Joni Ernst (R-IA), Sen. Todd Young (R-IN), Rep. Elise Stefanik (R, NY-21 and Republican Conference Chair), and Rep. Carol Miller (R, WV-03).
The group also met with Rep. Pete Sessions (R, TX-17), Sen. Maria Cantwell (D-WA), and other members of Congress.
The event also included a private tour of the Capitol Dome and a breakfast presentation from Charlie Cook, former editor-in-chief of the Cook Political Report, who gave his take on the upcoming elections.
Cook's presentation is available to Jewelers of America members
on its website
. 
More on Policies & Issues