State of Jewelry Design: Meet the New American Jeweler
There's a fresh crop of fine jewelry retailers in the United States, making the case that brick-and-mortar stores aren't going anywhere.
Editor's Note: This story first appeared in the print edition of the 2022 State of the Majors. Click
here
to see the full issue.


For jewelers considering retirement when the COVID-19 pandemic dawned, the unprecedented retail difficulties made it seem as good a time as any to shut their doors for good. 
But unlike other luxury markets such as travel and fashion, jewelry sales quickly began to boom, with a force few could have predicted. Many jewelers had their best years ever in 2020 and 2021.


Accordingly, it's been an incredible time to be a new jewelry store, full of challenges but also strong consumer demand. 


A new crop of fine jewelry retailers helmed by first-generation jewelers has risen to the occasion, mixing a traditional brick-and-mortar experience with e-commerce and social media sales, plus all the Zoom calls, Instagram Lives and FaceTime sessions the pandemic has necessitated. 


Nicole Ward, founder of fine jewelry sales agency CNW Group, is well acquainted with the new wave of jewelers around the country. 


"Over the past few years, we have seen several new fine jewelry stores open that have been incredibly supportive of independent designers," she says. "They each bring a distinct point of view to their respective markets and are eager to foster and support independent talent."


Online fine jewelry shopping continues to expand, but new brick-and-mortar stores stand out to Ward, who represents designer clients Melissa Kaye, Sorellina, Robinson Pelham, Emily P. Wheeler, State Property, and Devon Woodhill Jewelry. 


"Our brick-and-mortar partners are experts at cultivating relationships and building spaces where their clients can have a personal and meaningful experience. They go above and beyond to curate thoughtful events with their designers, which is instrumental in building community," Ward explains.


"Simply put, as a consumer you trust them, look to them for guidance and want to shop with them. From our side of things, it's very exciting to be a part of."


Meet the independently owned stores that are leading the jewelry retail conversation today, making jewelry destinations out of cities like Kansas City, Kansas and Charlotte, North Carolina.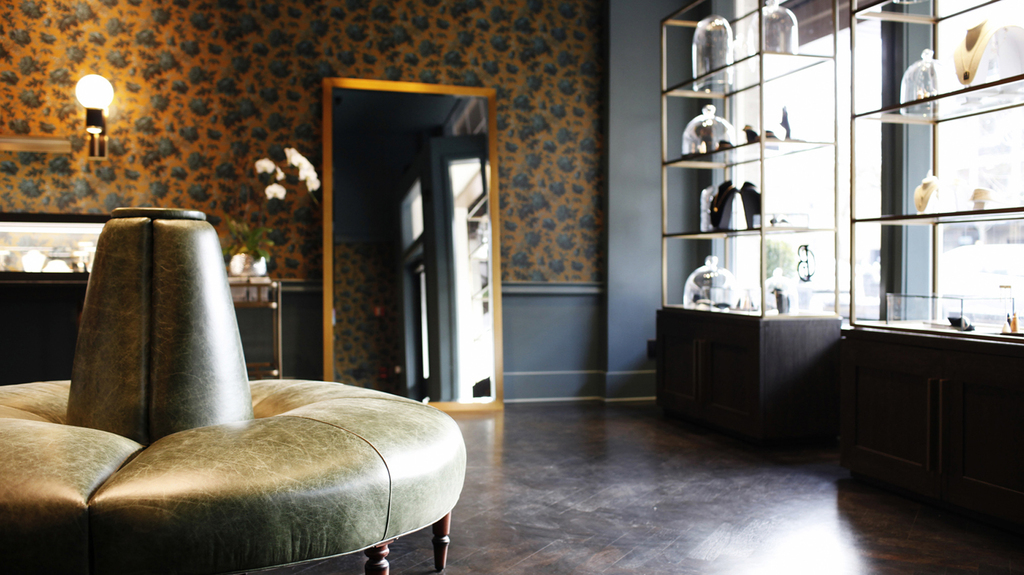 Gin & The Banker
Bellevue, Washington
Open Since:
December 2018
Designers:
ARK, Azlee, Carolina Bucci, Devon Woodhill, Emily P. Wheeler, Ileana Makri, Jamie Joseph, Marla Aaron, Renna, Suzanne Kalan
Rachael Nov has worked in retail since she was 15, starting as holiday help at The Gap before making her way to Nordstrom after college, "like any Seattleite," she says. 


She evolved to buying for an independent retailer in Kirkland, Washington before hitting her stride at Barneys New York. "I learned so much and built so many beautiful relationships. I will be forever grateful for my years at Barneys," says Nov. 


She took the plunge to open her own store 17 years ago, La Ree Boutique, a women's designer clothing and accessories store, still open today. The store slowly grew its selection of fine jewelry, first launching with Jamie Joseph and introducing the brand to Seattle's east side. 


A year before the pandemic hit, Nov opened her most personal endeavor yet, fine jewelry store Gin & The Banker, just a few doors down from La Ree in Bellevue. The name is an ode to Nov's grandparents, whom she calls a "significant influence on my life." "Gin" was a nickname for her grandmother, Virginia, while "The Banker" refers to her grandfather, Jesse. 


"We have pictures of them on the wall, along with some of my grandfather's hats, grandmother's jewelry, and other meaningful items of theirs throughout the store," says Nov. "You can really feel the influence of family and of love in the space. It feels like home."


Today, residents of the Emerald City go to Gin & The Banker to get their Marla Aaron, Retrouvai, and Lizzie Mandler fixes. Nov says the pandemic allowed the store to see which designer partnerships were working, and which were not. "Our relationships with our designers and our team grew so much stronger, as we worked to support one another and stand by each other. We did a lot of Zooms to stay in touch and brainstormed different ways to connect our designers' work to our customers during such difficult times," she recalls.


Gin & The Banker was able to reassess its own culture during the pandemic too. 


"We restructured our store hours, so everyone could get home to be with their families at a decent hour, or go to a yoga class, whatever served as self-care. All in all, the last two years our business grew stronger, and our team and relationships with our customers and designers grew stronger. I feel so fortunate."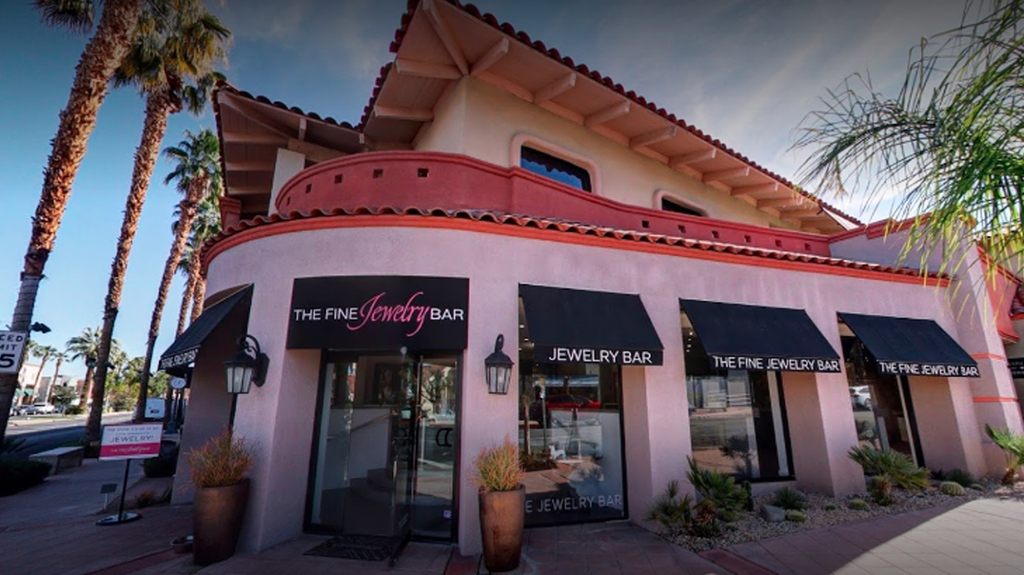 The Fine Jewelry Bar
Palm Desert, California
Open Since: December 2015
Designers: Buddha Mama, Coomi, Graziela, Irit Design, Jorge Adeler, Jude Frances, Lori Barros, Nan Fusco, Pasquale Bruni, Ray Griffiths, Syna, Terra Mea, Tresor


When experts talk vaguely about the importance of making brick-and-mortar retail an "experience," look no further than Palm Desert, California's The Fine Jewelry Bar for a concrete example. 


"The center of our store is a bar," explains owner Ryan Ryan, "which represents to me the kitchen at my home growing up. When people would come over, we always congregated around the kitchen … everyone just wanted to converse and all be together. Our events at The Fine Jewelry Bar always involve champagne and food, but most importantly make my customer feel at home while they shop and add treasures to their collections."


Family set Ryan on a jewelry path. He credits his grandmother with teaching him "to always use my imagination and hands; she told me that it would lead to many joys in my life." His mother and three "jewelry-loving sisters" were also influences, encouraging his love of fashion and making jewelry with wire and beads as a child.


This early guidance set the stage for his 35-year jewelry design career. Ryan designed fashion jewelry in the 1980s and 1990s that was sold at retailers like Nordstrom, Bullocks Wilshire, I. Magnin, and Bonwit Teller. 


In the 2000s, he pivoted to fine jewelry, selling his work to Saks Fifth Avenue and Bailey Banks & Biddle. 


He made custom pieces for the red carpet, crafting the jewelry actress Katherine Heigl wore at her appearances for six years. He lent his talents to television and film as well, creating the jewels Lea Michele wore on "Glee," and designing jewelry for "Pirates of the Caribbean." 


Launching The Fine Jewelry Bar marked an entirely new chapter for Ryan, one in which he could "create a magical artisan jewelry gallery," he says, curating his favorite designers alongside his own work. "I take personal pride in curating what we carry at the store, so I feel that we have one of the most unique collections all in one place."


The store's open concept is key to the gallery feel, with customers picking out the pieces that catch their eye, then going to "the bar" at the store's nucleus to try them on. 


Despite challenges, the pandemic didn't change Ryan's values for The Fine Jewelry Bar. His takeaways from the last couple of years are: "Have faith. Be kind, be grateful and be joyful at all times, no matter what challenges you face. That will get you through."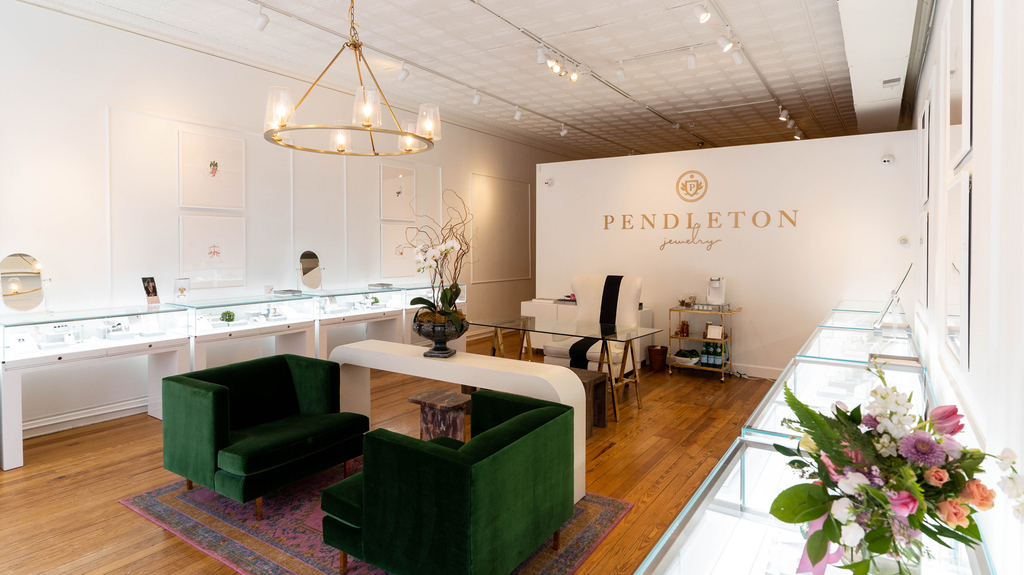 Pendleton Jewelry
Kansas City, KS
Open Since: November 2019
Designers: Almasika, Anne Sportun, Brent Neale, Harwell Godfrey, Jane Taylor, Marmari, Melissa Spalten, Robinson Pelham, Sorellina


No matter how much planning goes into one's first retail store, there will always be surprises along the way. Opening a store at the tail end of 2019, however, brought a whole new meaning to that sentiment. 


Michelle Pendleton, owner of Pendleton Jewelry in Kansas City, Kansas, lived the experience firsthand. 


She counts her ability to be nimble—adjusting to new modes of selling and delivering luxury via personalized attention on Zoom and video chat—as one of her greatest victories as a new retailer. 


"No one could have predicted the trajectory of designer jewelry demand throughout the pandemic, but the major theme for us has been to adapt to each client's unique situation and elevate their experience, no matter the budget," she explains. "It's safe to say we are obsessed with our clients, and we wanted each and every interaction to speak that loud and clear."


Pendleton's jewelry journey started in her hometown, Cleveland, Ohio. There, she met designer Heather B. Moore. "At the time, she was starting her personalized charm collection and a friend introduced us. There was an undeniable energy around her studio, and I felt that I needed to be a part of it," says Pendleton.


She worked with Moore, primarily in sales, for nearly a decade, visiting stores across the country and meeting other designers at trade shows. Upon relocating to Kansas City in 2014, she noticed the lack of a retail scene for jewelry lovers like herself. 


"I was itching to find a jewelry store that carried designers that I loved, but I was coming up a bit short. As I started to become more involved in the community, I noticed people wearing designers that I coveted. I would ask them where they bought their pieces and their answers ranged from New York to Dallas to L.A. but never Kansas City. That's when I knew there was a space in the market for a designer jewelry store."


Pendleton Jewelry's aim is to be "fun and unexpected," less fussy and intimidating than a traditional jewelry store. The layout is designed for comfort and interaction. There are seating areas for relaxing or planning a custom piece, while jewelry cases are set against the wall, without a counter separating staff and customers. 


The designer curation focuses on "women-led brands we are passionate about supporting," like Brent Neale, Anne Sportun, and Almasika, Pendleton says. 


"Whether you purchase or not, we want you to walk out of our doors feeling heard, cared for, and seen."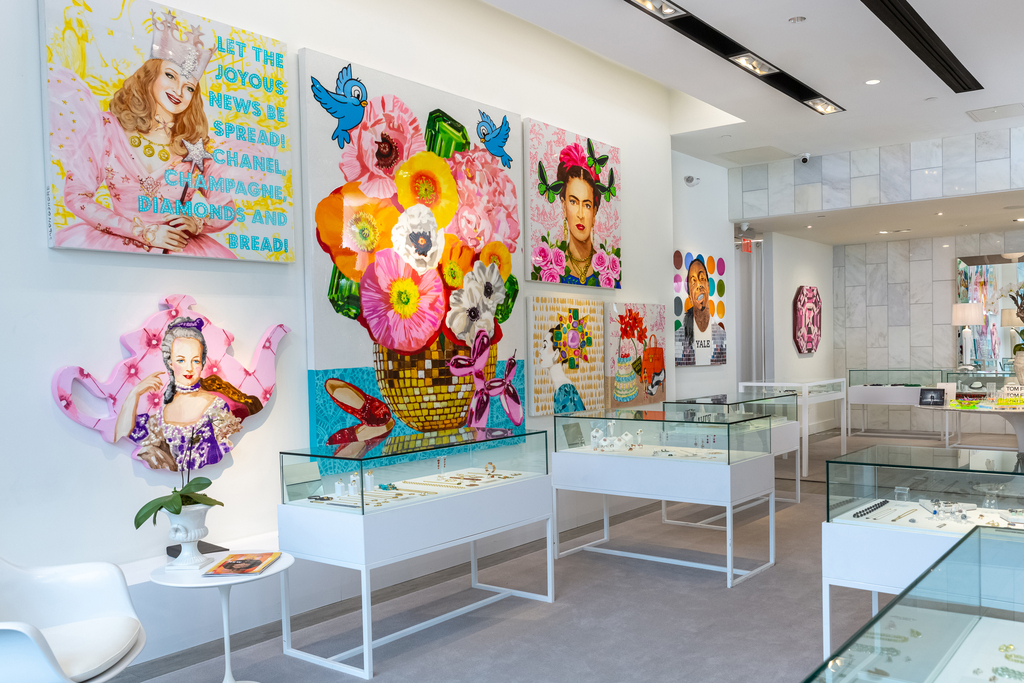 Don Purcell
Atlanta, Georgia
Open Since:
September 2021
Designers:
Hoorsenbuhs, Irene Neuwirth, Loree Rodkin, Marie-Hélène de Taillac, Melissa Kaye, Mio Harutaka, Sylva & Cie
You know that cliché about the pandemic forcing one to reprioritize their entire life, e.g., taking a job loss as an opportunity to embark on the career they've always wanted? It happened to Don Purcell, and he has a jewelry store to show for it. 


His eponymous store opened in 2021 in Atlanta, Georgia. The road to get there was decades in the making. Purcell worked for luxury retailer Jeffrey for 25 years, serving as general manager for the Atlanta and New York City locations.


"I lost my job in the summer of 2020 when all Jeffrey stores closed due to the pandemic. I decided to pursue my dream of owning my own retail store," he says. 


Purcell already had connections to his favorite jewelry designers, plus a career's worth of retail experience to bank on. He approached his namesake business with a holistic approach to delivering an experience, making sure he didn't just stock fabulous brands like Irene Neuwirth and Sylva & Cie but also had a sales team who could best serve the clientele. 


"The customers and sales associates at Jeffrey were like family to me," he explains. "I wanted to provide a space for all of us to work and enjoy each other."


Located in the city's tony Buckhead neighborhood, Don Purcell is vibrant, happy, and welcoming, the antithesis of a stuffy jewelry store. The walls are covered with dynamic and tongue-in-cheek Ashley Longshore paintings. Most of the designers Purcell carries are exclusive to his store in the state of Georgia. 


"The whole experience of taking the plunge and opening my own store was rewarding and even scary at times but ultimately well worth it," he says.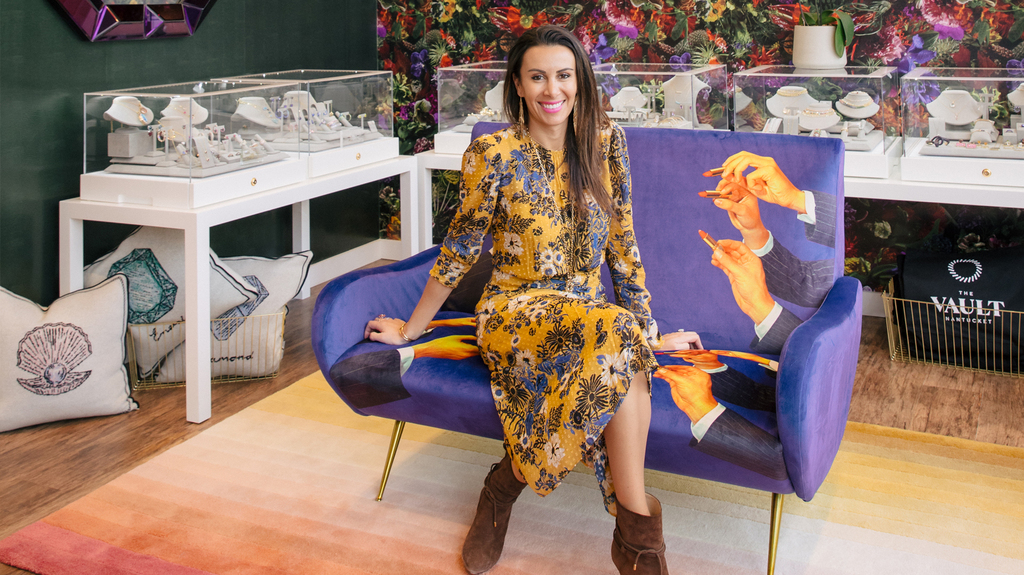 The Vault Nantucket
Nantucket and Boston, Massachusetts
Open Since:
2017
Designers:
ARK, Buddha Mama, Cadar, Diane Kordas, Fernando Jorge, Graziela, Hoorsenbuhs, Jacquie Aiche, Jane Taylor, Katherine Jetter, Moritz Glik, Octavia Elizabeth, Ondyn, Robinson Pelham, Shay, Silvia Furmanovich, Vram
Designer Katherine Jetter believes in brick and mortar. "Jewelry is about a connection, not only to the pieces themselves, but to the experience of purchasing," she explains. 


She describes her stores, The Vault Nantucket, as "a special place. We have visitors who are literally giddy when they see all the incredible pieces we have."


The Vault Nantucket, tucked in a historic street on the charming island and catering to well-heeled vacationers, is all about the in-person element, so much so that the seasonal jewelry store (open May to September annually) didn't even have ecommerce until 2020 when stay-at-home orders took hold. 


To further enhance the IRL experience, The Vault Nantucket opened a permanent, year-round spot in the Chestnut Hill area of Boston in 2021. 


"We offer highly curated fine jewelry from the best-in-class designers," says Jetter, such as Fernando Jorge and Vram. "Our atmosphere is luxurious, yet fun and inviting, and never with any pretense."


What sets The Vault apart from other retailers is Jetter's custom design ability. "I can guide clients to find the perfect addition to their jewelry wardrobe with a real knowledge of materials, design and pricing," she explains. "I am also always available in-house to do custom design work and repurposing, which my clients really enjoy and adds a personal connection between my clients and their jewelry." 


Design isn't Jetter's first career. She got her start in finance, a field that didn't match her creative, artistic sensibilities. While in Italy, she began working for a jeweler in exchange for Italian lessons.


"I realized I found my passion," she says. She pursued her graduate gemology diploma at the Gemological Institute of America and launched her eponymous jewelry collection in 2008. 


Spending her summers on Nantucket Island, she noticed a dearth of interesting jewelry. "My friends would always ask where they could buy my jewelry, which was very different from anything else they were seeing on-island. I decided there was an opportunity to bring contemporary fine jewelry brands to the area and the response has been incredible. Five years later, I haven't looked back." 


Now, she focuses on connections with clients fostered by jewelry. 


"Many of our clients are self-purchasers, which, as a female entrepreneur surrounded by an amazing group of powerful women, I love."
Charlotte, North Carolina
Open Since: November 2020
Designers: Aisha Baker, Ananya, Anita Ko, Bea Bongiasca, Emily P. Wheeler, Harwell Godfrey, Nikos Koulis, Retrouvai, Sauer, Silvia Furmanovich, Sorellina


Opened in late 2020, Tiny Gods' emotional genesis was much earlier, when founder Mary Margaret Beaver found herself in her first post-graduate job at an advertising firm in New York. 


The firm, J. Walter Thompson, was the ad agency of record for De Beers and Beaver was assigned to the "A Diamond Is Forever" account.   


"This was a grad school of sorts for a yet-to-be-imagined passion and career in the jewelry industry," she says.


This pinnacle of diamond marketing was Beaver's jewelry foundation. She made her way to Charlotte, eventually working at a local jewelry and tabletop store in various roles. 


"Ultimately, though, my own unique vision for what I wanted to create would need to be something new and all my own," she says. 


Tiny Gods is now home to many designers who aren't easy to find in North Carolina, like Anita Ko, Nikos Koulis, and Harwell Godfrey. Beaver says there is no substitute for interacting with designs in person, rather than on a website. 


"Clients often don't know what will speak to them in person or what they may discover when they step into Tiny Gods. Being able to see, look, feel, touch, and try on these wearable pieces of art is so important. Jewelry often isn't a quick click purchase. I want clients to have the opportunity to experience the evolving curation I am creating in an environment that feels dynamic and welcoming."


Co-located with an art gallery, Beaver describes Tiny Gods as a dynamic retail space—colorful, carefully curated and ever-evolving. 


In its short life span, the store has become a hub of designer trunk shows and events supporting other small businesses in the area. 


The store has allowed Beaver to cultivate the relationships she loves with the new and established designers she sources, and with her clientele. "Jewelry can mean so much to its wearer. It is an honor to play a role in helping clients discover their own vessels of personal expression that are most often also a symbol of love and significance." 


A new and unique voice in Charlotte retail, Beaver says taking the risk of opening Tiny Gods adheres to her general philosophy, which is: "Don't be afraid to be different." 


"The greatest risks are often the decisions that will have the biggest impact on growth."


 Related stories will be right here … 
More on Independents