'Pop' the Question With Stephanie Gottlieb's New Diamond Cut
The jewelry designer is partnering with popcorn brand Angie's Boomchickapop on a whimsical diamond cut.
For those who want their engagement ring to pop, look no further than jewelry designer Stephanie Gottlieb's latest collaboration.
"Over the past few years, we've seen an increase in demand for custom, unexpected and personal engagement ring designs," Gottlieb said.
"Collaborating with Angie's Boomchickapop on this never-before-seen ring means bringing a touch of whimsy to a milestone moment in a couple's life, and we can't wait to be a part of that."
 Related stories will be right here … 
The ring's journey began with the hunt for the perfect rough diamond.
The designer worked with her master diamond cutters to find an 11-carat fancy yellow diamond with just the right light yellow tones (Y-Z color) resembling popcorn. 
The rough diamond was shaped and polished into the unique cut, weighing in at 3.66 carats, then set in a yellow gold bezel and band.
The ring is available for custom order on Stephanie Gottlieb's
website
with a retail price starting at $50,000.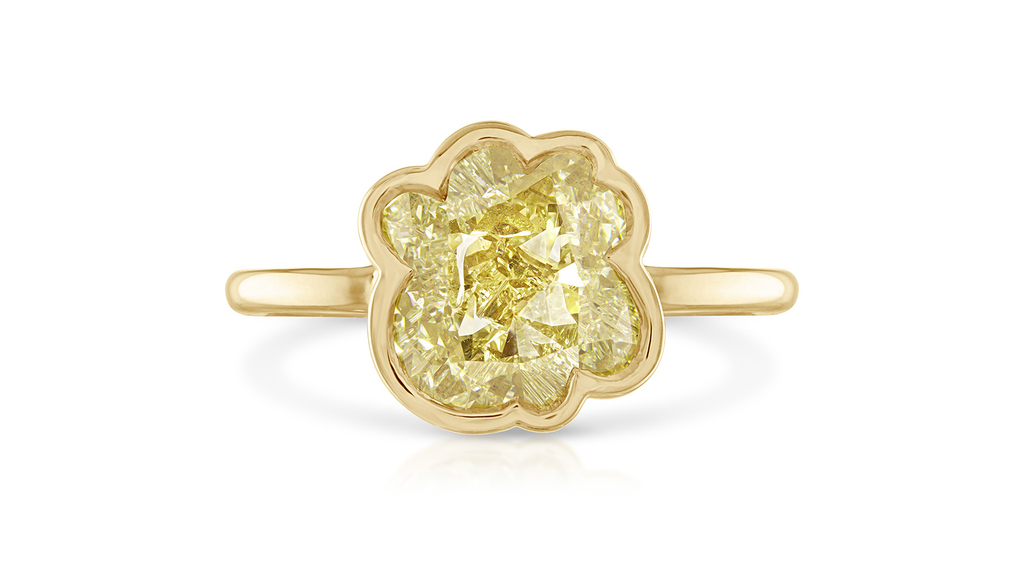 "We are beyond excited to partner with Stephanie Gottlieb to bring this truly unique diamond ring to life," said Audrey Ingersoll, vice president and general manager of sweet treats at Conagra Brands, the popcorn brand's parent company.
"The Angie's Boomchickapop brand is all about love and fun—and that's exactly what this ring embodies."
The jewelry designer started her fine jewelry and bridal concierge service in 2013 and has amassed a strong
Instagram
following.