Lab-Grown 'Ranch' Diamond Sells for $13K
Hidden Valley Ranch auctioned the one-of-a-kind lab-grown stone to benefit Feeding America.
New York—From
Panera Bread
and
Pepsi
to
Domino's
and
KFC
, a number of food brands have created kitschy diamond rings to capture customers' attention.
The latest is über-popular condiment and dip Hidden Valley Ranch, which debuted a one-of-a-kind diamond made with its signature ranch dressing on March 10, also known as "National Ranch Day" to those who celebrate.
Created by geologist and
LifeGem
Vice President Dean VandenBiesen, the 2.01-carat round brilliant, G VVS1 lab-grown diamond was made by heating Hidden Valley Ranch dry seasoning mix to 2,500 degrees and then crushing it beneath 400 tons of pressure, said the company.
The process took a total of five months.
Chicago-based LifeGem is a company that creates diamonds as memorial pieces using the ashes of a beloved human or animal.
"Ranch dressing contains carbon. Technically and theoretically, we can extract carbon from ranch dressing, as the carbon source for diamond growth, using [it] with CVD or HPHT technology," said Dr. Wuyi Wang, GIA vice president of research and development, in a statement to National Jeweler.
"Practically, I don't think it could become a real carbon source for diamond growth."
When asked if just anything can be introduced into the mix when growing diamonds, Wang explained that some elements can be added to the diamond lattice during the growth process, like nitrogen, boron, silicon, and nickel. Their concentrations in diamonds, as impurities, are very low.
"However," he noted, "we can't add everything."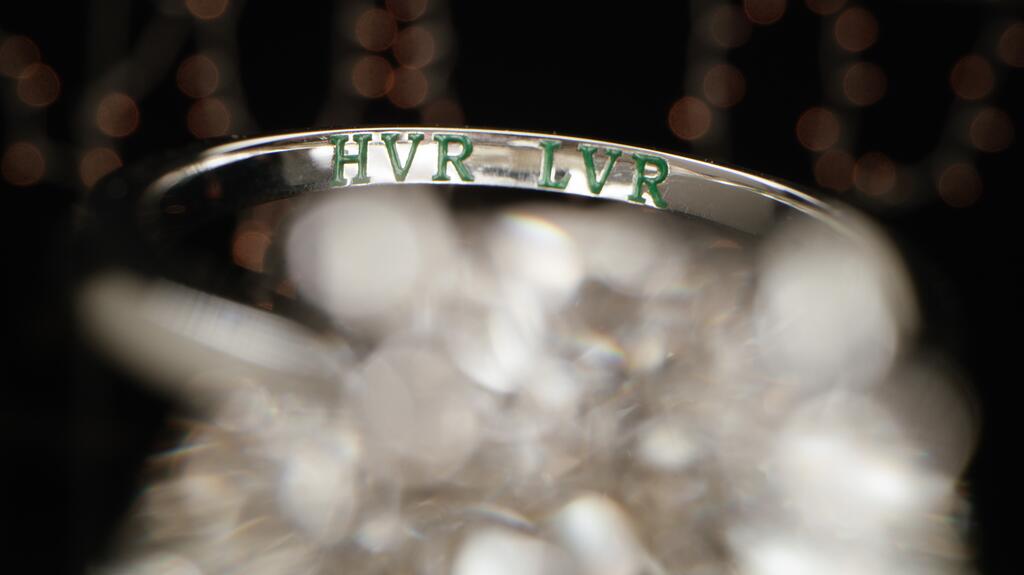 The lab-grown ranch diamond is set in a 14-karat white gold band with "HVR LVR," or Hidden Valley Ranch Lover, engraved on the inside.
"Last year, when one of our custom Valentine's Day bottles was used in a marriage proposal, we were inspired," said Deb Crandall, marketing director at Hidden Valley Ranch, in a press release.
"We saw a love of ranch become part of one of life's most beautiful moments. It made us wonder, how can we make this act of love even more memorable?"
The ring was listed on eBay
from March 10 to 17, with the bidding starting at $310.
The winning bid was $12,550, with all proceeds going to
Feeding America
, Hidden Valley Ranch said.
 Related stories will be right here … 
More on Sourcing