Citizen Watch Revamps Boutique in NYC Macy's with AR Display Cases
The new augmented reality cases bolstered its traffic volume and sell-through rates, Citizen said.
New York—The worlds of online and in-store shopping have continued to mesh as the pandemic shapes consumer behaviors.

Shoppers are looking for the best of both worlds: the easy access to information the online shopping experience provides and the in-person experiences found in physical stores.

Looking to fit the bill, Citizen Watch introduced augmented reality display cases at its New York City boutique within Macy's in Herald Square.

The company partnered with Pac Team Group, Luminary Design Co., and LG Business Solutions to craft the interactive showcases.

It's one of the world's first consumer-facing augmented reality product display cases, powered by LG Transparent OLED technology.

"Our goal for this location was to present a highly engaging sales video that doesn't require a salesperson and effectively mirrors the digital 360-degree product examination that online shopping has made standard," said Peter Barry, director of merchandising operations & logistics at Citizen Watch Company of America, in a press release about the displays.

Very few consumers have seen this technology before, Barry said, who noted shoppers looked excited and surprised to see the displays.

WATCH: The New Augmented Reality Display Case at Citizen Watch
"We imagined an experience that pairs the depth of online shopping with the tactile benefits of physical retail," said Brian Beyt, founder and president of Luminary Design.
"The result is a captivating product showcase that elevates and transforms real watches through a coordinated dance of visual effects, practical product information, and synchronized showcase lighting. All of these elements combine to turn shopping for a watch into an informative and exciting new experience for customers."
When designing the technology, it was important it be a seamless experience that didn't get in the way of sales, said Antonio Schiano, Pac Team Group's vice president of project development.
It's designed to allow customers to learn more about the products at their own leisure.
"As a high traffic location with significant sales potential and a hugely valuable branding opportunity, the customer experience has to be fluid and allow fast transitions from learning to trying to buying," said Schiano.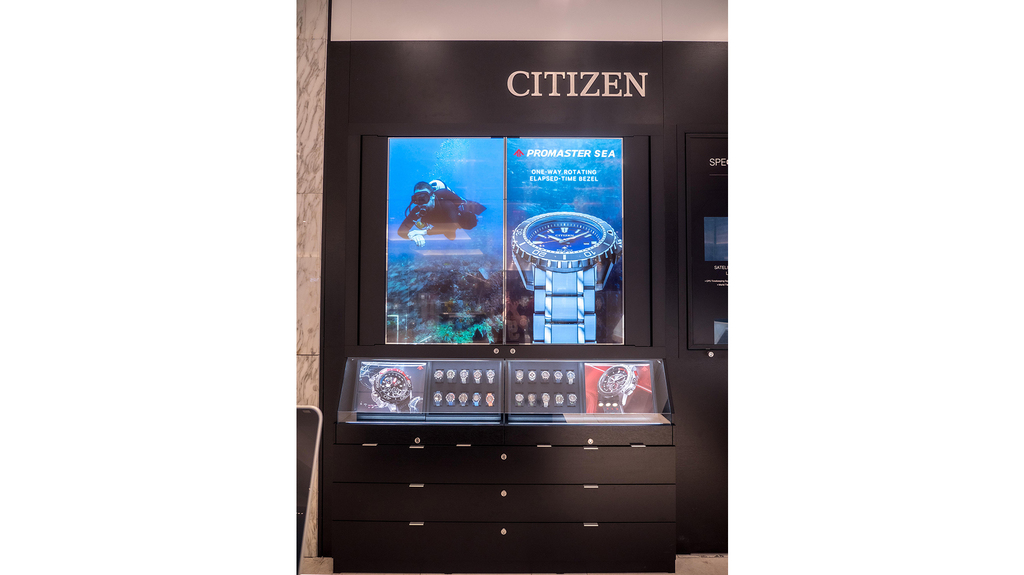 Another challenge for the team was all the competition surrounding Citizen within Macy's department store.
The solution was to create a unique aesthetic for the brand, finding a color palette, lighting, and a spatial design that would make Citizen stand out.
"One sure-fire way to hit all those marks was to use a technology that almost nobody has seen before, and Luminary was able to provide that with their unique use of LG's commercial displays," said Pac Team Group's Schiano.
Though Citizen wanted to stand out, the idea behind the design was to make the displays blend in seamlessly and then leverage the element of surprise.
"When what appears to be an ordinary display case suddenly transforms into an immersive product demonstration unlike anything people have ever experienced, it creates a rare moment of genuine surprise and delight," said Beyt of Luminary Design.
The display can also work in halves, splitting the case between its usual transparency on one side and a product video on the other.
 Related stories will be right here … 
The new displays didn't require all new content creation, but were able to use tweaked commercial assets and custom visual effects produced by marketing agency
The CSI Group
, and are still equipped with "industry-standard retail security," according to Luminary Design Co.
They seem to have had the intended effect, with Citizen noting "almost immediate" upticks in traffic volume and sell-through rates.

"The store has a gravitational pull that others simply don't have," said Schiano, adding that the displays generate valuable brand recognition.

"I think the success of this admittedly experimental store concept is going to push competitors to try to recreate our experience, or perhaps consider other cutting-edge technologies to enhance the physical retail journey," said Barry of Citizen.

Citizen is also exploring ways to use the displays in its smaller stores, he added, allowing the company to promote its products without a sales associate.

"Retailers and designers looking to reinvent in-person shopping in the digital age must be willing to adopt new technologies," said Dan Smith, vice president of business development at LG Business Solutions USA.

Additional features may be added to the screens, Smith said, including touchscreen capabilities and controls, proximity-based automation that changes content as a customer approaches the display, and QR code-based interaction and screen control that doesn't require physical contact.
More on Watches