5 Things to Know About … Fordite
Though not actually a gemstone, the man-made material tells the story of American automotive history.
Time for a little myth-busting about the man-made material known as fordite.
Even though it's also sometimes referred to as "Detroit agate" or "motor agate" and it can be cut and polished, fordite is not a gemstone.
But that hasn't stopped designers and brands from using the material, which looks like it could be a product of Mother Nature, in jewelry.
With its vivid waves of color that do indeed mimic natural agate and a backstory steeped in American history, I think fordite is a great alternative material to highlight in my "5 Things to Know About" series.
Read on to find out more about this "gem" and how it came to be.
1.
Its story is a slice of American history.
Starting in the 1920s, auto manufacturers began painting car bodies using a hand-spraying technique to speed up the painting process, and overspray would accumulate in the paint bays.
Over time, layer upon colorful layer built up.
The pieces of enamel paint slag were repeatedly hardened in the ovens in which the cars went to cure the paint, according to
Fordite.com
, with some of the layers baked up to 100 times.
Eventually, the paint clumps got in the way of vehicle assembly and had to be removed. Luckily for us, groups of factory workers eventually started salvaging the material.
Some pieces of fordite have been cut and polished for use in jewelry, which Fordite.com says is done "with relative ease," though it notes pieces vary in strength and should be treated with care.
According to an article about fordite in the
spring 2016 edition of GIA's Gems & Gemology
, it takes about 997 layers of paint to build a 1-inch thick fordite slag specimen.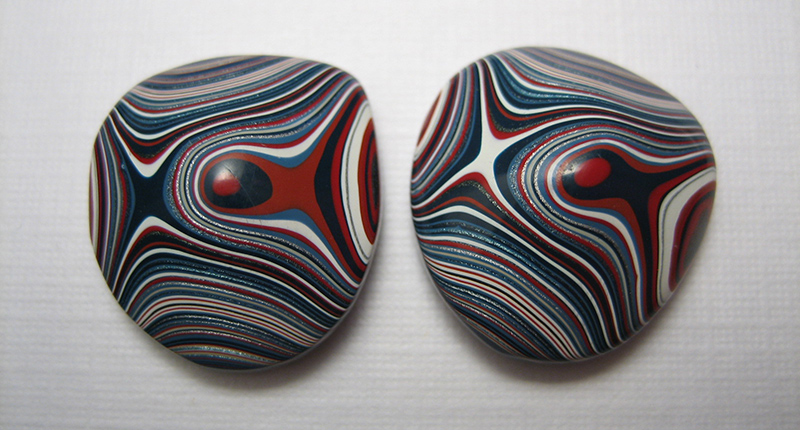 2.
Material came from more than just the Ford plant.
The inspiration for the name is obvious—according to Gems & Gemology, fordite was first collected at Ford Motor Company in Michigan in the 1940s.
But the name the name now generally refers to any material composed of paint slag from various automotive plants. 
For example, there's material from the Corvette assembly plant in Bowling Green, Kentucky—though some prefer to call that by its own name, corvetteite—and Lincoln-Mercury paint from a Canadian plant. 
Gems & Gemology notes fordite from the 1960s and 1970s comes in the boldest hues, since there was more demand for brightly colored cars then. 
Pieces of fordite from the earlier days of automotive manufacturing tend to have more muted neutrals.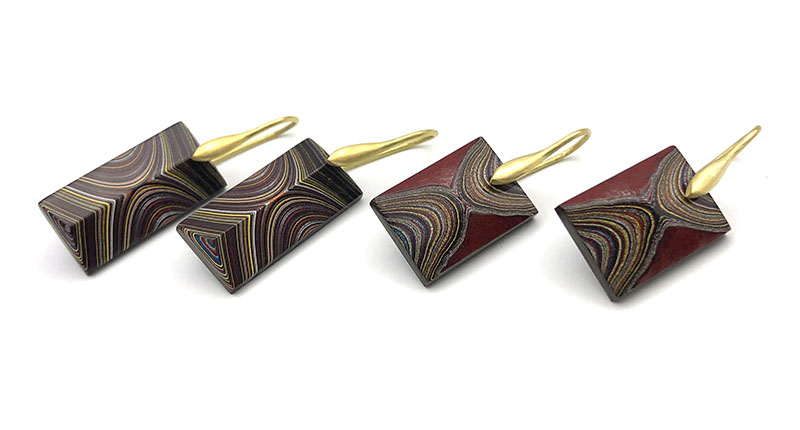 3.
Supply is limited.
By the 1980s, car manufacturers had moved away from the hand-spray painting method. Now, they use an electrostatic process that magnetizes the enamels to car bodies, leaving little to no overspray.
This means, of course, no more paint buildup so the supply of fordite is limited to what's already on the market.
Several sources noted there's probably a lot stashed away in collections. A significant amount also was probably thrown out before workers started saving it.
But even with its limited supply, fordite still can provide an affordable option for jewelers, from $20 to several hundred dollars per piece, according to Gems & Gemology.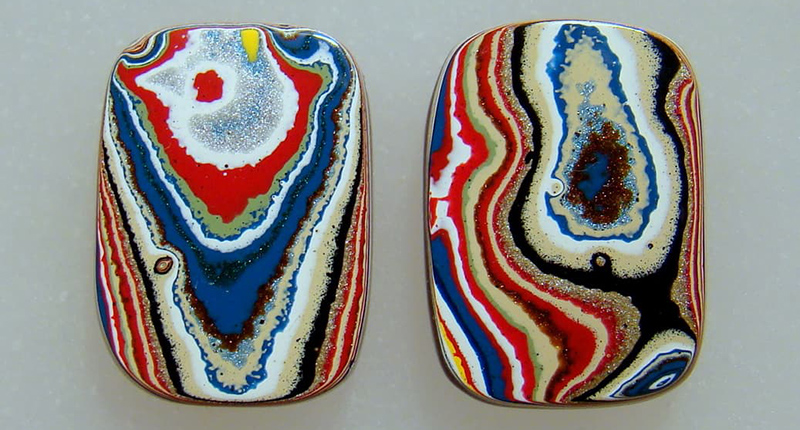 4.
There are different types.
Since it varied by plant and by era, fordite is available in many different color combinations. 
According to Fordite.com, the material is generally grouped according to how the layers fell and the color banding that resulted. 
One focuses on colored layers regularly separated by a gray branding of primer. 
The other groupings feature various degrees of color on color. One is comprised of only opaque and metallic paint in select colors from special color runs, while another has dripping and/or striped layers with occasional lace and orbital patterns or surface channeling.
Another group of fordite types features opaques and metallics with bleeding layers and, sometimes, pitting from when air bubbles developed as the layers formed. 
(Visit Fordite.com for more information and examples of the layers.)
5. The upcycled material appeals to designers and consumers today. 

There are a number of brands and designers who have taken to fordite, loving the way the "gem" has such an interesting story to tell. 

Stories are jewelry designer Eve Streicker's ethos for her brand, Original Eve Designs, especially when it comes to the material she chooses, and fordite is a perfect match. 

"When it comes to fordite, there are few other materials that so beautifully tell the story of their past," she told National Jeweler. 

"Fordite not only displays the changing colors used on cars in each layer of hardened, subtly sparkled paint, but also the history of the American automotive industry, which has transformed or disappeared in the Ford motor factories in Detroit." 

Jewelry designer Marla Aaron told National Jeweler she began to take notice of fordite after she saw it set in knife and gun handles. 

Aaron emphasized how American and "poignant" fordite is. 

"There's something really special about taking something discarded and turning it into something precious," she said, adding that she loves the colors and the material's light weight. 
Her eponymous brand started using fordite in her signature design—a lock—and then expanded to make cuffs and earrings using fordite, the latter of which have been especially popular.

Fashion brand Roland Mouret liked the pieces so much it used several in its New York Fashion Week presentation last fall, including Aaron's statement earrings, which really popped on the runway. 

Aaron said the brand was so taken with fordite that it had the nail artist create a pattern to match. 
More on Editors
Editors
Feb 01, 2023