7 'Gems' I Discovered in 2019
Senior Editor Brecken Branstrator revisits interesting facts, stones and people she learned or wrote about this year.
One of my favorite things about my job? There's always so much to learn and discover.

We attend conferences and events, talk to so many people, see so many gems and jewelry, and do so much research and reporting for our articles that new information is constant. 

As a person who's infinitely curious and loves to be in a learning position, I can't get enough. 

2019 was chock full of "gems" of information, especially when it came to colored stones. Here are just a few of my highlights.


1.
Learning the natural pearl market in the U.S. is a by-product of the button industry.
This little nugget came to me via the Accredited Gemologists Association's
Tucson conference
in February, where Gina Latendresse of the American Pearl Company spoke.
According to her, by the late 1800s, the freshwater pearl button industry in the U.S. was flourishing, thanks to the number of mussels available in the country's waters as well as the availability of cheap labor.
Decades later, this would give way to a new market created around cultured pearls in Japan, and, specifically, their need for the nuclei from North American natural pearls.
"All cultured pearls around the world, if they're using a mother-of-pearl bead, they have a little bit of Tennessee or Mississippi River tributary mollusk inside of them," she said.
2.
Discovering the magic of grandidierite.
This year was something like the year of grandidierite for me, and oh how lucky I am for it.
At the AGTA GemFair show in Tucson, I got to see a handful of beautiful specimens in person at the booth of—who else?—Omi Gems.
I then got to view a few more faceted stones at the Wilensky Gallery in the New York, which put three spectacular specimens from gem dealer and Mineral Art manager Brice Gobin on display last spring.
Chatting with the team in Tucson and getting to see so many pieces in real life—and touch and play with them!—led me to write a
"5 Things to Know About … Grandidierite"
blog post, full of information about the gem's discovery, rarity and so much more. I hope you readers enjoy(ed) it as much as I liked writing it.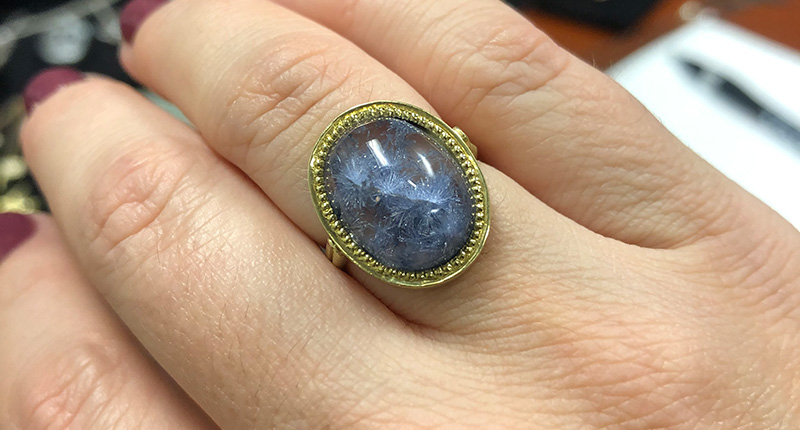 3.
Discovering dumortierite during a deskside.
In October, jewelry designer Alison Nagasue dropped by the office for a deskside visit.
We had a great appointment, during which she showed me her new designs, including a number using carved opals that were adorable.
But one stand-alone stone that really caught my eye was a ring centered on quartz with dumortierite (pictured above), a blue quartz that ranges from about 7 to 8 on the Mohs scale
The specimen she had chosen looked like it had icy blue crystals growing inside. It was mesmerizing and, given that the appointment was in October, was perfect for the season we'd soon be heading into.
4.
Meeting this (opal) fish.
I love seeing what comes out of the industry's design competitions, especially when resulting works use materials in a completely unique and fun way. 
This year, I was a judge for Jewelers of America's CASE Awards for jewelry retailers, and I met a piece with which I became slightly obsessed for its playfulness. 
Master Jewelers' Bernie Benavidez designed this brooch, which features a carved Lightning Ridge Australian opal in 18-karat gold.
The 0.23-carat briolette diamond on the front moves to provide the "light" for this comical anglerfish.
As soon as I saw him, I was hooked (pun intended). It wasn't a CASE winner, but it was a winner in my book. 
5.
Learning sphene has more "fire" than a diamond.
Picking subjects for the "5 Things to Know About…" blog is a combination of focusing on stones that might be getting more attention in the trade and picking colored gems that I personally just want to know more about.
Sphene was the latter for me this year; I have seen a few great stones in person in recent years, and a really good one in Tucson this year convinced me I should
dive into it more
.
One of my favorite discoveries as I was researching and pulling it together was learning that the gem has one of the highest dispersions—referring to a mineral's ability to break white light into spectral colors—of any mineral.
In fact, the dispersion of sphene is 0.051. A diamond's, by comparison, is 0.044.
This is what gives sphene its intense "fire," allowing it to showcase multiple colors, and one of the factors that gemstone connoisseurs appreciate so much about it.
6.
Spotting these amazing inlay pearls.
I intended to write a story about the inlay pearls that were popping up and my newfound obsession with them this year, which never came to fruition, so I'm happy to give them a little love and attention here.
Eliko Pearls is offering pearls inlaid with abalone shell and even 24-karat gold powdered paint, creating the most beautiful and intricate patterns unlike anything I've seen.
The craft of making the maki-e and mosaic pearls stems from an ancient Japanese technique; the CPAA has a great story that delves deeper into the art
on its website
. 
The inlay pearls are popping up in finished jewelry, and the look is unbeatable. 
7.
The industry is full of so many kindhearted people.
This isn't really something I just discovered this year, of course, but as I was going back through the stories I wrote in 2019, something that stood out was how many stories I wrote about good projects from members of the industry or money being raised to help others out through gems and jewelry.
There was the launch of Gem Legacy in Tucson, designed to give back to the East African gemstone communities and which immediately raised money to
provide a compressor
to women miners in Kenya. (They're always looking for more ways to give back, so if you're still in need of a good cause to donate to this holiday season, look no further.)
Then in March I wrote a story about jewelry designer Theresa Kaz
losing her house in a fire
. After it happened, do you know what she did? She turned around and raised money for the volunteer fire department that helped her and her family out.
Then there were the many individuals and companies raising money for organizations fighting the fires in the Amazon or helping its communities—
Hannah Becker of Diamondoodles and Noelle Habib of Noelle Habib Gems
, blogger
A Thousand Facets
, and
Gurhan
, among others. 
It was such a nice reminder that so many recognize how lucky we are to be in our position and how we can use it for the best. 
I'm going to end the blog with that to close the year on a note of hope and positivity. 
Happy holidays, all! See you in 2020. 
More on Editors
Editors
Oct 13, 2021