Monisha Melwani Is Miami's Best Fine Jewelry Find
She's the city's go-to for piercing parties and personally styled jewelry looks.
Today, when a brand launches, one might expect a website or Instagram account with some eye-catching graphics, "Coming Soon" emblazoned alluringly across an otherwise empty feed.
Weeks, or even months, later would come a peek at the actual product for sale.
Monisha Melwani has run her fine jewelry business in opposite fashion.
The Miami-based designer has been selling her array of on-trend, easy-to-wear-and-layer fine jewelry basics for well over a decade and only begun branding her eponymous collection in the last two to three years.
"I started branding more when the girls," she says, motioning to her employees Catherine and Maria, "were like, we need to do an Instagram, a Facebook."
Until recently, "Her business was all word of mouth," Maria tells me, at their showroom in the Miami suburbs, where Melwani has been headquartered for the last 10 years. "Her clients are very loyal."
With a little help from her younger employees, Melwani is now firmly in the 21st century, filling South Florida's dearth of aspirational-yet-attainable jewels with her flattering diamond and gemstone styles.
She doesn't have a storefront, but she's become the local queen of the piercing party, with her very own in-house piercer. She pops up at local businesses she collaborates with and even throws parties at clients' homes.
It's collaborating with her clients-turned-friends that Melwani loves and inspires her creations, styling a client's ear with multiple earrings to create a look that's uniquely them.
Collaboration is how she got into jewelry in the first place.
Born and raised in Hong Kong, Melwani lived in New York City and Nigeria in her early adulthood before settling in Miami 20 years ago.
A family friend hired her to sell his traditional Indian jewelry at trunk shows on the weekends, so she had most of her time free to take care of her three young children. It was the flexibility he offered that drew her into the jewelry world.
"He gave me that opportunity to work weekends and work my own hours," she said. She did that for five to six years.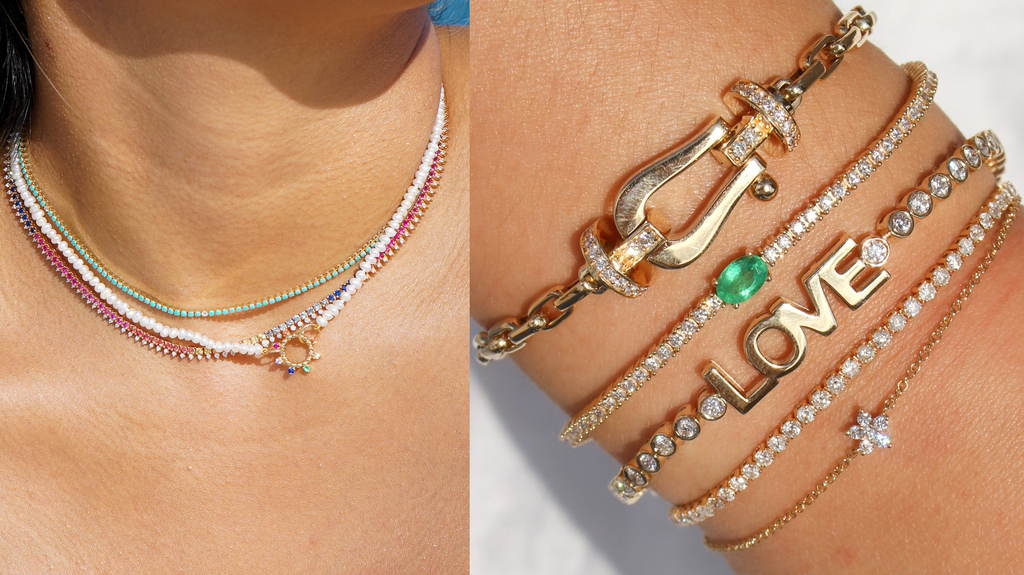 Out of the relationships she formed with clients, Melwani began to branch out into design and manufacturing.
"I had so much support from clients and people I met along the way who were so good to me," she says. "They would come back to me and ask me 'Can you get me this, can you get me that?' That's how I started developing a line. I saw what they needed and wanted."
Fluent in Cantonese, Melwani's Asian background helped her connect with factories overseas. Today she produces "all over Asia," in India, Hong Kong, and Bangkok.
As her employees, clients and loved ones have encouraged Melwani to think bigger picture with her brand, she's created a bustling
e-commerce home
and developed a wholesale business. 
From business decisions to design inspiration, it's connection with others that fuels the company.
"I think it's the camaraderie that I have or people have with us [that inspires me]," she explains. "I don't want to be a total online store. I want that Zoom call or Facetime. I like that human connection."
For Melwani, her jewels are meant to be ageless.  
"I always wanted to design for everyone. I never wanted to be an age-bracket jeweler."
As Mother's Day approaches, Melwani is feeling pearls, "because every single woman can wear them, whether you're a grandmother or a young little girl with pearl studs."
Though she says a lot of her collection is genderless (just ask Dwayne Wade, who wore several pieces for a recent editorial photo shoot), she's also crafting more pieces with men in mind specifically. 
"There's a niche in the market," she says. "I have nephews that love jewelry and clients that love it."
So much so that at a recent brand photoshoot, there were male and female models, who were—in line with the brand's collaborative ethos—personal friends of the designer.
"What inspires me are my clients and friends who come up to me and ask me if I can make them something. I'm inspired by the people around me and what I like or what I'd like to see on people. It's a shared inspiration. It's a family." 
More on Editors