Sustainability Stories: Mine to Market with Moyo Gemstones
The first in a new series from Senior Editor Brecken Branstrator highlights a program bringing tracked gems from women miners in Tanzania to market and improving mining along the way.
The challenges associated with creating a supply chain that's transparent, traceable and ethical are myriad.
Responsible sourcing, its obstacles and how to tackle them are among the industry's hottest topics today, especially in the colored gemstone sector.
While discussion on these topics is necessary, it can be easy to get caught up in conversations about what still needs to happen without stopping to appreciate the concrete work being done by individuals and industry bodies today.
To that end, I've decided to launch a blog series highlighting real projects and initiatives undertaken by companies big and small, not only to celebrate them but to show what's possible.
I'm kicking it off with a look at a recently launched program called Moyo Gemstones—so named because it means positive things in several different African languages—designed to help gemstones extracted by female miners in Tanga, Tanzania, move from mine to market while improving the lives of the women along the way.
The pilot project is a collaboration between the non-governmental organization Pact, Monica Stephenson's
Anza Gems
and
Nineteen48
, with input from the
Tanzania Women Miners Association (TAWOMA)
and a blockchain addition from
Everledger
.
Building a Foundation
Moyo Gemstones builds on work already done in the area. The Gemological Institute of America approached Pact in 2016 to partner on an education program for miners, and the pilot took place in the Tanga province. 
Cristina Villegas, director of Mines to Markets at Pact, told me in a recent interview that while the program was successful in helping these women drastically increase sales, Pact realized they were still selling on a subsistence basis and that more needed to be done to help them find equal footing in today's gem market. 
Collaborating with the miners and other players, Pact designed the mine-to-market program now called Moyo Gemstones, empowering the women to work safer, mine better, improve financial security and create equitable markets for their gems.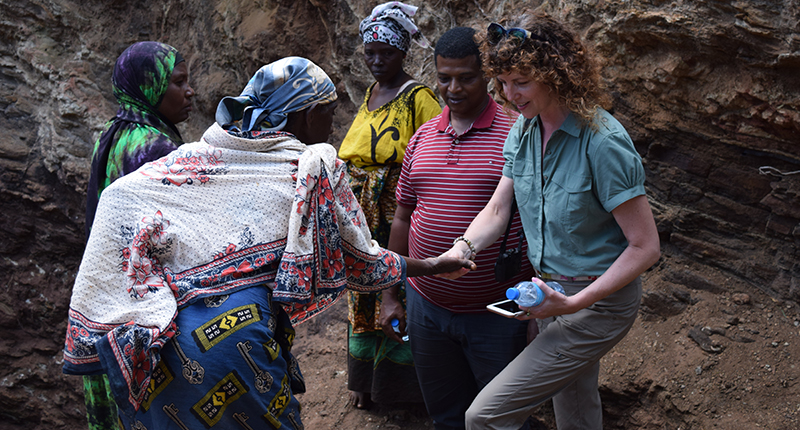 Not only do they want to effect change in the gemstone supply chain and the way gems benefit the communities from which they come, but also offer storytelling around them. 
"Consumers, regardless of commodity, are looking for different ways to interact and to make an impact through their purchasing power," said Rebecca Villalobos, a member of Pact's Innovation team. 
Based on direct feedback from the miners, Moyo Gemstones decided to hold "market days" in which all the women travel to a central location to sell their goods, providing a regular, controlled system for Moyo miners to do business with vetted local brokers and traders.
Each woman who wants to participate must be verified as a legal miner, among other considerations.
Moyo Gemstones will use the pilot phase to figure out how often the market days should happen. The first one is scheduled for May.
(A side note: The Tanzanian government has yet to officially lift the ban on rough gemstone exports instituted last year but has started to implement a few changes. Regardless, Villegas said the government has been supportive of the program and, because of Pact's long history in the country, allows Pact to export despite the ban.)
Building the Communities
The Moyo Gemstones initiative is intriguing not only because it's helping bring gems from vetted local miners to market, but also because it's working to improve mining directly.
They are partnering with Tanzanian engineering services firm MTL Consulting to improve health and safety, working conditions, and basic geological and engineering support for enrolled miners. The firm has experience working with the Fairtrade Foundation's ASM gold miners in East Africa.
Pact is also working with the Alliance for Responsible Mining to adapt the
Code of Risk-Mitigation for ASM engaging in Formal Trade (CRAFT)
—a global "entry" standard for due diligence in artisanal and small-scale mining—to colored gemstones.
"If we want to include as many (miners) as we can and change their lives, we have to meet them where they are but also set expectations and incentives," Villegas said.
They will work with MTL Consulting to get the Moyo miners to CRAFT level over time.
In the meantime, as CRAFT for Gemstones develops, they will track progress against local laws, to which CRAFT is closely aligned, and aim to reinvest back into the community through staffed health clinics and teacher housing, which the women miners indicated are top priorities.
Adding Traceability
There's another interesting aspect to the project.
Pact has been working with Everledger, the same tech company that
developed Gubelin's Provenance Proof blockchain
, to develop a blockchain suitable for these artisanal miners.
Stones will first be recorded on the blockchain at market days. (There's information on the reasoning behind that on the
Moyo Gemstones website
.)
When asked if this project presented any unique challenges, given the ASM aspect, compared with others they had worked on in colored stones, Carrie George, Everledger's vice president, head of sustainability solutions, said when the company developed Provenance Proof with Gübelin, they already had taken ASM miners into account.
"One key factor that we needed to ensure was the ease of use and simplification of the process."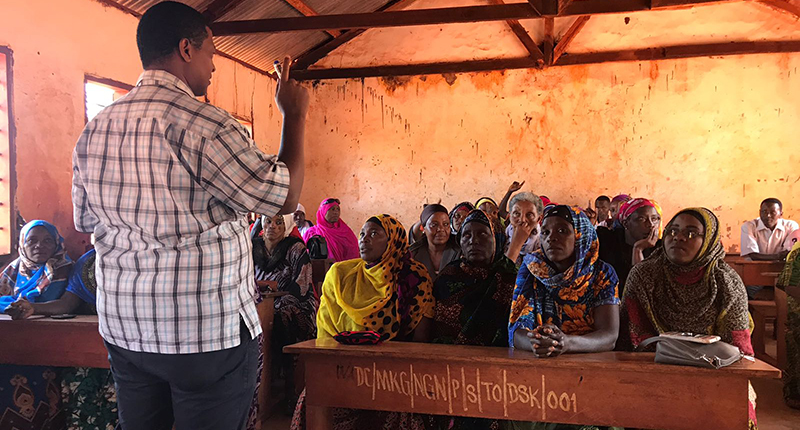 She said teaming with the right partner, Pact, has been crucial in this project since they have so much experience on the ground with ASM miners. She added that education and training are important, which Pact has enabled through on-the-ground support and training.
"Everledger has evaluated the most effective and low-cost solutions for miners to provide chain-of-custody information. This combination is essential for downstream retailers to be able to confidently source ASM gems and, therefore, support their livelihoods."
Pact and Everledger also had to keep the miners' security in mind, meaning they had to balance providing enough information to allow for transparency and rich storytelling with privacy considerations.
"Part of the challenge here is recognizing that women miners are some of the most vulnerable people in the world," Villegas said. "There's usually some kind of shock event that happens to push them into mining. Not always, but often."
Information visible on the blockchain will show the physical movement of the gemstones as well as who has handled them. There will also be basic information on the traders, exporters, brokers, mining regions and TAWOMA.
Individual miners' stories and the program's tracked metrics will not be on the blockchain, however, for both privacy and safety reasons.
Rather, Pact will aggregate the data and share information on
MoyoGems.com
to allow consumers, designers and retailers to learn more about how the miners are doing and how the program is developing.
Pact will test a few stones on the blockchain at the first market day in May and then improve as they confirm the format and get used to the technology, Villegas said, slowly incorporating blockchain as a complement to the chain of custody being constructed.
Headed to Market
To provide a point of sale for the loose stones the women mine—ruby, sapphire, tourmaline and garnet—Pact partnered with
gem trading companies Anza Gems and Nineteen48
. The two will work with existing traders in the country to buy gems from the participating miners and make them available to the global market.
"From the moment I heard about the GIA/Pact initiative, I could see the potential for a sustainable economic model," Stephenson, of Anza Gems, said. "This could be a way out of poverty for these women and their children, through a natural resource they can harness. We can help bridge the gap of knowledge to help them mine better, safer and more productively, and give them a fair market value for their gems. And we can help them tell their stories and bring their beautiful gems to light."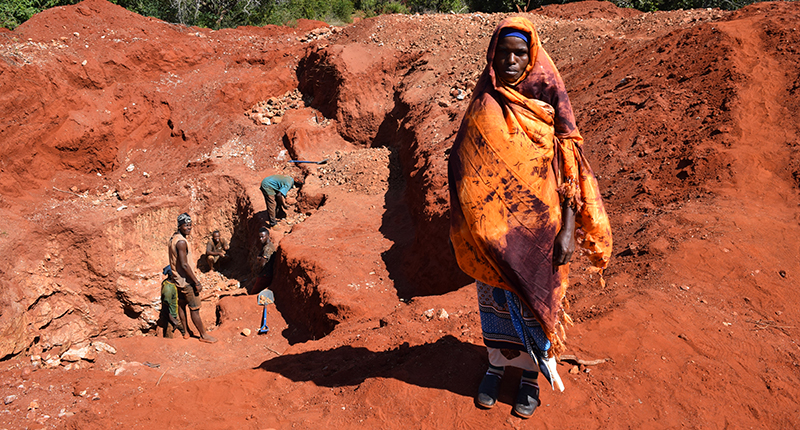 She added that as they worked on the program, local brokers and traders, as well as others in the Tanga community, rallied around it.
"When you elevate women, you are helping the entire community and region."
Stephenson said faceted gems should be available by early to mid-summer for designers or retailers interested in buying and setting them in jewelry.
Ultimately, Pact is hoping that in building a program in direct collaboration with the miners and using participants and industry members already in place, rather than reinventing the wheel, Moyo will become a scalable project that could be replicated at other artisanal mining sites.
For now, I'm excited to see how this pilot program progresses.
To read more about it or learn how to purchase the miners' gems, visit
MoyoGems.com
.
More on Editors
Editors
Jan 18, 2023