And the (Spectrum) Academy Award Goes to…
Senior Editor Brecken Branstrator gives her own set of awards to pieces from the AGTA's annual Spectrum design and lapidary competition.
Going to see the AGTA Spectrum Award winners and submissions in New York is one of my favorite activities of the year.

All those amazing gems, the beautiful loft space in the West Village with a view of the river and downtown, and this year even included the opportunity to pick out some gem-colored flowers from the team behind New York's Uprooted flower truck.

But when it comes to seeing which pieces won and what didn't make it to the final table, I, like every editor that goes in there, generally have some different opinions. I like to note the differences between what the judges selected and what I would've chosen as winners, and to make my own discoveries on the tables.

I wanted to recognize some of these pieces, but in a way that was a little different this year. So without further ado, here's my list of winners, done Academy Awards-style.

The award for The Fashion-Forward Piece We'd All Actually Wear goes to…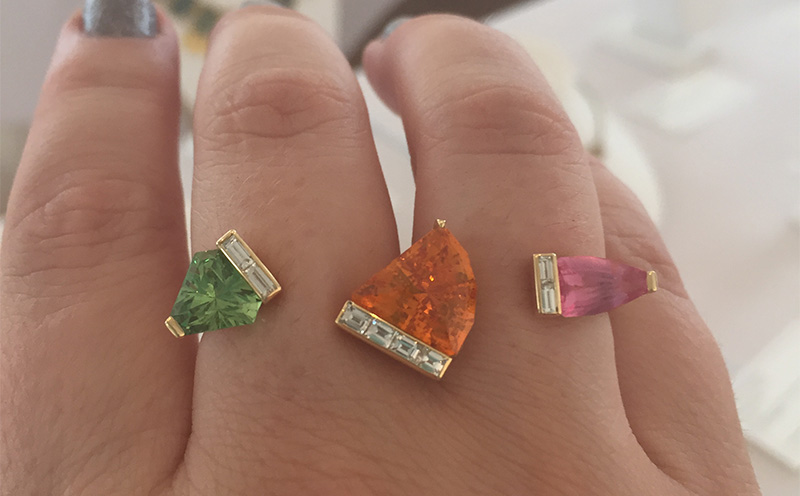 Wendy Brandes' double-finger ring featuring a 1.55-carat grossular garnet, a 1.27-carat pink Mahenge spinel and a 5.50-carat spessartite garnet, accented with diamonds and set in in 18-karat gold.

In my opinion, this should have been a winner in Spectrum, so I wanted to give it some love here. The candy colors of the stones mixed with a stunning trendy-yet-wearable design, as well as a good cause behind it (the stones are from Anza Gems, directly benefiting East African mining communities), makes for one winning piece.

The award for Most "Interesting" Carvings goes to…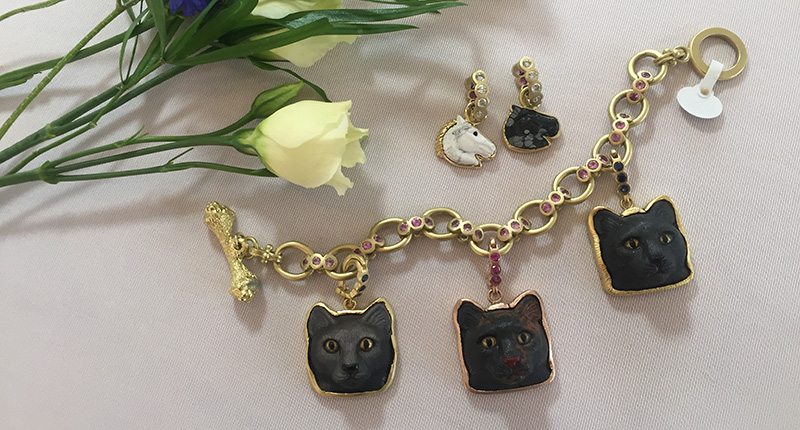 (Photo credit goes to our Associate Editor Ashley Davis)"The Black Cats of Riga, Latvia" bracelet in 18-karat yellow gold with carved cats made of onyx, obsidian, mahogany and jasper with pink sapphire, citrine and diamonds from Diane Griswold Johnston of The Lapis Tree.

I think "interesting" is a good word for this piece, right? It's a little bizarre but definitely unique. There's also a lot of detail in there.

The award for The Best Little Critter goes to…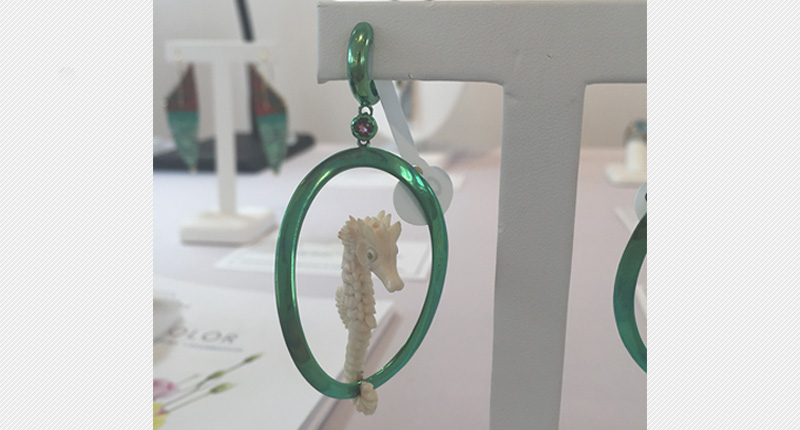 Mark Loren's titanium-anodized earrings featuring mammoth ivory carved into the shape of a seahorse and accented with pink and blue-green tourmalines.

I don't know why I'm so attached to these earrings, but I love these little guys and the way they're just sitting there, swinging the day away. Also the colored metal is very on-trend.

The award for Best Color Combination goes to…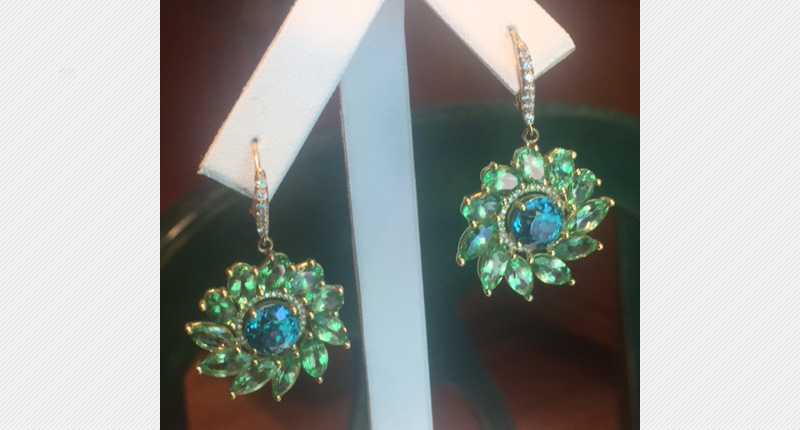 Bella Campbell
of Campbellian Collection's 18-karat gold earrings with mint garnets, blue zircon and diamond accents.
Bella knows how to pick gems, and I always love the ways she plays with color and mixes and matches various shades. The blue-green combination of such richly saturated gems makes me happy.
The award for
Most Innovative Design
goes to…
This ring from Ricardo Basta is so interesting; it's actually two separate pieces. On the inside is the "Royal Blue" ring featuring a 12-carat blue sapphire accented with diamonds and on the outside (pictured at right) is a detachable 18-karat yellow gold "Quilt" jacket with turquoise accented with diamonds and tsavorite garnets, creating a ring within a ring.
The award for
The Best Use of Movement
goes to…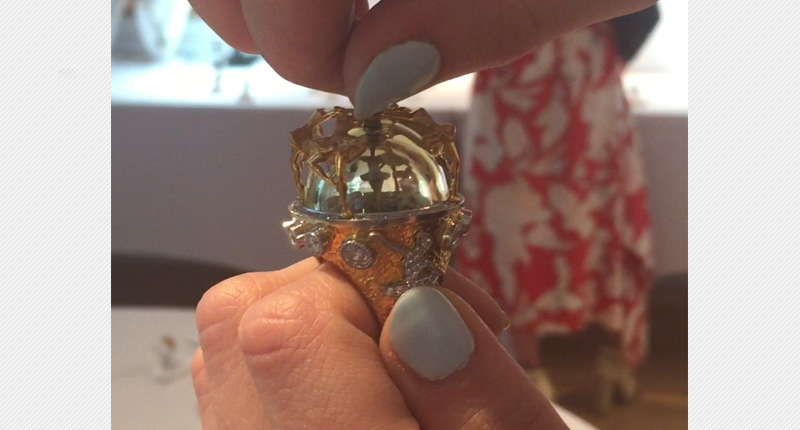 Lord Jewelry's 18-karat yellow gold and platinum "Ballerina" ring featuring a 65-carat specialty-cut lemon citrine accented with diamonds and enamel.
I wish I could've found a way to embed the video I took of this piece, but as you can see a little from this picture, when you turn the piece on top, the dancer in the middle spins around along with the swans. I think everyone had a child-like fascination with this one.
The award for
Best Updated Halo
goes to…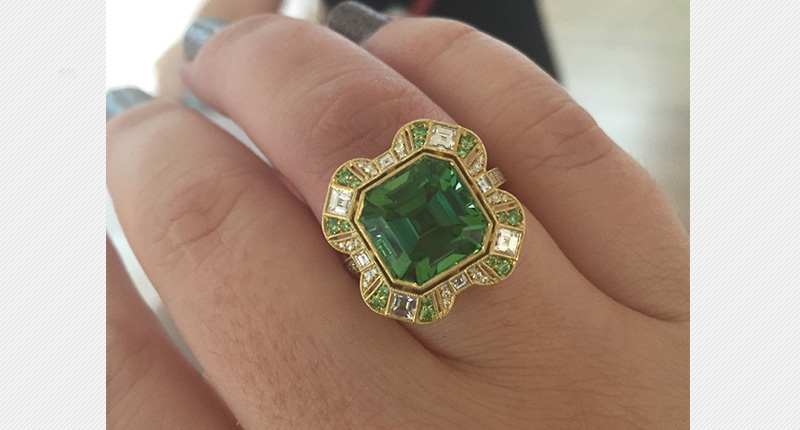 Herner & Dunn's 18-karat yellow gold ring featuring a 5.71-carat mint tourmaline accented with tsavorites and diamonds.
The stunning green stone at the center is what brought me to this piece, and the halo around it is what kept me there. I love the way it gives it a slightly floral look while still letting the tourmaline in the middle speak for itself.
The award for
Best Use of August's New Birthstone
goes to…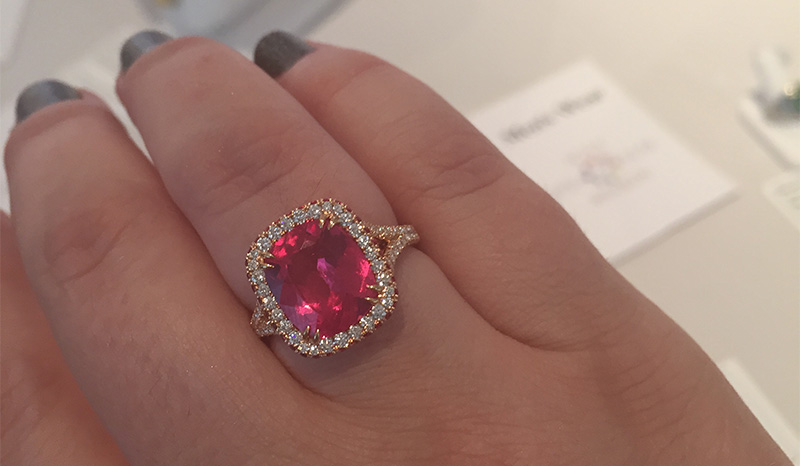 Omi Gems' 18-karat rose gold ring featuring a 4.01-carat cushion-cut pink spinel accented with spinel and diamond melee and a 0.01-carat alexandrite, which is on the inside of the shank and can't be seen here.
I've got this little (OK, big) obsession with spinel lately. It's not like I didn't appreciate it before, but ever since the announcement that it's been
added as an August birthstone
, I've done more and more stories on the stone and become more infatuated. Over these last few months I've really been drawn to spinels whenever I see them. This ring was such a fine example of the stone and the setting was the cherry on top of it all.
More on Editors