These Are the Lab-Grown Detection Devices Retailers Need
The proverbial black box—a device that's small, cheap and does everything—remains elusive, but there are options for jewelers that are scalable and affordable.
New York—Lab-grown diamonds have become both a major opportunity for and a major concern to jewelers in recent years.

The amount of gem-quality man-made diamonds entering the supply chain has reached significant levels, and no one knows exactly how many are moving through it as mined.

As quality and supply of these stones increase, retail jewelers remain vulnerable.

"Buying diamonds over the counter or online is a high-risk proposition in today's world," said Harold Dupuy, FGA and vice president of strategic analysis at Stuller Inc. "I hear firsthand accounts of jewelers buying loose stones over the counter, only to find out later they're lab-grown. You can't be too cautious."

Whether these mix-ups are caused by an honest mistake or unscrupulous behavior by the seller, it's the jeweler's reputation that's on the line when a customer discovers the error and shares it with an attorney, the media or both.

But, he said, the situation is improving as many in the industry are now aware of the problem and acting.

Gem Certification and Assurance Lab (GCAL) lost a few clients in the past year because vendors, including manufacturers that do final setting in Hong Kong, have invested in their own in-house screening equipment.

Not that jewelers are out of the woods yet. "It's still a very large-scale problem," GCAL President Don Palmieri said.

Tightening up the screening process is a high priority.

Fortunately, there are many options available now for screening lab-grown diamonds; so many, in fact, that choosing one has become a dilemma in itself.

What Can Retailers Do?
Unless they buy most of their stock over the counter or on eBay, retailers can protect themselves to a certain degree by dealing with reputable suppliers and demanding written guarantees.

"We can't predict the future and retailers have to invest as it suits their businesses, but there are basic precautions all jewelers need to take," Dupuy said.

First, they need some specific language in all their vendor agreements, he said. Second, they need to know what each vendor is doing to control its supply chain.

All it takes is one piece sold under false pretenses to cause irreparable damage to a jeweler's reputation.

"But reliance on your suppliers is not enough," Dupuy said. "If you unintentionally sell a lab-grown diamond and your only defense is 'My supplier told me it was natural,' that's not going to look good in a court of law."

"There are
more than two dozen diamond testing devices that I can think of. Jewelers have to figure out how they work and whether they're reliable before they spend a lot of money and put their reputations as gemologists on this little black box." — James Shigley, GIA It's also the retailer's responsibility to educate staff.
Dupuy recommends a booklet, "Getting It Right," the Jewelers Vigilance Committee
sells on its website for $20
. It's a "great little guide" with specific steps for setting up a protocol regarding diamonds and diamond jewelry.
Most lab-grown diamond screening costs fall on suppliers, as few retailers need to invest tens of thousands of dollars in the kind of equipment used by large companies such as Stuller.
If a diamond in finished jewelry gets a "refer" on the GIA iD100 there, the piece goes to one of three advanced spectrometers in Stuller's lab, including an FTIR Infrared spectrometer, which costs about $21,000.
"We call those the last line of defense, like the Supreme Court," Dupuy said. "We can figure out anything with these, but we rarely use them except when we get referrals we can't figure out. 
"If you get a (Type) Ia on that, you know it's natural. But these spectrometers are outside the price range of the average jeweler."
The Fruitless Search for a Magic Bullet
Technology and value continue to improve, both of lab-grown diamonds and the equipment to detect them.
Anyone could see that walking the aisles of the
new lab-grown diamond pavilion
at JCK Las Vegas this year or attending the seminars on latest developments in lab-grown diamonds.
"It's become confusing for jewelers," said James Shigley, distinguished research fellow and diamond identification expert at the Gemological Institute of America. "There are more than two dozen diamond testing devices that I can think of. Jewelers have to figure out how they work and whether they're reliable before they spend a lot of money and put their reputations as gemologists on this little black box."
But that magic bullet retailers were hoping to find at the JCK jewelry trade show—the sleek, affordable countertop device that spots every lab-grown diamond, loose or mounted? "That machine doesn't exist today," Dupuy said.
Lab-grown diamonds fall into three basic categories, Shigley said.
The first, large stones of 5 to 10 carats, are the ones that make headlines, but they have never been a big problem for jewelers, he said, because they're always going to be thoroughly tested and come with a grading report.
Most research in the past three decades has focused on the second category, commercial-size stones of a quarter to 2 carats. "Most published articles address this category," Shigley said. "But again, I think these are recognizable now."
But the third category, diamonds too small to make individual grading financially feasible, is where the problem lies for most retail jewelers.
Stones under 0.23 carats don't usually come with individual grading reports and it's not unusual to find lab-grown melee mixed in with mined, either in a parcel of stones or mounted in a finished piece.
"Melee diamonds come in large volumes and they're tiny. Any jeweler dealing with loose melee or melee mounted in a piece of jewelry has a challenge on their hands," Shigley said. "Jewelers are concerned about being accused of selling a piece of jewelry with lab-grown diamonds in it, mixed perhaps with natural diamonds, that may have gone unrecognized."
Labs such as GIA and GCAL screen hundreds of thousands of lab-grown diamonds, recording the scientific data on all of them to keep up with the identification process. It's not unusual to find mined diamonds mixed in with parcels of lab grown, as well as vice versa, Palmieri said.
"Dealing with melee is very difficult," said Sharri Woodring, senior research gemologist at GCAL. "It's so tiny, and the stones jump when you try to grasp them.
"It's easy to get them mixed up. It's possible some of this happens unintentionally."
Testers, Not Screeners
All manner of devices and services have hit the market, ranging in price from $500 (for a basic Gemlogis diamond segregator) to $77,000 (for HRD Antwerp's melee screener, the M Screen +) and up.
Diamond screening devices employ a variety of methods, mostly checking for diamond type since nearly all lab-grown diamonds are Type Ib or IIa.
One of the first screeners, the DiamondCheck, was introduced by GIA in 2014. It uses the infrared spectrum to screen unmounted colorless diamonds of 1 point to 10 carats and is available now for about $24,000.
DiamondCheck was designed to help large-volume diamond manufacturers and dealers get a quick indication of whether a parcel contains natural diamonds or needs to be referred for further testing.
Stuller began lab-grown screening in 2012 when hundreds of undisclosed lab-grown diamonds surfaced at a grading lab in Antwerp, Dupuy said. The company started with simple instruments and, over the last six years, has acquired a dozen more.
"We screen 100 percent of what comes in the door because aggregate disclosure is critical for us," he said.
Stuller was among the first to acquire the Automated Melee Screener (AMS) after DeBeers introduced it in 2014. It cost about $80,000 then.
DeBeers
released the second-generation AMS machine last year
. The AMS 2 can be loaded with 500 melee diamonds at a time and scans at about 10x the speed of the original machine, 3,600 stones per hour.
"It cost us about $45,000," Dupuy said. "So that's 10 times the speed for half the price."
Even at that price, however, machines are not really detectors, Dupuy points out: "Most people call these devices testers. They're not. They're screeners."
Until recently, screeners simply checked for type. Type I diamonds have impurities, most commonly nitrogen. Type II diamonds do not have measurable amounts of nitrogen. 
Less than 2 percent of all natural diamonds are Type IIa, but all colorless (and near colorless) lab-grown diamonds are Type IIa. "They cannot grow a colorless lab-grown diamond as a Type Ia," said Dupuy. "They can grow colored lab-grown diamonds (as Type Ib) but most of those come with lab grading reports."
Some labs, like De Beers' International Institute of Diamond Grading & Research, have moved beyond testing just for type, introducing machines that search for other characteristics.
In September, IIDGR
rolled out SynthDetect XL
, the latest version of a machine they introduced in 2017.
SynthDetect XL uses a patented luminescence technology to screen diamonds of all sizes in finished jewelry and can test multiple stones at once.
Gemologists at GCAL call it a "great machine." It costs about $17,000.
Possible Solutions
Woodring, the GCAL gemologist, believes jewelers should require vendors to present documentation that they've checked all diamonds purchased.
"I would put the cost of the bigger equipment on the manufacturer," she said. "Then in my own store, for my own checking, I would have a Gemlogis Taupe for my loose and a GIA iD100 or EXA for my retail countertop."
Both are compact devices designed for use on a retail countertop.
Available for less than $1,000, the
Gemlogis Taupe
tests diamonds from 0.02 to 12 carats, detecting both CVD and HPHT treatments with a one-button control.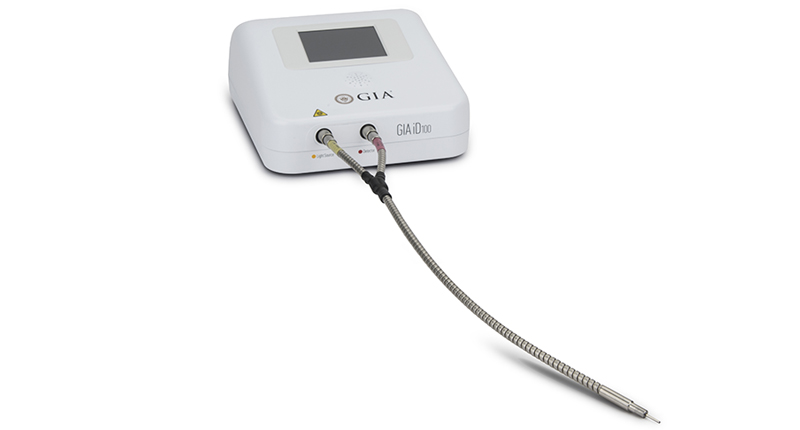 GIA's iD100
(pictured above) is a slim 6" box with a small probe the user can hold up to each mounted diamond. Hydrogen lights up blue; lab-grown diamonds look greenish. A digital readout on the screen will say "PASS" or "REFER." It is $4,995.
"You don't need much training to use it," Woodring said. "You just aim it at the stone. It works. And it doesn't have a problem with overhead room light."
Magi Labs' EXA
costs closer to $8,000, but a certified appraiser/gemologist willing to learn the software can use it for more than just lab-grown diamond screening.
Woodring prefers the EXA to the iD100, provided stores have the proper staff to use it.
Because it uses fluorescent spectrography, the EXA has the capability to identify cubic zirconia (CZ) or moissanite, something the iD100 doesn't do.
"You can also use the EXA for rubies or other gemstones," Woodring adds. "It provides a little something extra for a store with a trained gemologist."
Last year, GIA added two layers to its detection program, aimed at making lab-grown detection accessible to a wider audience.
Around the time it introduced the iD100, GIA launched its
Melee Analysis Service
aimed at detecting small lab-grown diamonds. That, combined with the iD100 to deal with stones mounted in jewelry, is meant to be the standard one-two punch for the retail jeweler.
GCAL also uses the Sherlock Holmes CVD and HPHT detector from Yehuda Diamond, and the D-secure and J-Secure Plus from DRC Techno, an India-based gemological research company.
"They are probably the most frequently purchased screening instruments in the world," Palmieri said. "J-Secure detects synthetics in jewelry of any shape and size."
Planning for the Future
No one can predict what's coming around the corner in terms of lab-grown technology.
Buying one screening device, let alone two, is a big investment for retailers. What if, for example, someone figures out how to grow a Type Ib diamond?
One reason it's getting harder to spot lab-grown diamonds is they're being produced with the imperfections of mined diamonds.
"Manufacturers are trying to grow G, H, I, even J diamonds. That's the sweet spot for color. The sweet spot for clarity is SI," Palmieri said.
So what should the average jeweler be doing right now to deal with this problem?
"The most important thing is that they have to do something," Woodring said. "They have to realize that this is a real issue at every level of the market and they need to have a plan in place."
*What to Ask Before Investing in Detection Equipment*
"It's important for jewelers to ask a lot of questions so they understand exactly what the device is doing and not doing," said the GIA's James Shigley. Here are the questions he suggests jewelers ask.
How does this device work?
Does it work on mounted or loose stones?
Are there any limitations?
How was it developed and tested? How many diamonds were tested?
Are there published results about the testing program?
How often does it give a false result, misidentifying a natural diamond as lab-grown and vice versa?
More on Grading