US Gold Jewelry Demand Up 3% in Q1
A post-election lift in consumer sentiment buoyed demand in the market while global demand was basically flat.
London--Despite a tepid performance globally, gold jewelry demand in the United States continued to grow in the first quarter, leading to the strongest Q1 since 2010, according to the World Gold Council.

In its latest Gold Demand Trends Report, the WGC said a post-election lift in U.S. consumer sentiment buoyed demand, which increased 3 percent to 22.9 tons during the period.

It also reported that yellow gold was more popular in the U.S. than in European markets, and that high-end and online retailers performed strongly.

The online segment also, unsurprisingly, continues to gain strength in the country, particularly with continued growth in "clicks-and-bricks" retailing and omnichannel shopping, the council said.

Globally, gold jewelry demand was basically flat in Q1, increasing just 1 percent to 480.9 tons.

The metal's rising price contributed to softness in demand during the quarter; its 9 percent increase in the U.S. between end-December and end-March played a major part in that, though consumers in many markets were slightly protected by the weakness of the U.S. dollar.

The price of gold in the first quarter averaged $1,219.50 per ounce.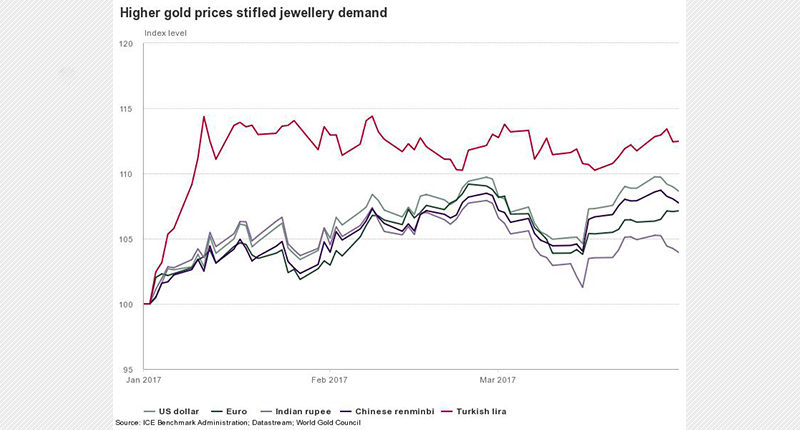 The rising price in gold had a negative impact on jewelry demand in the first quarter, as this chart from the World Gold Council shows.
India, Iran and the U.S. all recorded increases in demand for gold jewelry, the WGC said, which just outweighed the modest declines elsewhere.

Indian jewelry demand jumped 16 percent from last year's "exceptionally low level" as market conditions improved after a tough year and the "gradual remonetization of the economy" is supporting the market.

In China, meanwhile, demand for gold jewelry softened slightly with a 2 percent decline year-over-year as a seasonal uplift offset the impact of higher prices. Even as the market is affected by a slowing economic environment and changing consumer tastes, retailers and manufacturers in the country are attempting to introduce trends that appeal to younger consumers and innovate.

Europe's performance was negatively affected by a weakness in France, impacted by pre-election uncertainty and the rise in terrorist activity impacting tourism, and the U.K.

Total global gold demand--counting jewelry as well as investment and other uses--in the first quarter was down 18 percent year-on-year to 1,034.5 tons.

The first quarter 2017 numbers suffered from a comparison with Q1 2016, WGC said, as it was the strongest first quarter ever at 1,261.8 tons.
More on Majors