Here's the Best Nerdy Jewelry from New York Comic Con
From Disney-themed ear stacks to lightsaber earrings, Associate Editor Lenore Fedow shares her favorite jewelry finds from the annual event.
Fall is my favorite season, personally and professionally. From Halloween and Thanksgiving to Scorpio season, there's a lot of fun to be had this time of year.
For National Jeweler, I write two of my favorite annual stories in the fall:
my Halloween jewelry story
and this one, my Comic Con nerdy jewelry round-up.
Last month, I made my way back to Comic Con, slowly and through massive crowds, to scope out the best fandom jewelry.
From Disney-inspired ear stacks to Star Wars figures from Swarovski, these are my top picks from this year's event.
Swarovski
I stopped by Comic Con on Friday the 13th, so I dressed up as a ghost hunter, and by "dressed up," I mean I put on a "Ghost Files" t-shirt and a pair of ghost earrings I rented from Rocksbox.
The professional and amateur cosplayers alike put me to shame, but it was fun to get into the spirit (pun intended) nonetheless.
As I was maneuvering through the event, I spotted Swarovski at a small table along the outskirts.
At previous Comic Cons, I've met a lot of fun, indie jewelry brands, but this was one of the first times I've seen a big player here. (I stopped by Citizen's massive booth in 2019 to see its
Marvel watches
.)
Swarovski had a few trays of Marvel-themed jewelry on display, including Spider-Man and Black Panther pendants. 
Disney characters, like Mickey and Minnie Mouse, were also accounted for there, alongside some of its non-themed jewels, like crystal studs and pendants.
The booth had something I thought was particularly cool, a sheet of crystal-studded reusable stickers of Spider-Man, Iron Man, Black Panther, and the Marvel logo. A set of four will cost you $85.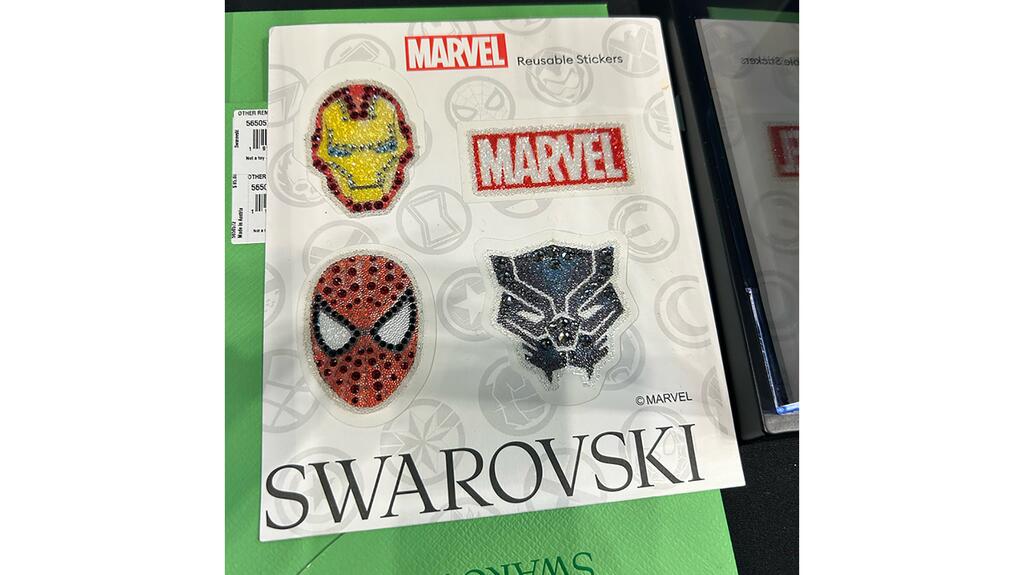 Swarovski also had its classic crystal holiday ornaments on display.
Its figurines, seen at the top of the story, were the real showstoppers, including a number of Star Wars characters like Chewbacca, Yoda, Wicket the Ewok, and the Millennium Falcon.                                                 
These pricey figures will run you up to $650 each, but they're certainly conversation pieces.
RockLove Jewelry
RockLove Jewelry
is a must-see booth for me each year. 
The New York-based company, founded and led by women, is celebrating its 15th anniversary this year.
Founder Allison Cimino studied precious metal jewelry craftsmanship, starting her career in the Diamond District before creating her own brand.
If there's a media property you love, chances are RockLove has jewelry for you. It has licensing deals with Disney, Marvel, Star Wars, Star Trek, Magic the Gathering, Studio Ghibli, Dungeons & Dragons, and more.
A standout was the new Disney+ Ahsoka collection, seen below, based on the streaming service's new series about Jedi knight Ahsoka Tano, played by actress Rosario Dawson.
The crystal lightsaber jewels were also really fun, available as rings, necklaces, and drop earrings in a variety of colors.


There's nothing wrong with wearing your nerdiness loud and proud, but these are perfect for someone looking to give a subtle nod to their fandom.


 Related stories will be right here … 
The company was founded by a brother-sister duo whose family has been in the jewelry industry for more than 40 years.

Avital Kathein, a Florida-based jewelry designer, serves as CEO, while her brother, Ari Kathein, who is a GIA graduate gemologist, is the president.

It's one of the few booths on the show floor where you'll find licensed jewelry in sterling silver and plated 14-karat gold.

If you're like me and spent a solid chunk of your childhood playing Neopets, you're going to love this brand.

For those unfamiliar with Neopets, it began in late 1999 as an online virtual pet game and expanded into a Neopets universe, which still has an avid group of fans.

As I approached its booth, a woman had just shuffled her way through the crowd to get there, excitedly asking to see what's new for Neopets this year.

This necklace of Uni, a unicorn-like pet, is 14-karat gold-plated sterling silver set with lab-grown diamonds. It retails for $195 and comes with a free in-game code.


The booth also stocked collectible pins, including ones exclusive to Comic Con.
In addition to Neopets, the company also has licensing deals with Care Bears, The Dragon Prince, Winx Club, and anime streaming platform Crunchyroll.
Girl's Crew
The
Girl's Crew
is one I'd like to be a part of, actually, and I'm not the only one, given how crowded its booth was that afternoon.
Fun is the best descriptor for the Los Angeles-based fashion jewelry company, which has inked some notable collabs, including Disney, Star Wars, Marvel, Care Bears (I sense a trend!), and Squishmallows.
Squishmallows are the stars of the stuffed animal world, the Beanie Babies of today. They're just as cute and collectible, too.
If you're a fan of nerdy things and ear stacks (check and check), then you'll be right at home here.
The themed ear stack displays, like the Aladdin-themed one below, were well done, showing off the breadth of their offerings as well as fun styling suggestions.
It's important to have fun.

I've gone to Comic Con to see jewelry for a few years now, and it always reminds me of the same idea: jewelry is supposed to be fun.

From retail predictions to sales data, I cover the business side of jewelry. I have a better understanding than the average consumer of everything that goes into making the industry run, and how that is truly serious business.

At the same time, it's a fun business. That's part of what has kept many of us in the gem and jewelry industries for decades.

While I know these fun costume pieces likely won't find a place in a fine jewelry store, they're worthy of being showcased because they remind us that joy is at the core of jewelry.

Jewelry, from its creation to its presentation, is all about sharing happiness with one another and expressing that love to the world.

In trying times, when every week feels like a month, I hope you find joy, whether in jewelry, in your favorite movies, in fandoms, or whatever floats your boat.

Until next year, live long and prosper!


More on Editors