Here's the Best Jewelry I Saw at New York Comic Con
Associate Editor Lenore Fedow shares her favorite nerdy jewelry finds, from a UFO ring to a Cthulhu choker.
The best part of being a nerd is the freedom to display unbridled enthusiasm for the things you love.
Be it a television show or a comic book series, the devotion runs deep and the opinions are stronger than Valyrian steel.
The label once had a negative connotation, but now it's worn proudly, like a badge of honor.
And I mean "worn" literally. You can rep your fandom (nerdspeak for a group of fans of a particular interest) on T-shirts, hats, pins, and, of course, jewelry.
Nerdy jewelry lives at the crossroads of my biggest loves, so when New York Comic Con rolled back into town, you know I was there.
I last stopped by Comic Con in 2019 when Citizen
launched special edition Marvel watches
for the comic giant's 80th anniversary, and I was excited to be back.
There is no better place to be a loud and proud nerd than Comic Con, a huge four-day event that attracts hundreds of thousands of fans each year, eager to walk the show floor, attend celebrity-filled panels, show off their cosplay outfits, and purchase merchandise from exhibitors.
If you're a fan of something, however obscure you may think it is, it's represented at Comic Con and you can bet there's merchandise for you to buy.
I walked the show floor scoping out the jewelry, and these are the coolest things I found.
Sparkle! Designs
The crowds at Comic Con can be chaotic, but the
Sparkle! Designs
booth was an oasis amid the madness.
Based in Lawrenceville, Georgia, the company creates hand-stamped jewelry celebrating a wide array of interests.
You can find wrap-around rings and bracelets stamped with quotes from series like Doctor Who and Lord of the Rings (two favorites of mine) as well as literary quotes from Jane Austen and childhood favorites like Winnie-the-Pooh (two more favorites of mine!).

The booth was meticulously organized, with separators between each fandom, a remarkable feat considering the sheer amount of jewelry available.

In addition to jewelry, the booth stocked keychains, mugs, and linen tote bags, all featuring your favorite characters.

The company also offers custom designs, letting you choose the perfect font, design or quote to express your love for just about anything.

The whole booth was clearly a labor of love and I lingered there for a while, admiring all the effort that went into hand stamping these jewels and how much nerdy knowledge you need to possess to choose the perfect quote or image for each piece.


 Related stories will be right here … 

Meowits Mari

I found possibly the cutest earrings of the day at Meowits Mari's booth, and there was stiff competition.

Based in Orlando, Florida, artist Mari Phu creates really fun and colorful costume jewelry, using acrylic, resin, and other materials.

Her bold statement earrings were inspired by iconic Sanrio characters like Hello Kitty, Kuromi, Badtz-Maru, and My Melody.

But the showstopper for me was her Pillsbury Halloween cookie-inspired earrings.


They're designed to mimic the pre-cut sugar cookies stamped with smiling pumpkins or spooky ghosts that my mom would bake for us every Halloween. I was hit with a wave of nostalgia as soon as I saw them.
Crafted using resin, polymer clay, and acrylic paint, they're the cutest Halloween accessory you'll find for under $15.
The designer also has an
Etsy shop
where she sells stickers and apparel, including an adorable Furby bucket hat.
Skully Kouture
Graphic designer Heather Weikel's
jewelry journey
started in 2010, when her first business, Kharma Collection, began selling jewelry at small boutiques and local art festivals.
She created a bracelet to raise awareness and funds for scleroderma, a rare autoimmune disease.
What started out as a bracelet collection grew into a full-on jewelry display, and, in 2012, a friend invited her to start selling her bracelets at a convention.
Skully Kouture's jewelry takes inspiration from folklore and nature, drawing on Weikel's love of history and ancient tales.
One of my favorite pieces was the Cthulu choker, an octopus-like mythical creature created by sci-fi writer H.P. Lovecraft. It's worth noting the influential writer's legacy has been
re-examined
in recent years in light of the overt racism present in his works, but creatives, like those behind HBO's "Lovecraft Country," have reimagined his tales. 
Like many of the designers mentioned here,
Skully Kouture
travels to various conventions throughout the year and also sells online.
RockLove Jewelry
RockLove Jewelry
was the most established jewelry brand present at Comic Con.
Founder Allison Cimino started the company in 2008, after spending time learning about accessory design in Florence, Italy and sharpening her skills in New York's Diamond District.
The company has inked licensing deals with the titans of pop culture, including Disney, Marvel, Star Wars, Star Trek, and D.C.
The booth was incredibly busy, and it seemed to me that people had researched what they wanted beforehand and approached the booth, cash or card in hand, knowing exactly what they were going to buy.
Still, I managed to wrestle my way in there to see what RockLove Jewelry had and try on a few things.
What they had was everything. The back wall of the booth was stacked with decorative boxes changing hands so fast that it was a blur.
I tried on what I could reach, quite frankly, and I landed on jewelry from Pixar's "Coco," a 2017 film where main character, Miguel, accidentally travels to the Land of the Dead and searches for his great-great-grandfather, a celebrated musician.
First, I tried on this marigold ring, which features sixteen orange crystals set in a sterling silver ring to form a 3-D flower. It retails for $125 and comes in a colorful decorative box.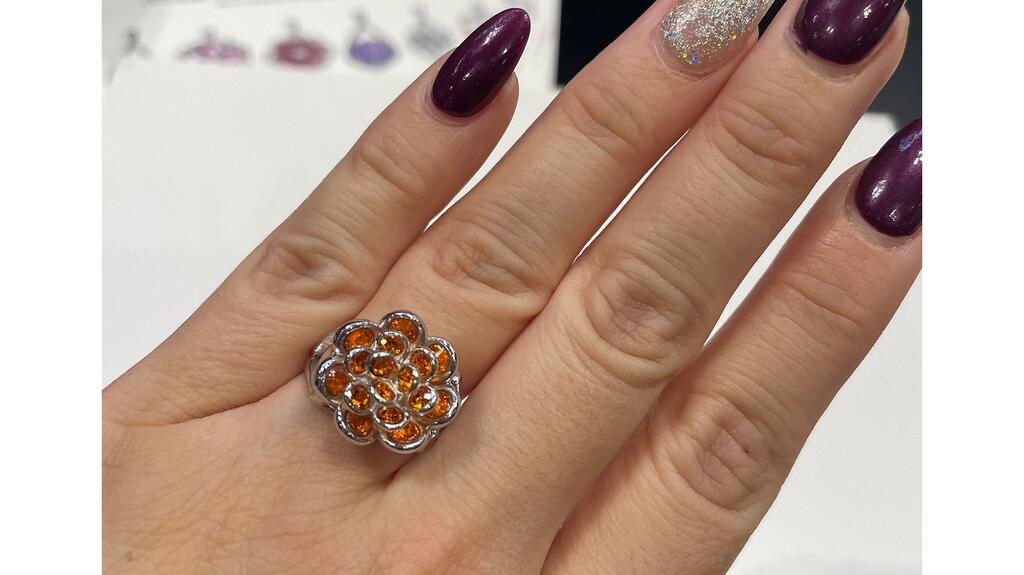 I also tried on this sugar skull ring, an iconic symbol in Day of the Dead celebrations. The sterling silver ring is decorated with hand-painted enamel and retails for $150.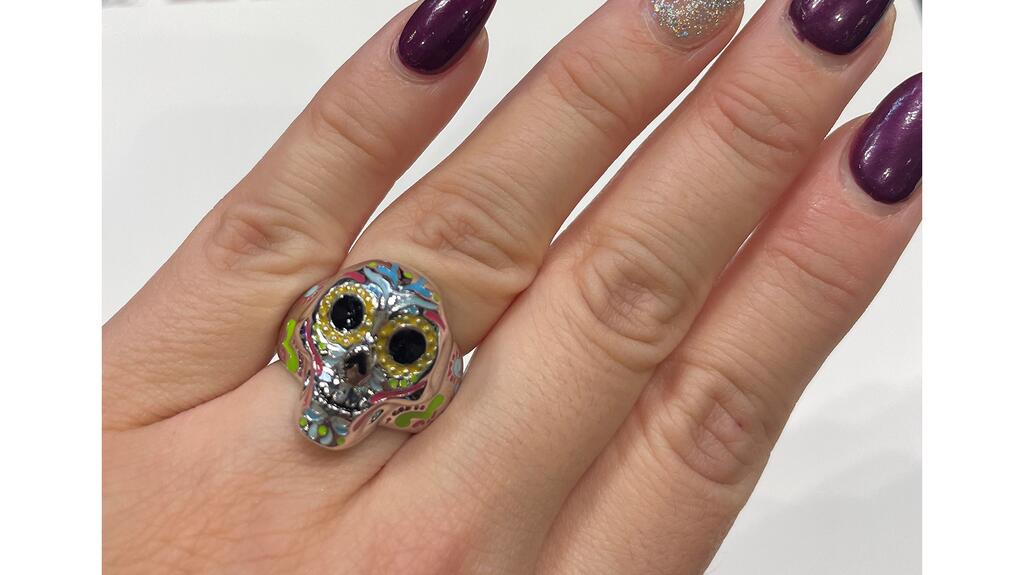 What's Your Passion Jewelry
One of my last stops of the day was
What's Your Passion Jewelry
.
The company was founded by a brother-sister duo whose family has been in the jewelry industry for more than 40 years.
Avital Kathein, a Florida-based jewelry designer, serves as CEO, while her brother, Ari Kathein, who is a GIA graduate gemologist, is the president.
The pair bring a fine jewelry flair to the show floor, crafting officially licensed pieces in sterling silver and 14-karat gold.
I know I've already said you can find merchandise for nearly every interest, but I was still floored when I approached the booth and saw
Mooby's jewelry
.
Mooby is the cartoon cow mascot for a fictional fast-food chain featured in several movies by director Kevin Smith, the "Silent Bob" half of the Jay & Silent Bob duo, including "Dogma," a 1999 comedy that lands in my top five favorite movies.
The movie centers around two fallen angels, Matt Damon and Ben Affleck, who will do anything to get back into heaven. Comedian George Carlin plays a Catholic cardinal and singer Alanis Morissette is God.
That jewelry was the most niche thing I had seen all day and I was so excited to have found the collection.
The booth also stocked jewelry from Neopets and Care Bears, as well as jewels inspired by the work of fantasy artist Anne Stokes and anime The Rising of The Shield Hero.
Jewelry is supposed to be fun.
The needs of retail jewelers are front of mind when I'm brainstorming story ideas. I'm always on the lookout for information jewelers can use to better their businesses.
So, why did I spend an afternoon wandering around Comic Con scoping out mainly costume jewelry that wouldn't be a good fit within a fine jewelry showcase?
It's because it reminds me, and hopefully you, that jewelry, at its core, is fun.
The push for a little more whimsy in our lives has been reflected in recent trends like kidcore and the new
Barbiecore
.
Save your seriousness for the day-to-day operations, but when it comes to the jewelry, let your hair down a little.
Whether you're crafting it out of precious metals and gemstones or acrylic and clay, jewelry is about putting your love on display, whether that love is your partner, your favorite superhero, or a movie that moved you.
Until next year, live long and prosper!
More on Editors
Editors
May 24, 2023