Retailer Hall of Fame 2023: Stan and Ingrid Razny
Stan and Ingrid Razny have built an enviable business through hard work, dedication to customer service, and passion for the product.
Editor's Note: This story first appeared in the print edition of the 2023 Retailer Hall of Fame. Click
here
to see the full issue.
Chicago is a big city—the third largest in the country, to be exact—and becoming "Chicago's jeweler" is no small task.
Yet Stan and Ingrid Razny have managed it, turning the single jewelry store his father opened post-World War II into a four-store luxury powerhouse.
Moshe Klein, president of Grandview Klein Diamonds, says if you want to buy a high-end watch or important piece of jewelry in Chicago today, "there's no way you can do it without checking in with the Raznys.
"They are the envy of everybody. They run a retail business that is second to none."
He credits the Raznys' success to their ability to understand and embrace their niche—which, Klein contends, is quality and customer service—as well as their "deep love" for jewelry.
But there is also another element to factor into the equation, and that's the willingness to take calculated risks, even if it means some sleepless nights along the way.
How It Started
Stan's father, who also was named Stan Razny, and his mother, Jane Razny, opened the store that eventually became Razny Jewelers in Oak Park, Illinois, in 1951. 
The elder Razny had been a master bench jeweler and setter in his native Poland but, like millions of others across Europe, found himself displaced after World War II. He met Jane, who also was displaced from Poland, in England after the war.
Together, the two immigrated to an American city with a big Polish population, Chicago.
Growing up, Stan describes himself as the only one of the three children in his family—he has two older sisters—who was "always around the store," watching his father while he worked at the bench and spending his summer breaks among the showcases. 
Despite his interest, his parents did not see jewelry as a viable career path for their only son, at least not at first.
"I think, like most European people—my parents are also from Europe—they just really wanted [their children to get an] education, they really felt the corporate world was where you had to be," Ingrid says. 
"They felt their business was very small and, let's say, not important actually. They never really thought they had such a great store."  
"I showed up at [my parents' store]. I said, 'I quit my job' to my dad and he looked at me like, 'You did what?' — Stan Razny 
Stan went on to study accounting at Marquette University in Milwaukee, which didn't turn out to be such a bad thing after all—it was in economics class at Marquette that he met Ingrid, one of the few women studying accounting at the university in the late '70s.
Both became certified public accountants and worked in the corporate world until 1986 when one of Razny Jewelers' bench jewelers left.
Stan made a radical decision. He quit his corporate accounting job to take the jeweler's place.
He remembers it like this.
"I showed up at [my parents' store]. I said, 'I quit my job' to my dad and he looked at me like, 'You did what?' His idea was, I'll break you and you'll go back to corporate America. So, he offered me some [paltry] amount of money to come work at the store. He thought, 'There's no way he's going to stay here.' I think he gave me like $200 a week, some ridiculous amount."
At that point, Razny Jewelers had just a single 1,000-square-foot store in a strip mall in Addison, Illinois.
Stan encouraged his parents to expand, first adding the 2,000-square-foot space next door left vacant by a restaurant's exit.
In their late 50s by that point, the elder Raznys were wary of taking on risk and accumulating debt.
But they also could see their son, the grown-up version of the boy who was glued to his father's side at the bench, was serious about the jewelry business. 
"He gave his parents the push to be more and to grow, and he gave them the confidence to do it," says Ingrid, who left her corporate accounting job to join Razny Jewelers in 1997.
"If you don't have a next generation, you pretty much stop. But I think his parents saw, 'OK this guy is really committed, he really wants to be here.' That was kind of the beginning of the expansion."
Continuing to Grow
About a decade after that first expansion in Addison, Stan felt it was time to upgrade to an even larger space, this time out on the western edge of town where there was a lot of development and where the Medinah Country Club, one of the country's premier golf clubs, is located.
At this point, Stan recalls, most of what the store sold was jewelry. It didn't carry any of the major watch brands, something else he wanted to change.
"I always knew we had to go after the opportunity to get Rolex," he says.
The family bought land and constructed a 9,000-square-foot building, which Razny Jewelers initially occupied along with other tenants.
The store opened in fall 1997 and, a year later, a combination of the new store and a lucky coincidence landed Razny Jewelers the brand that changed the business forever—Rolex.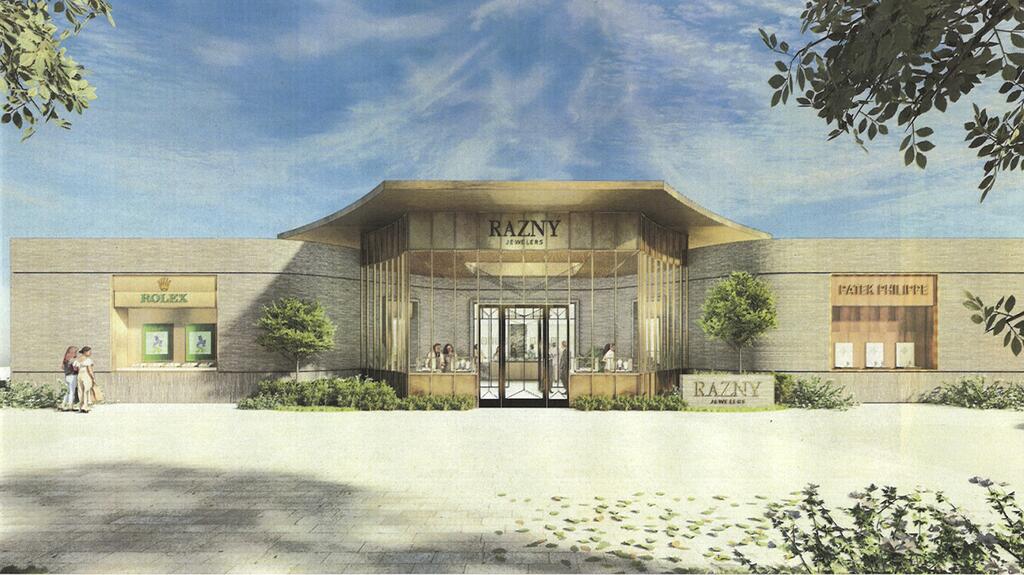 In late 1998, Rolex just happened to be having a management meeting by the Addison store. A couple of executives wandered in one afternoon and, "one thing led to another. We got the green light," Stan recalls.  
"We both look [back on] the invoice we had to pre-pay when we opened Rolex and kind of laugh about it today, how small that check was," Stan says, though they both allow it "absolutely" seemed like a fortune at the time.  
"It felt like, oh my goodness, what are we doing," Stan says. 
It was a major turning point for Razny Jewelers, which added Patek Philippe the following year, 1999.  
"Absolutely, unequivocally, we wouldn't be where we are at today without Rolex and Patek," Stan says. 
 Related stories will be right here … 

Fewer, Better Things
Chat with Stan and Ingrid for a couple of hours and it will become apparent why they work so well together as partners in business and in life.  

They are completely in sync with their thinking, from not being afraid to strategically expand across Chicagoland to their approach on merchandising a jewelry store. 

They believe in stocking only top-of-the-line brands and fully committing to those relationships. 

"We don't need to have 20 watch brands," Stan saying, noting that outside of Patek Philippe and Rolex, Razny Jewelers carries Tudor, Cartier, and Breitling.

"Have the best of the best and be exclusive and be a good partner to each [brand]," he advises. 

The Raznys apply the same approach when selecting jewelry brands to stock.

Ingrid explains, "Because of Stan being a bench jeweler and making beautiful jewelry, and Stan really always having such a relationship with diamonds, we didn't really have a lot of brands in the early days." 

The same holds true today. 

Outside of watches, Razny Jewelers sells mostly diamond jewelry, scoping out quality brands that are not over-represented in the Chicago market and have a history. 

The retailer carries Kwiat and Rahaminov Diamonds as well as three in-house brands, Refined by Razny (diamond essentials), Razny Bespoke (large-carat, hand-selected natural diamonds), and Forever by Razny (engagement rings).

"We have fewer brands [than many big stores] but we are committed to the brands we carry," Ingrid says. 

Stan concurs, adding, "We really avoid taking a brand just to say, 'We have this brand.'"  

Like the Raznys, the Kwiat family is selective about whom they work with; Chief Operating Officer Russell Kwiat says they look for like-minded, high-quality, family-run stores. 

Razny Jewelers checks all three of those boxes.

"They're great people, great partners," Kwiat says. "They have a keen understanding about what it takes for a brand to be successful in their market." 

What's more, Stan is a "real diamond merchant," Kwiat says. 

He understands high-quality diamonds as well as market dynamics and where pricing is at any given moment. He also knows luxury and brands, and how to market a premium product. 

"It's rare to find jewelers who are good at both. Stan is probably the best at combining these skills," Kwiat says. 

It's this perspective that contributed to one of the Raznys more recent, and some would say pivotal, merchandising decisions—they've opted not to carry lab-grown diamonds in any of their stores. 

Stan likens lab-grown diamonds to the laser-drilled diamond craze of the 1980s, which "turned into a disaster" because the stones had zero trade-in value. 


"Everything has to be top, top notch. If it's not top notch, you're not going to find it at Razny." — Moshe Klein, Grandview Klein  
Klein, of Grandview Klein, has another comparison: "For him, lab-grown is cubic zirconia."
He describes Stan as a "diamond aficionado" who wants to know the origin of each stone and who touched it along the way. He doesn't just sell diamonds but also, "the journey, the story, where the diamond comes from.
"They leave no little detail out. Everything is the highest caliber possible," Klein says.   
He compares Stan's love for diamonds and expertise with that of Harry Winston. Klein, admittedly, never met Winston, but he heard stories about the famed diamantaire from his grandfather.
"[Stan's] up in that league. His keen eye, his appreciation for the industry … everything has to be top, top notch. If it's not top notch, you're not going to find it at Razny." 
Stan says he and Ingrid discussed the issue of stocking lab-grown diamonds at length. They even brought their three children, all young adults, in on the discussion.
Collectively, they decided against it, seeing the stones as a short-term play that would end up hurting the store in the long run.
Ingrid says they never want to be afraid to take back merchandise they've sold, and they wouldn't feel good about offering a customer pennies on the dollar for something purchased from Razny Jewelers.
"It really comes down to, there's no value," she says.
"We never look to sell gimmicks," Stan says. "We always take the long-game approach."
It's an example of what retail experts repeatedly recommend when it comes to merchandising: Don't try to be everything to everybody. Find your niche and stick with it.
Another Kind of Diamond
About four years after the Raznys opened their big new store in the western suburb of Addison, they had the opportunity to open another location, this time directly to the north of Chicago in Highland Park, Illinois.
They bought a city block in the tony community, closing the deal on Sept. 9, 2001, two days before 9/11.
"That was probably the scariest week of our lives when that all went down," says Stan.
But plans for the store moved forward and it opened in 2003, becoming the second Razny Jewelers location.
Five years later, the Raznys experienced more bad timing that turned out OK.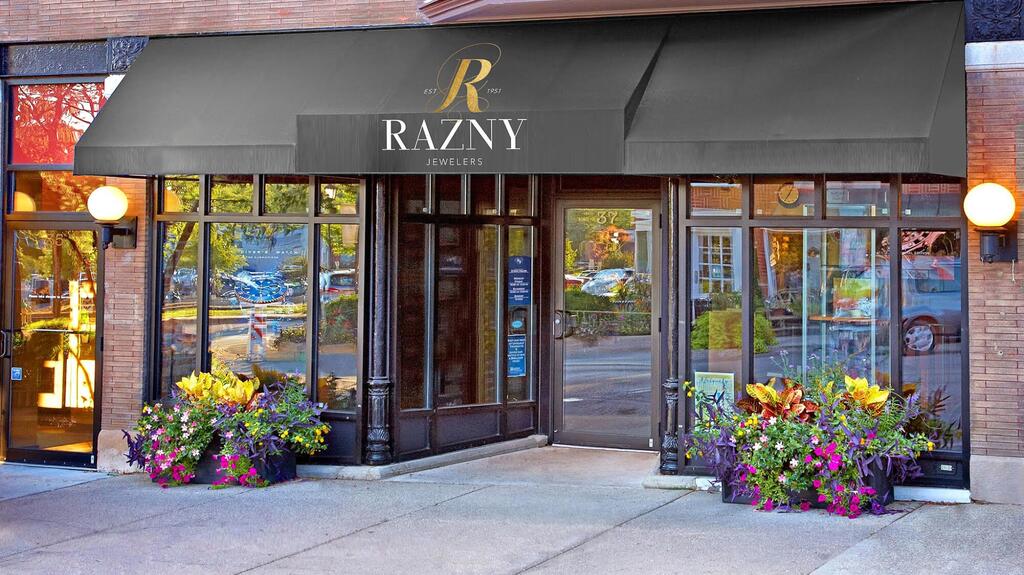 After years of work and planning, the third Razny Jewelers store opened in Hinsdale, Illinois, in November 2008, two months after the collapse of Lehman Brothers intensified the Great Recession.
Earlier that same year, Stan says they had an opportunity to open what would have been the fourth Razny Jewelers store, on Chicago's famed Michigan Avenue. They opted not to given the state of the economy, which was already struggling even before Lehman went bankrupt.   
"I'm gutsy, but that was just like, no. We took a pass on that opportunity [but] that opportunity re-presented itself in 2016," he says.
That year, the Raznys opened a downtown Chicago store on Oak Street instead, asking Rolex and
Patek Philippe if they would be willing to co-locate—they agreed.
When the store opened, it was only the second door in the United States to carry both prestigious watch brands in the same location. (Gearys Beverly Hills was the other.)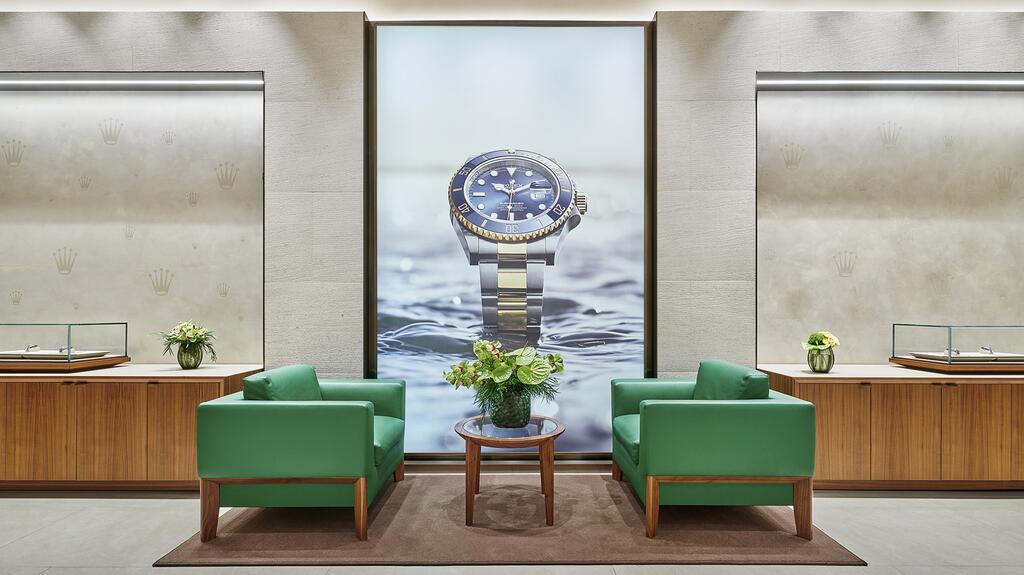 While owning and operating four jewelry stores might seem daunting to some independents, Stan and Ingrid view it as necessary in the Windy City, which is congested with what Stan describes as "brutal" traffic.   
"We kind of needed to cover four stores to cover Chicago. It's that big," Ingrid says.
She also points out that none of their stores overlap. She compares their layout to a baseball diamond, with the downtown store serving as home plate or, as she puts it, "the home run."
"To really be 'Chicago's jeweler' that was the requirement," Stan says.
The Good Place
"There were sleepless nights early on. There's no doubt about that," Ingrid admits when asked if they ever hesitated when opening new stores. "But I think we're in a good place right now. We have amazing employees and you're only as good as your employees.
"Because we are a family business, we are attracting amazing people who want to [spend their] careers here, which I'm so impressed by."
Stan, too, acknowledges they are "very blessed" with their staff of 80 employees, which includes all three of their children: their eldest, son Eric Razny; daughter Christine Razny-Porter; and son Michael Razny.
Christine and Michael, who both earned Graduate Gemologist diplomas from the Gemological Institute of America, came to work for the family business directly after college and earning their GGs.
Eric tried a different track, customizing cars for racing, before ultimately joining Razny Jewelers in 2018.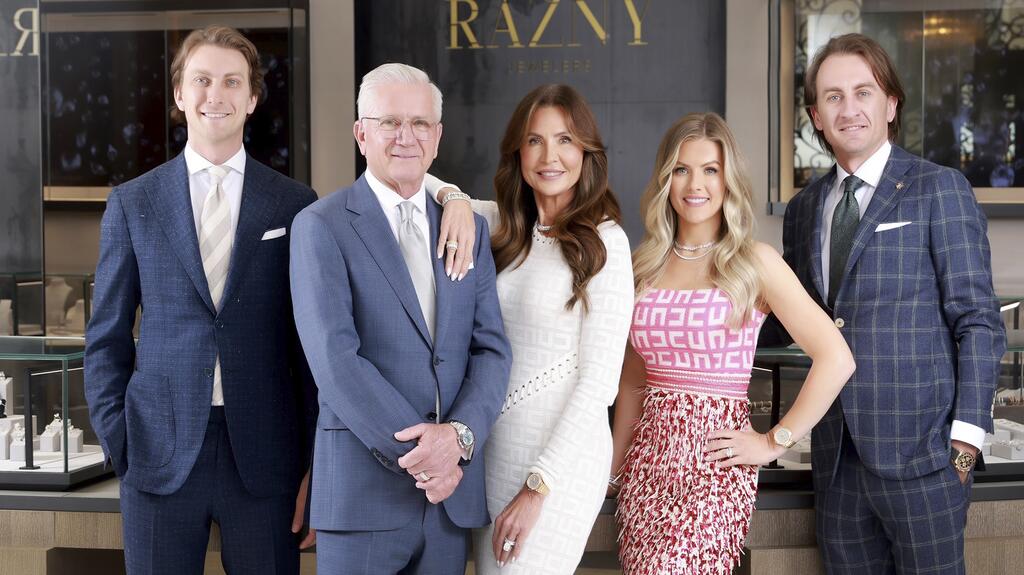 Each of the Razny children brings with them a distinctive skill set, Stan and Ingrid say, though they all share a love of watches and style.   
Eric, "has this sense of humor people just love and he's kind of the watch guy," Ingrid says, while Christine loves fashion, working by her mother's side on the store's self-branded magazine and in buying. 
She also is spearheading the design of Refined, which is made distinctive by her love of mixing fancy cuts. 
Their youngest, Michael, has the same entrepreneurial spirit as his father and is helping to develop a cloud-based point-of-sale system called Crystal. He has a number of U.S. businesses on board as clients already, as well as clients in Canada and Ireland.  
In their own way, each of the Razny children keep the business moving forward with their fresh takes on trends and technology.
Stan and Ingrid know they are lucky to have them, as many independent jewelers have had to close up shop in recent years because the next generation isn't interested in joining the family business. 
But the Razny children grew up watching their parents working side-by-side and putting their all into Razny Jewelers. 
That, Ingrid believes,  is what engaged them and is what will sustain the business into its third generation.
"For us, we've always worked as a team," she says.
More on Independents