Ethical Metalsmiths Announces Student Artist Award Winner
Maria Hammond was picked from a pool of students who exhibited their works online.
New York—Ethical Metalsmiths has recognized a promising student artist.
The organization's education committee has announced Maria Hammond as its 2023 Emerging Artist Award Winner.
Hammond graduated this year with a Bachelor of Arts degree in product design and craft from Manchester Metropolitan University. 
"I'm driven by sustainability and believe that jewelry can make a statement about our relationship with the environment," she said in her
artist's statement
.   
"By using materials that go unnoticed, or go to waste, I seek to create pieces that are both beautiful and responsible, that reflect the beauty in aging and the stories that are embedded within the materials themselves."
Hammond's winning piece, titled "Fragments With a Future, The Collar," is an extravagant art jewelry necklace inspired by derelict, forgotten buildings, created by carving, burning, patinating, and oxidizing steel that "[mirrors] the transformative process of time and the representation of memory in buildings and objects."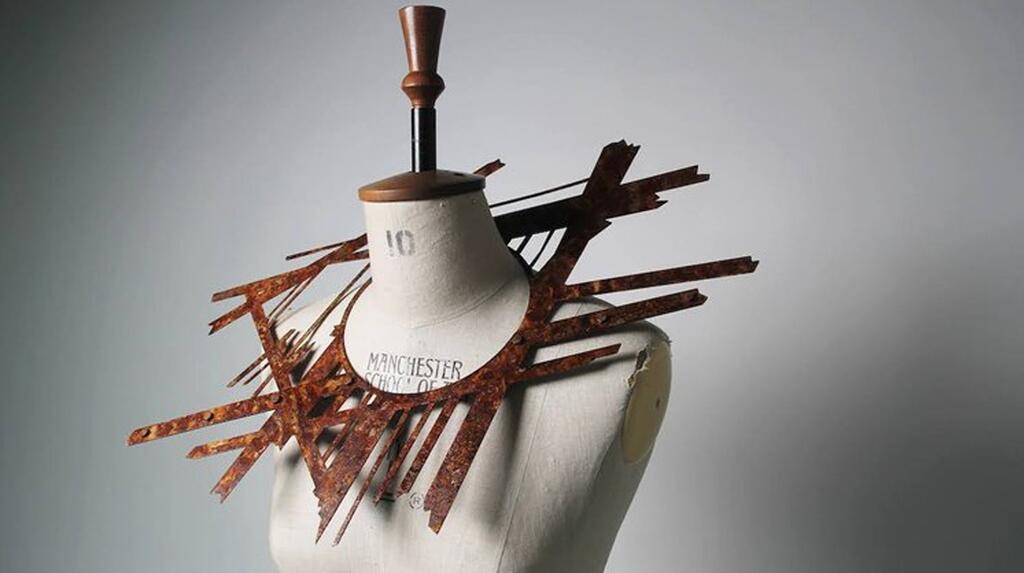 Harsh and angular, the piece is part of a collection that transforms architectural and industrial influences into wearable art pieces. 
The designer has already put her $1,000 prize money into use.  
"It's already funded a little enameling kiln, some wood turning chisels and materials," she said. 
Hammond was selected from a pool of student designers who exhibited their work in the annual "So Fresh + So Clean" online exhibition.  
The Ethical Metalsmiths Student Committee, a group of graduate students at Virginia Commonwealth University, organizes the show. Applicants are student members of EM.  
The student committee also chooses the competition winners, alongside an annual guest judge. This year's guest judge was Dr. Emily Stoehrer, the Rita J. Kaplan and Susan B. Kaplan Curator of Jewelry at the Museum of Fine Arts, Boston. 
In addition to Hammond, Amy Beeler, a master's student at Bowling Green State University, was awarded the "Juror's Choice" award and a $500 grant, and Rashele Alradaideh, a bachelor's student at Virginia Commonwealth University, was awarded the "Student's Choice" award and $250 grant. 
 Related stories will be right here … 
More on Events & Awards