At the Met Gala, Dua Lipa's 200+ Carats of Diamonds Stole the Show
The Gala co-chair is the first person to don the "Tiffany Diamond" dupe, which was on display at Tiffany's renovated New York flagship.
The Friday prior to the Met Gala, held annually the first Monday in May, Tiffany & Co.'s
groundbreaking New York City flagship renovation
opened to the public.
At the gala, there was no mistaking that the moment belonged to Tiffany and its newly christened "Landmark" store, thanks to a career-defining fashion moment for singer and Gala Co-Chair Dua Lipa.
The Metropolitan Museum of Art Costume Institute's spring 2023 exhibition (and, accordingly, the theme of Monday's Met Gala) is "Karl Lagerfeld: A Line of Beauty." The fashion designer was most revered for his work as Chanel creative director from 1983 until his death in 2019, so Met Gala guests overwhelmingly favored pearls as an ode to the French fashion house.
Strand upon strand of pearls, however, were no match for Lipa's incredible "Tiffany Diamond" dupe.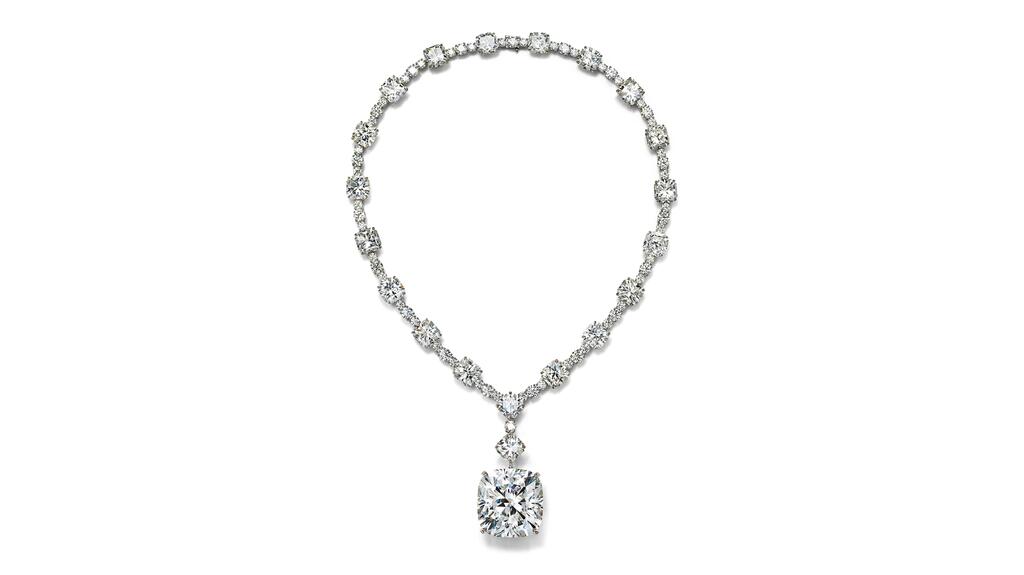 A refresher: The "Tiffany Diamond" is the 128.54-carat cushion-cut yellow diamond Tiffany & Co. founder Charles Lewis Tiffany acquired in 1878 after it was recovered in South Africa the year prior. 
Over the next nearly century-and-a-half, it has appeared infrequently but at impactful moments, the most iconic of which was when Audrey Hepburn wore the diamond in a necklace for promotional imagery for "Breakfast at Tiffany's." 
Embed from Getty Images
Embed from Getty Images
On occasion of the reopening of the Tiffany & Co. flagship store, the stone was
reset into a Jean Schlumberger-inspired pendant
that converts to a brooch.
The high jewelry piece was shown in the store's front window at
last Wednesday's ribbon cutting
and will remain on display in one of the new store's vitrines for all to admire. 
As for the Lucida Star necklace, it got a new white diamond center stone cut to mirror the exact proportions of the yellow Tiffany Diamond, the company said.
The cushion modified brilliant cut has 82 facets, 24 more than a traditional brilliant cut. 
Lipa is officially the first person to take the Lucida Star necklace with its Tiffany Diamond twin out for a spin. 
The Grammy-winning singer complemented the shiner with two Tiffany & Co. rings, a platinum and diamond three-stone ring weighing more than 9 carats total, and a "Schlumberger Sixteen Stone Ring," also in platinum and diamonds. 
Embed from Getty Images

Lipa wore a white tweed Chanel bridal ballgown from the mid-1990s that Claudia Schiffer originally wore on the runway. 

In my opinion, the necklace and overall ensemble was the best look of the night. 


 Related stories will be right here …
More on Editors