Take a Look Inside the New Tiffany & Co. New York Flagship
From a glass-enclosed rooftop to a swirling spiral staircase, here's what the iconic store looks like post-renovation.
New York—Tiffany & Co. is set to reopen its renovated New York flagship on 57th Street and Fifth Avenue this month.
Newly dubbed "The Landmark," the revamped store, opening to the public April 28, will blend elements of its storied history with new design touches.
The store's iconic façade, with its Atlas statue and clock above the revolving doors, has been refurbished to honor its original design. The wood parquet flooring throughout the building is also based on the 1940s design.
The interior, however, will be "a new world of wonders," said Tiffany.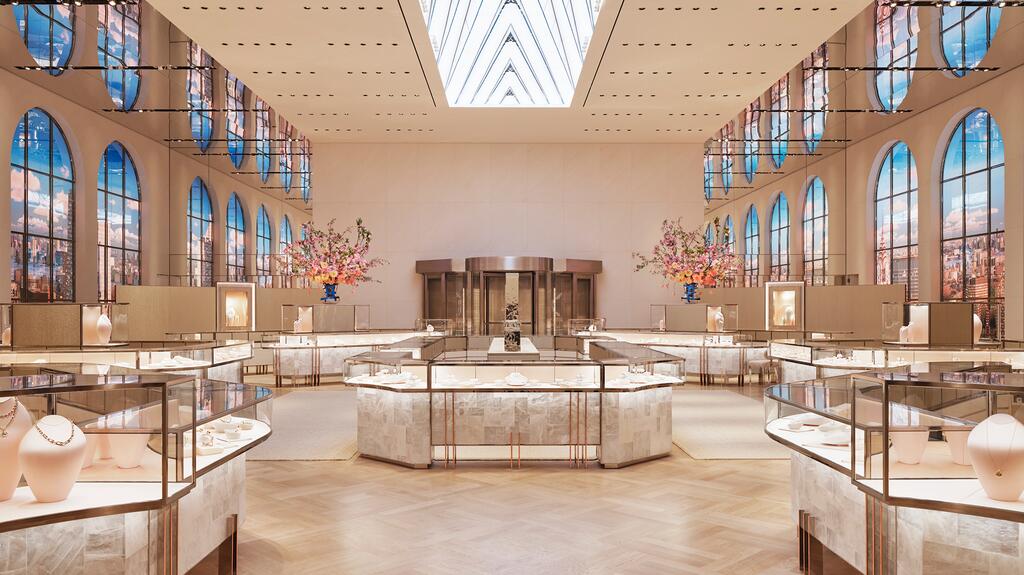 The main floor of the store and its jewelry cases will be illuminated by a "skylight" ceiling installation that covers nearly the entire room. Its design is an ode to diamonds, composed of different facets.
On the ground floor, video walls share immersive views of New York City scenery, like Central Park and the Manhattan skyline. When turned off, the panels act as mirrors instead.
Shoppers can also find a new Tiffany & Co. clock, inspired by the original Atlas statue and clock, on the ground level.
A sculptural spiral staircase sits in the center of the store, featuring "undulating transparent balustrades" set with rock crystal.
The showstopper staircase was inspired by the "sensual and organic" designs of the late
Elsa Peretti
, said Tiffany.
The staircase connects floors three through eight while elevators provide access to every floor.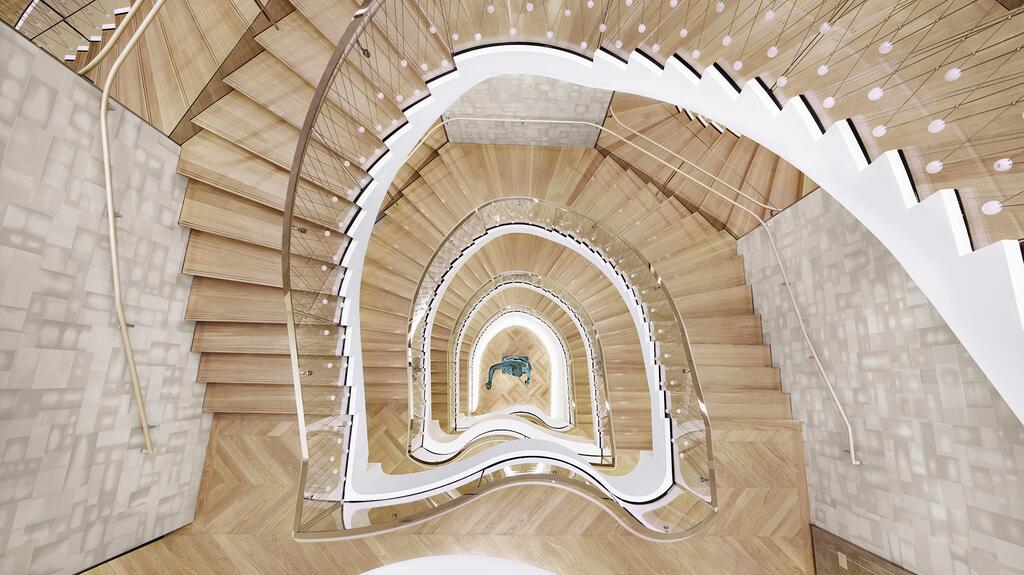 The Blue Box Café, the store's on-site dining option, has moved to the sixth floor, formerly on the fourth. It also underwent a redesign, now including a private dining area and a bar.
Michelin-starred chef Daniel Boulud has created a seasonal daytime menu for the space, offering breakfast and tea options.
 Related stories will be right here … 
Two renowned architects were behind the redesign. Peter Marino led the charge for the interior changes while architecture firm the Office for Metropolitan Architecture (OMA) New York, led by architect Shohei Shigematsu, focused on the core and circulation infrastructure.
Shigematsu also was tasked with designing the new rooftop addition, replacing the previous three stories of office space added in 1980.
The rooftop addition will be encased in recessed glass on all sides, described by Tiffany as being "surrounded by a curtain of undulating glass" that complements the store's limestone façade below.
It will open up to an outdoor terrace to give guests an even better view of Fifth Avenue and Central Park. It will also serve as an event and clienteling space.
The glass box will take up floors 8 through 10, with dedicated museum and exhibition spaces on floors 8 and 9.
Throughout all 10 floors, guests will find nearly 40 works of art, including never-before-seen pieces that Tiffany commissioned for the new store.
Artists Damien Hirst, Julian Schnabel, Rashid Johnson, Anna Weyant and Daniel Arsham, who
previously collaborated with the brand
on a series of sculptures, created new works for the flagship.
"The reopening of the iconic Fifth Avenue Landmark is a major milestone for our house," said Tiffany & Co. CEO and President Anthony Ledru.
"Symbolic of a new era for Tiffany & Co., the Landmark is much more than a jewelry store—it is a cultural hub with an exquisite showcase of architecture and superior hospitality, as well as cutting-edge art and design. It sets a new bar for luxury retail on a global scale." 
Beyond aesthetics, the company said it made a "significant investment" in sustainability by incorporating environmental, health and well-being initiatives into the store's redesign plans, adding the flagship is on track to achieve WELL Platinum certification and LEED Gold certification.
The redesign, Tiffany' first major renovation of its flagship store since it opened on Fifth and 57th in 1940,
began
in 2019 but was
delayed
due to the COVID-19 pandemic.
In the meantime, the store was operating out of a four-story space dubbed "Tiffany Next Door" at 6 E. 57th St.
Tiffany & Co. was founded in New York in 1837 by Louis Comfort Tiffany, first located on Broadway and Warren Street before moving uptown several times.
On
an earnings call earlier this month
, Jean-Jacques Guiony, chief financial officer of parent company LVMH, estimated, based on previous management's numbers, that the flagship store brought in close to $400 million per year, around 10 percent of overall sales, when it was open.
To celebrate the Fifth Avenue store's reopening, Tiffany will debut exclusive designs and one-of-a-kind creations, including diamond watches, limited-edition home objects, and eyewear inspired by the "Tiffany setting" engagement ring.
The store will house the world's largest collection of Tiffany high jewelry.
Tiffany also said it has a new design for the legendary 128.54-carat Tiffany Diamond. A spokesperson for the retailer said more information about the redesign would be available later this month.
More on Majors