Hingham Jewelers Celebrates 75 Years with Redesigned Showroom
The third-generation Massachusetts jeweler expanded its workshop and added an interactive design center.
Hingham, Mass.—Hingham Jewelers is celebrating its 75th anniversary by unveiling a redesigned showroom.
The store now has a more open floorplan, a lounge and refreshment area, and a service center for "while-you-wait" jewelry and watch repairs.
Its workshop has been renovated and expanded, allowing its team of goldsmiths to complete work on the premises.
For shoppers looking to create a custom piece or redesign their older jewelry, there's also an interactive design center.
Customers in the redesigned VIP suite can now take a look across the showroom through arched windows.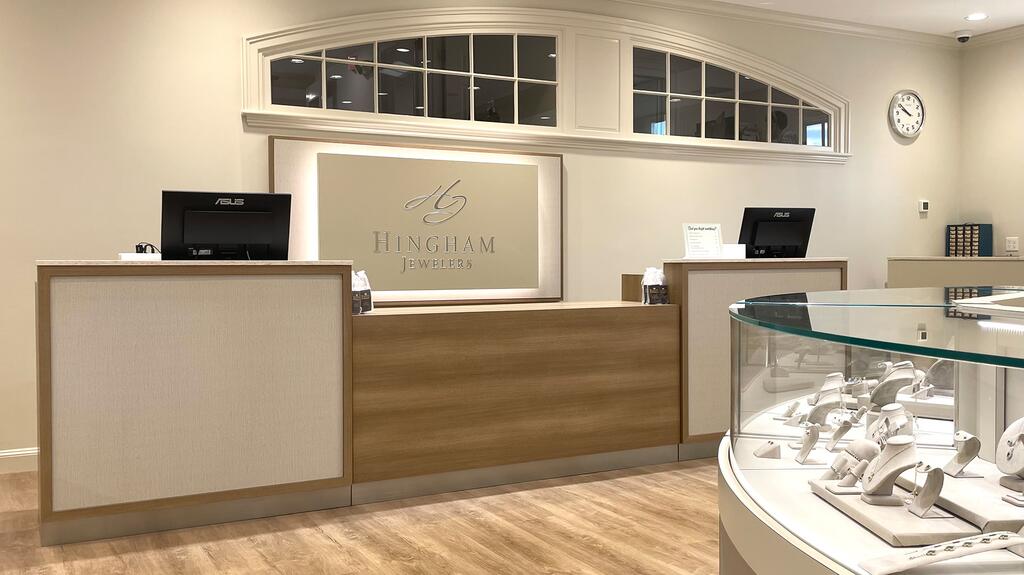 The renovation took two months, but the third-generation jeweler is hoping it will feel the effects for years to come.
"This renovation was all about making sure our business is well positioned for many more years of community service—helping local families celebrate engagements, birthdays, and anniversaries. We are so lucky to be part of all these happy occasions," said Michael Page, the head of development and long term strategic growth.
Page, formerly
a meteorologist
, joined his parents Stacey and David Page at the store in August 2020, and they have since transitioned out of running the day-to-day operations.
 Related stories will be right here … 

Hingham Jewelers was founded in 1948 by Michael's maternal grandparents, Angelo and Helen Manjos.

They opened a small storefront in Hingham Square in 1948, later moving to a nearby location in the 1950s.

In 1988, that location burned down when a fire overtook a series of stores in the downtown area.

Their daughter Stacey reopened the business, moving to South Hingham. They moved once more in 2004 to the store's current location on Whiting Street.

"Celebrating our 75th year in business in the same community is a privilege not many people achieve," Stacey Page said. "The never-ending support and encouragement of our clients through the good times and bad has been a major factor in our continued growth."


More on Independents