The Cartier Baignoire Is Fashion's Next Favorite Timepiece
You don't have to be a watch fanatic to love the look of the Cartier revival style.
Geneva—For those who prioritize style over a watch's mechanics, the revamped Cartier Baignoire is calling.
Created in the early 1900s, "baignoire" is French for "bathtub," an allusion to the watch's oval dial and sumptuous rounded oval bezel.
The 2023 quartz-powered version sees the bezel even larger, which is in line with the chunky gold metal trend seen in fine jewelry from the likes of Brent Neale or Jessica McCormack.
To make it even more jewelry-like, it's attached to a bangle rather than a traditional watch bracelet, though there's a black leather strap version, too.
It's available in rose gold and yellow gold for $11,800 or white gold with full diamond pavé (seen below) for $48,800.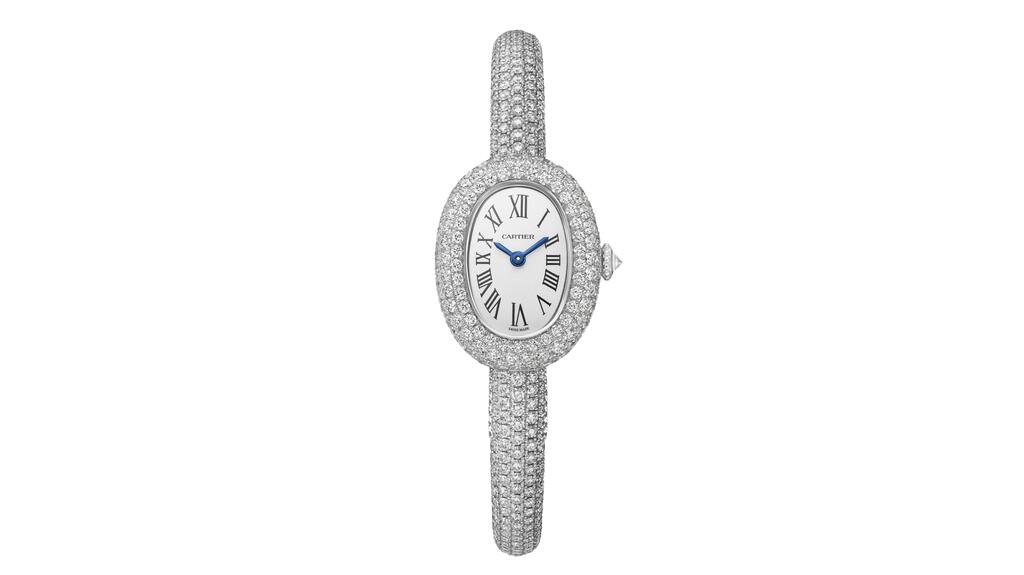 With fashion and watch enthusiasts alike buzzing over the new Baignoire debuted at Watches & Wonders Geneva, expect it to join the ranks of Cartier's most popular timepiece styles in the future.
Speaking of which, Cartier also showcased updates to its classic "Tank" timepiece.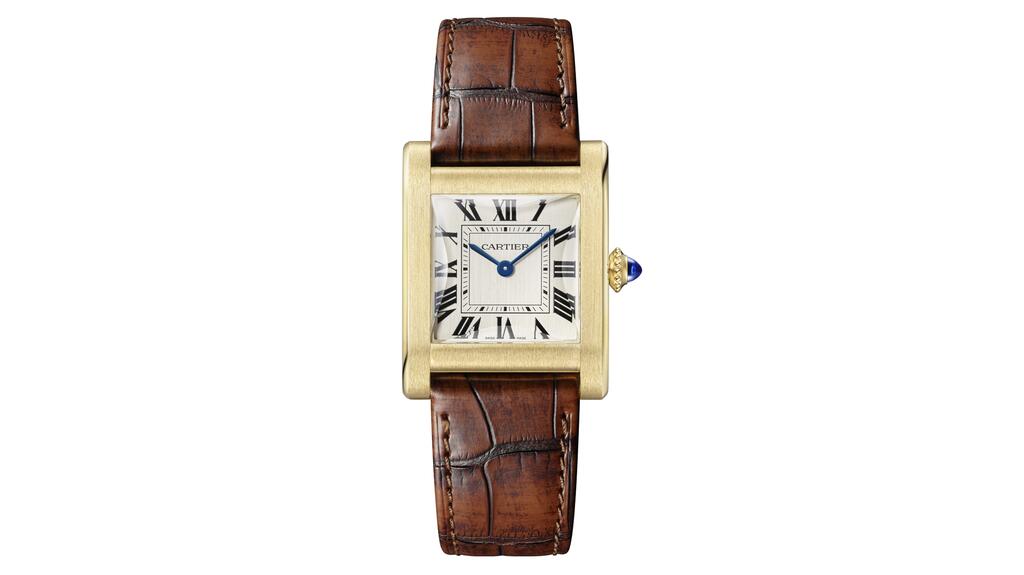 Originally created in 1917, this year Cartier introduced an hour and minute version with a yellow gold case on a brown alligator strap (above) and with a platinum case on a black alligator strap. There are also versions with a gold bracelet and platinum bracelet (below).
The watch is powered by a mechanical movement with manual winding.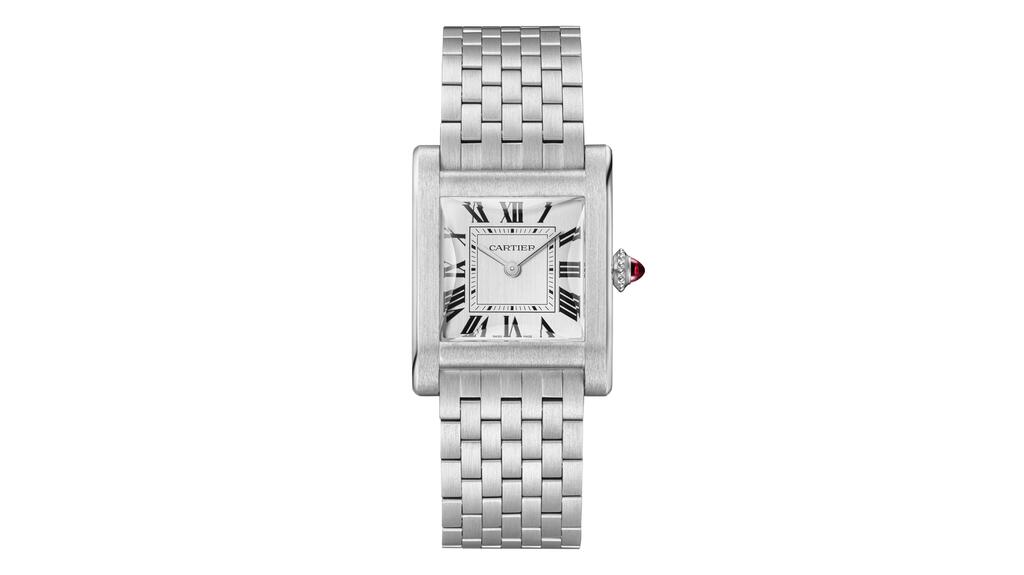 There is also a new Cartier Tank with skeleton movement. It has a 24-hour complication with a sun and crescent moon, also skeletonized.
The minute hand turns around the dial in one hour as usual, but the hour hand turns around the dial in 24 hours instead of every 12 hours.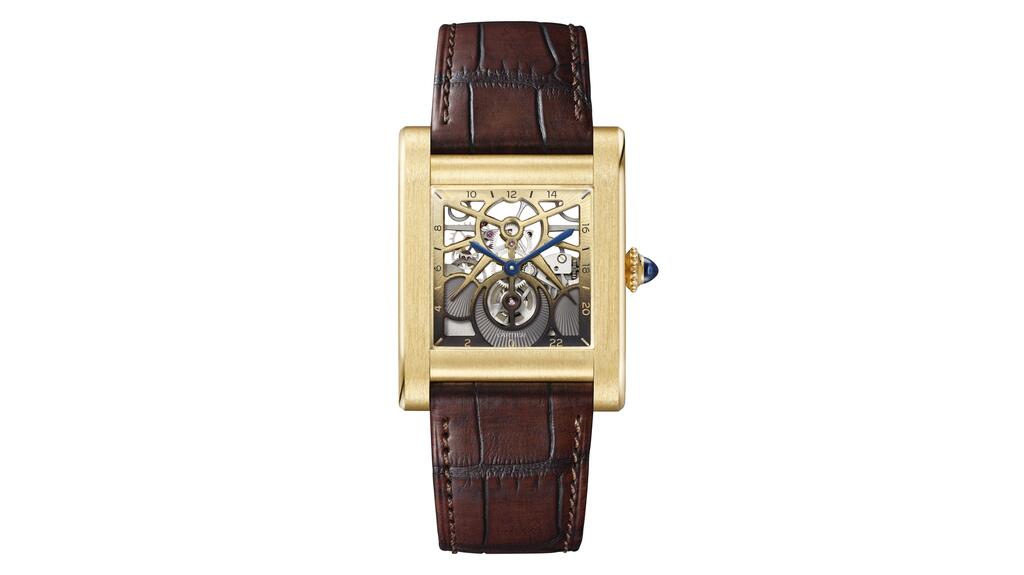 The watch is available in 50 numbered editions, in yellow gold on a brown or green alligator strap with a blue sapphire cabochon on the crown ($71,000) and in platinum on a burgundy or gray alligator strap with a ruby cabochon ($80,000).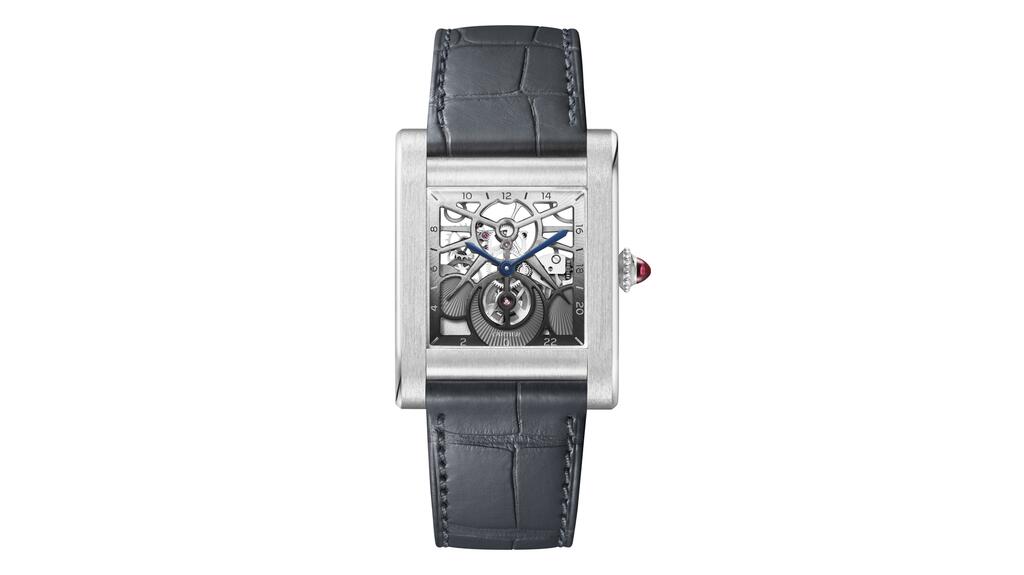 There are also 20 numbered editions of a version with brilliant-cut diamonds and an alligator strap in two shades of blue plus a diamond on the crown ($107,000).
The Tank isn't Cartier's only timepiece getting the skeleton movement treatment in 2023. The Santos-Dumont is also available in a special skeleton version.
Originally introduced in 1904, the Santos-Dumont last received a design upgrade in 2019.
This year's version is powered by the 9629 MC automatic skeleton calibre movement with micro-rotor, which took Cartier nearly two years to develop. The movement is comprised of 212 components.
It is available in a rose gold version ($40,400) or stainless steel ($31,000), as well as a limited-edition yellow gold version with navy lacquer ($41,600), pictured below.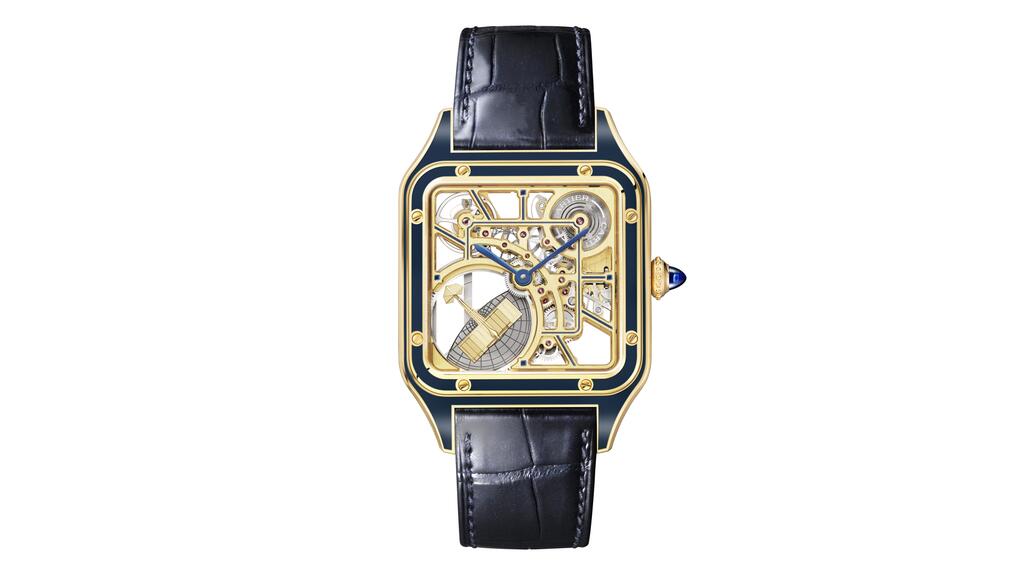 Switching gears, the rectangular-dialed Tank Américaine was launched in 1989 and inspired by the Tank Cintrée.
The 2023 edition offers a more streamlined silhouette powered by the new 1899 MC movement.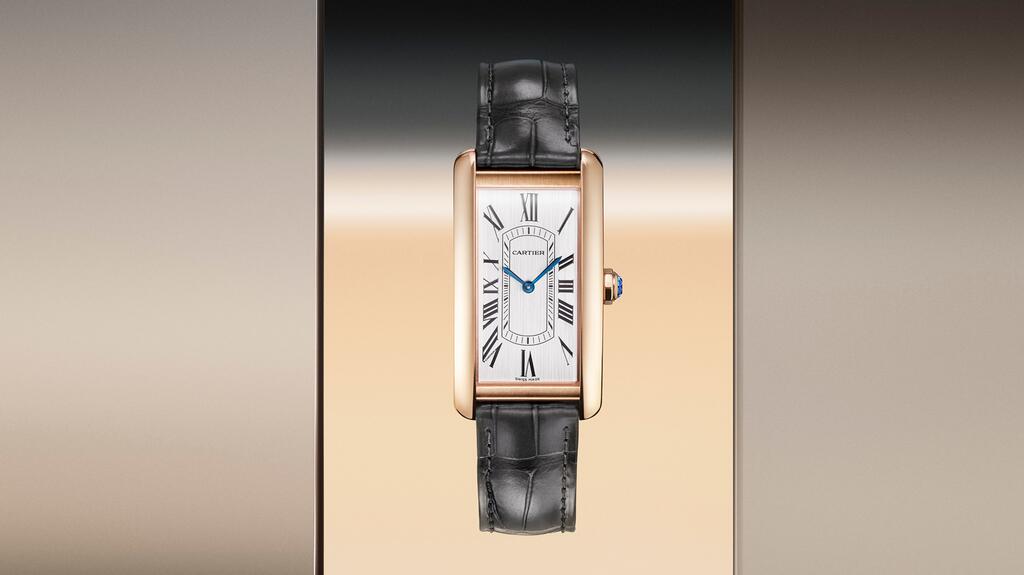 There are a variety of metal case and strap combinations, including steel and 18-karat gold cases and steel, 18-karat gold, and leather straps. Some are available in diamond pavé. 
The timepiece starts at $3,400 for the mini steel version on a leather strap. 
 Related stories will be right here … 
Also at Watches & Wonders, the Clash de Cartier jewelry collection received its first timepieces.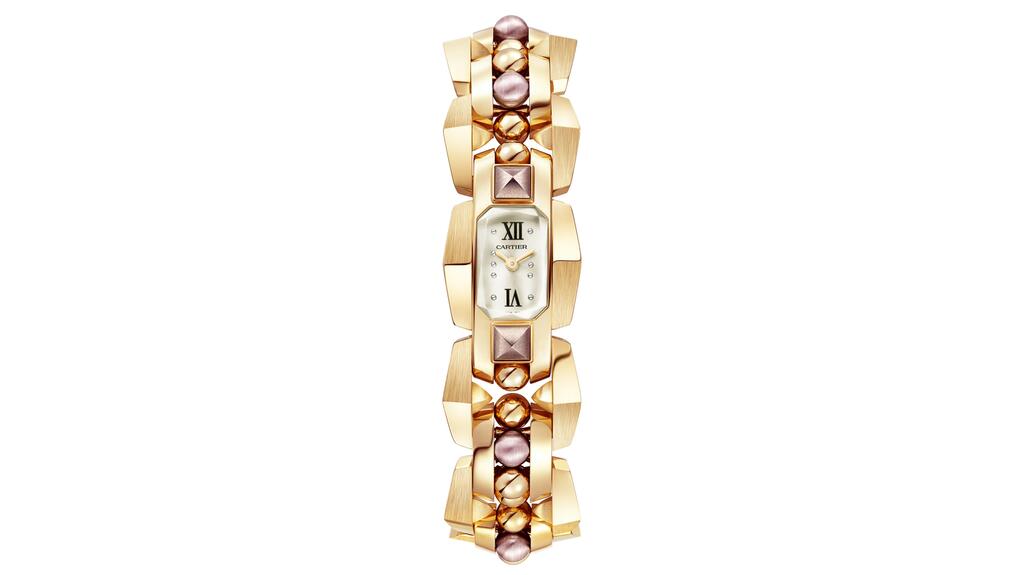 A design-forward bracelet incorporates rolling ball bearings that move.
The limited-edition timepieces, called the "Clash [Un]Limited," are available in yellow, rose, and white gold, as well as diamond pavé versions. There are special editions featuring gems like black spinels, chrysoprase, tsavorite, coral, onyx, and obsidian.
The quartz-powered watches retail beginning at $33,300.
There were also novelties unveiled for the Panthère de Cartier range.
Unlike the wearable, square dial of the classic Panthère, these feature a striking panther head in ode to one of Cartier's most famous symbols.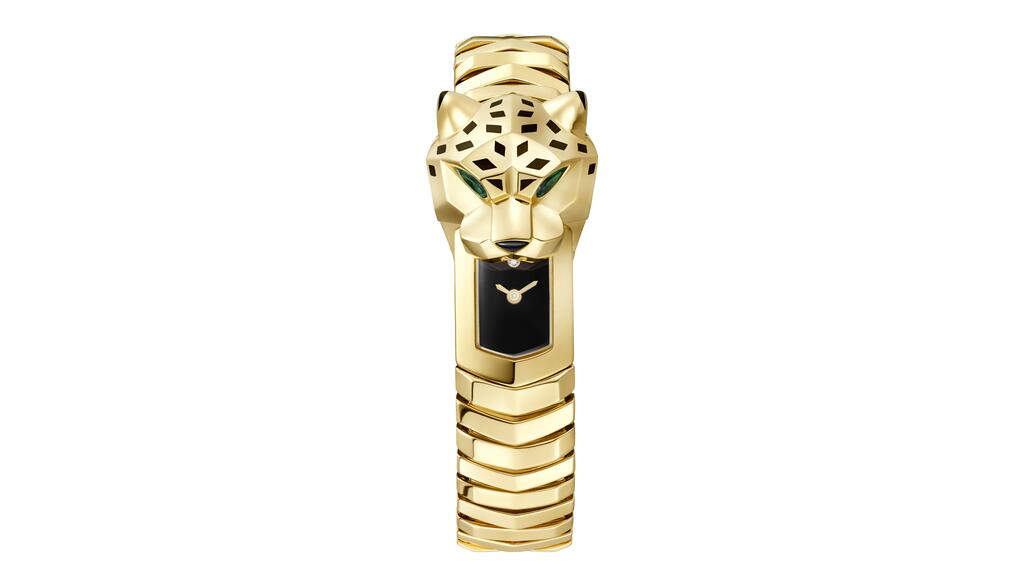 The cat can "close its jaws" over the black lacquer dial. The watch's geometry and sharp angles are inspired by the Panthère jewelry launched in 2005, Cartier said. The watch's bracelet is fully articulated and flexible without visible hinges.
The watch is available in yellow or rose gold as well as a white gold and diamond version. Powered by quartz, the range starts at $27,800 for the smallest version. 
More on Watches