D.C. Jeweler That Honored 50-Year-Old Gift Certificate Closes
Bensons Jewelers closed for good Feb. 24, impacted in part by the decline in foot traffic downtown since the onset of the pandemic.
Washington, D.C.—Bensons Jewelers, the 84-year-old Washington D.C. retailer that made headlines for
an altruistic act
a few years ago, has closed its doors for good.
Owner Ken Stein told National Jeweler Monday that a confluence of factors fed into his decision to close the store where he's worked for 40-plus years.
Bensons Jewelers
is on F Street N.W. in downtown Washington, D.C., a few blocks east of the White House.
The retailer's business depended heavily on downtown foot traffic from employees of the federal government and other companies with government-related business. 
Since COVID-19, however, Stein said a lot of workers haven't returned to the office full time or at all, while visitors aren't coming downtown as often either, due to part to the view that the city's train system, Metro, has become more dangerous. 
He said his store has lost money every year since the onset of the pandemic in 2020. 
Another contributing factor is, Bensons Jewelers was not drawing in younger consumers, particularly younger female consumers (ages 20-45), to replace the older customers who are phasing out of jewelry buying. 
Stein attributes the shift to younger consumers' desire to spend money on experiences instead of jewelry.
"I truly believe, certainly for me and for people I've spoken to, the trends have changed for young women. They don't buy jewelry like the older clients did," he said. 
 Related stories will be right here … 
Ben Stein (no relation) was the original owner of Bensons Jewelers, opening the store alongside his sons in 1939. The store's name, Bensons, is a combination of the words "Ben" and "sons."
Ken's father, Paul Stein, bought the business from Ben in the 1960s. Ken started working there in 1979 and bought out his father in the 1990s.
Bensons Jewelers was the store that made national news in 2019 when Ken
honored a gift certificate from 1969 for a knife, spoon and fork
.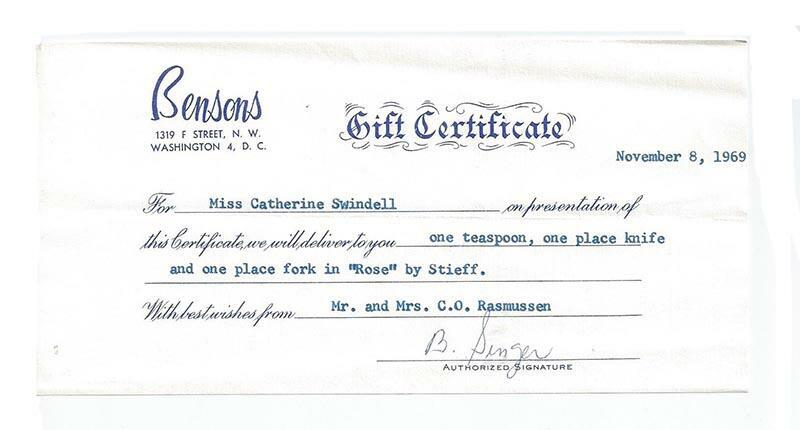 Stein got numerous emails through his website thanking him for restoring their faith in humanity and pledging their allegiance to the store.
Ken shared a few of those emails with National Jeweler when it reported the story in November 2019. 
"Dear Bensons," one man wrote, "I saw the 'feel good' story today on NBC News 4 of you honoring a 50-year-old gift certificate. Great job on your part, I will certainly use Bensons for my future jewelry needs. Thanks for [an] act of kindness seldomly seen."
But any bump in business related to Ken's kind act was not enough to sustain Bensons Jewelers through what hit just a few months later, the COVID-19 pandemic and its life-altering aftermath. 
Bensons Jewelers closed Feb. 24. Stein said he'll be liquidating all his inventory. 
"It's all very bittersweet," he said when asked about his unplanned retirement.  
"I didn't want to go out this way. I wanted to go out on my own terms."
More on Independents