Gem Awards Shine Spotlight on Design, Dedication, and Family
The industry gathered to celebrate those who elevate the jewelry and watch industries.
New York—At its 21st annual Gem Awards, Jewelers of America celebrated the industry's brightest stars.
Held Friday night at Cipriani 42nd Street in New York, the 2023 Gem Awards welcomed nearly 600 guests, including a few famous faces, like actors Jodi Turner-Smith and Naomi Watts.
The Gem Awards ceremony honors individuals and brands whose work has bolstered the visibility and status of fine jewelry and watches.
Turner-Smith, decked out in a sparkly black and silver sequined jumpsuit, kicked off the award ceremony, presenting the first Gem Award for High Jewelry Excellence to Gucci.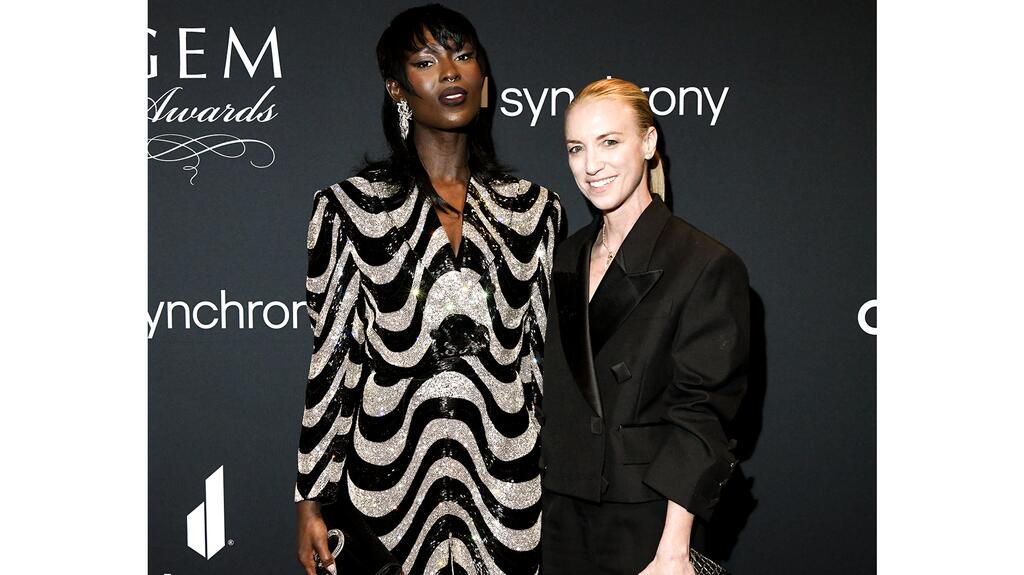 "There is no brand, in my opinion, more deserving of this award as Gucci continues to elevate the world of high jewelry and fashion with timeless creativity," she said.
Turner-Smith appeared in the 2019 campaign for the launch of Gucci's first high jewelry collection, "Hortus Deliciarum," meaning "garden of delights" in Latin. There have since been two additions to the collection.
Susan Chokachi, Gucci's executive vice president, chief brand and client officer, accepted the award.
"The collection represents an imaginary journey through space and time, exploring various historic eras and evoking a kaleidoscopic universe where the past and the present collide," said Chokachi.
"This vision is emblematic of the Gucci brand, one that started in Florence 102 years ago, and has gone on to build global and timeless appeal through its creative vision that celebrates our Italian heritage and incredible craftsmanship."
Melanie Grant, the 2022 winner of the Gem Award for Media Excellence, took the stage next to pass on the honor to this year's recipient.
The pursuit of media excellence "is a demanding and rewarding endeavor," said Grant.
"It requires a deep knowledge of design history combined with style insight for today's trends, only matched by a passion for industry happenings and a firm grasp on language that can articulate everything from different cuts of stones to the mechanics of chronometers."
Michelle Graff, editor-in-chief of National Jeweler, was this year's winner.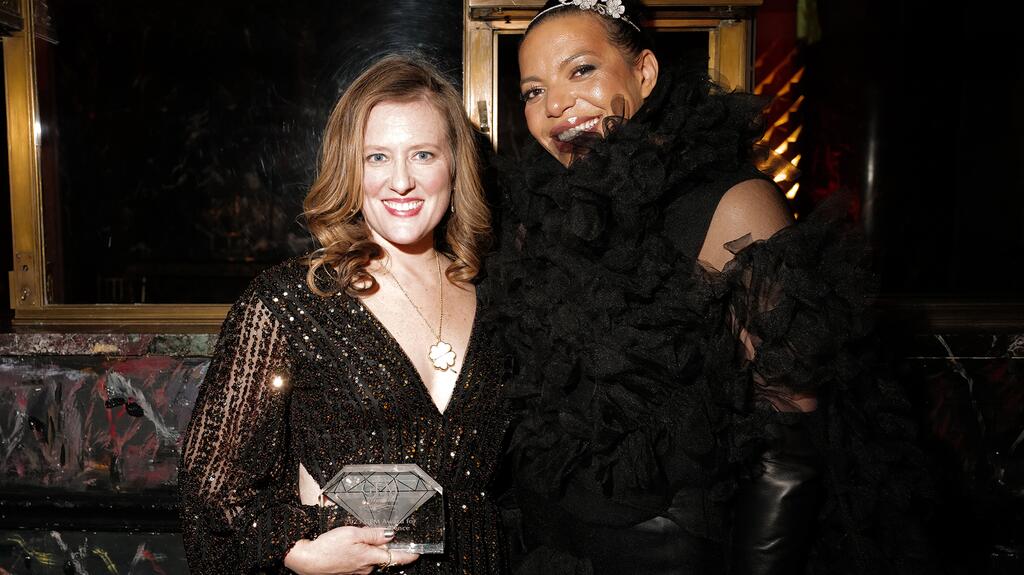 An active member of the industry, Graff serves on the board of advisors for the Black in Jewelry Coalition and is a member of the Women's Jewelry Association NY Metro chapter's Mentorship Committee.
She expressed her gratitude to her first editor, Whitney Sielaff, who hired her at National Jeweler in 2013. 
"He hired me even though I did not know anything about jewelry," she said.
Graff also shouted out Jewelers of America, who acquired the publication in 2015, and her team of editors, past and present.
"They work so hard, and they're as deserving of this recognition as I am," she said. "When you're an editor, you're only as good as the people who work for you."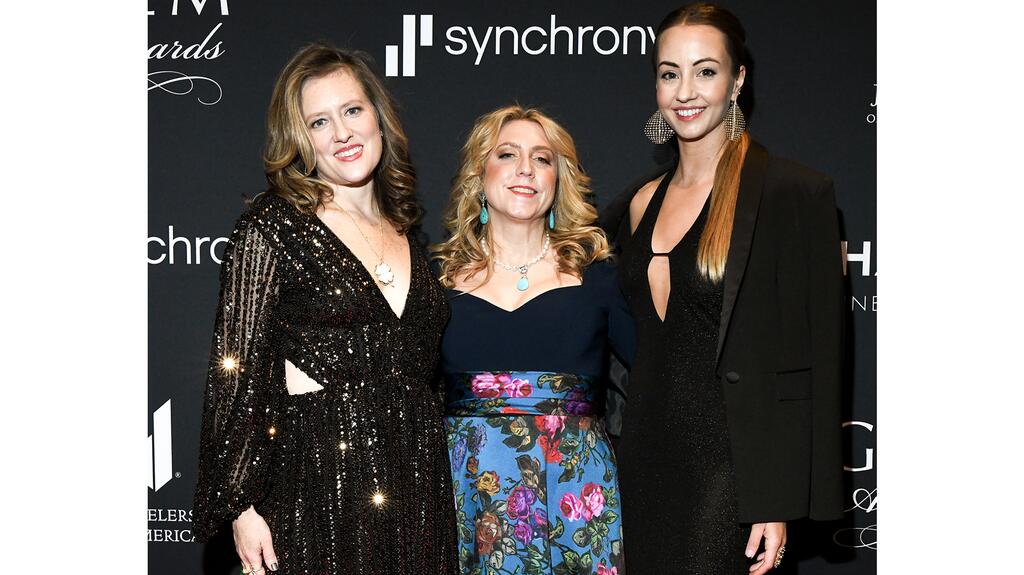 Jay Hartington of Florida jeweler Marissa Collections was next up, presenting the Gem award for Retail Excellence, which he took home last year.
This year's award went to Greenwich St. Jewelers, accepted by second-generation co-owners and sisters, Jennifer Gandia and Christina Gandia Gambale.
The pair's acceptance speech centered around family, giving thanks to their parents, each other, their employees, and the jewelry industry family at large.
Gambale gave a special thanks to her mother, who, with their late father, passed the 46-year-old store down to her daughters. 
"Your guidance, your love, and your trust in us has been incredible," she said through tears.
Gandia added, "Our story is like so many other stories. I want us all to remember that there are lots of people who don't have families to pass these businesses down to, and we have to, as an industry, support all of these young people, all of these people who want to break into this fabulous, glittering, sparkling industry, and bring them up."
Jewelers of America CEO Dave Bonaparte and CFO Annie Doresca took the stage to congratulate the winners of the night and to share what JA has in the works for this year.
The trade organization, alongside the Black in Jewelry Coalition, is planning to launch the Emerging Jewelers Accelerator Program, which will support diverse business owners in the jewelry industry.
It also will relaunch the Bench Jewelers certification program and the Careers in Jewelry Initiative, as well as adding new scholarships, including one for bench jewelers.
Jewelry designer Harwell Godfrey, last year's winning designer, was up next to present the Gem Award for Jewelry Design.
Prior to delving into jewelry design, Godfrey was in culinary school, a pursuit she said was not so different to designing jewelry.
"Designers, and chefs, are all using the same ingredients: metals, stones, and a mix of ancient and new techniques. But like the best chefs, it's how we, the designer, put these same ingredients together in our own special way that makes magic," she said.
Jewelry designer Anita Ko of Anita Ko Jewelry took home the honor.
"My love of jewelry has started since I was a child and that love has brought so much back to me," said Ko.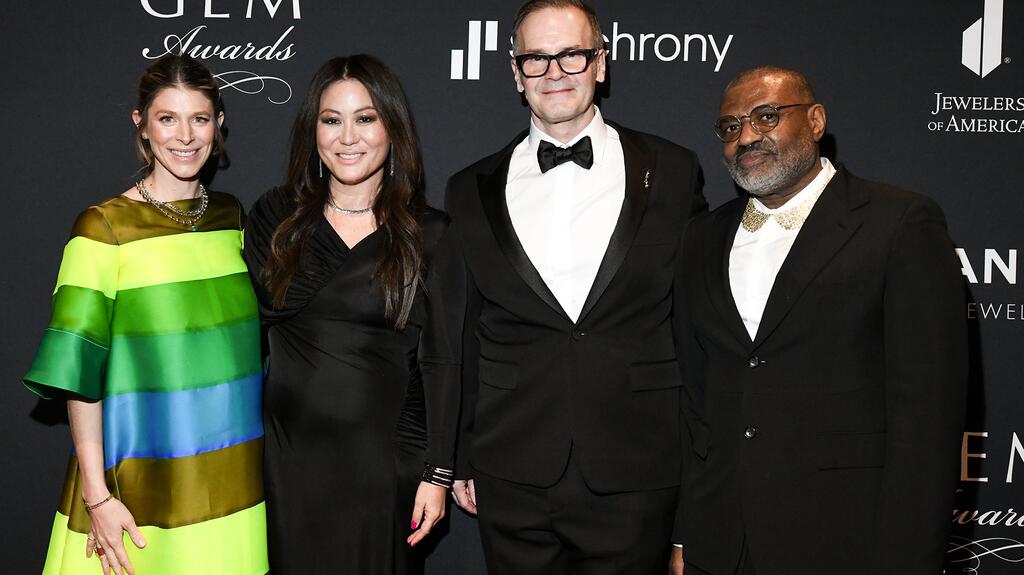 She gave a special thanks to London Jewelers, who brought her on when she had just one tray of jewelry to display, and West Coast retailer Twist.
Her eponymous L.A.-based jewelry brand showcases a delightful mix of everyday elegance and red-carpet glamour. Her jewels have been worn by Michelle Obama, Her Majesty Queen Rania of Jordan, Charlize Theron, and many other celebrities.
Next, Hodinkee Chief Brand Officer Eneuri Acosta presented the Gem Award for Watch Excellence to the watch platform.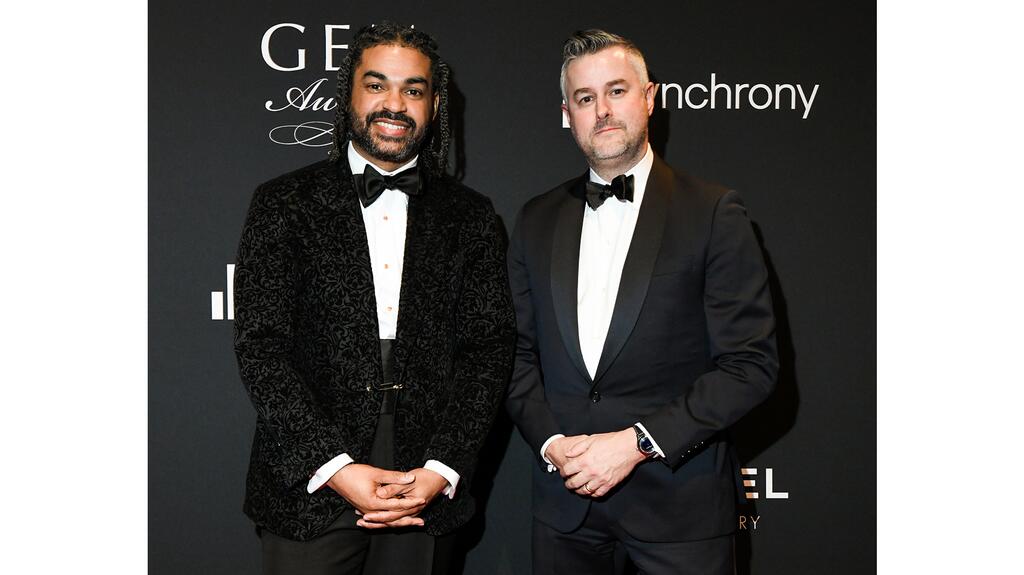 "As someone who has had a front row seat over the last six years, it is incredibly gratifying to see what started as one young man's love for his grandfather's Omega Speedmaster become the global home for watch lovers," he said.
Founder and former CEO Ben Clymer founded the platform in New York City in 2008, growing it into a news and e-commerce hub for horology enthusiasts.
"Hodinkee began telling stories about watches, [using] new, earnest, and human terms, and helped bring this wonderful world to a whole new category of consumers, over 100 million of them. Hodinkee was different then, just as it is now."
The award was accepted by Hodinkee CEO Jeff Fowler.
"At Hodinkee, our goal has always been to meet the needs of a wider set of watch enthusiasts and to make the world of watches better," he said, sharing his gratitude to the company's founder and team.
"The Gem Awards was one of Steve's favorite nights of the year," said Green. "He loved seeing the jewelry and watch industry celebrated and rewarded and networking together."
Kaiser was the Gem Awards Committee's chairman emeritus at the time of his death.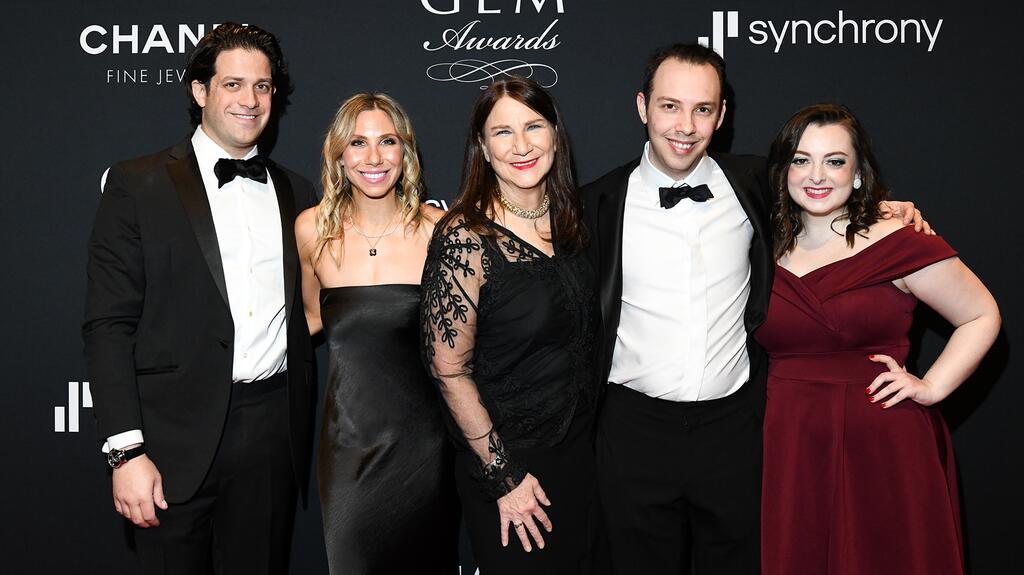 In a tribute video, he was remembered as a longtime supporter of the jewelry and watch industry, an optimistic leader, a caring friend, and a loving father.
Kaiser also loved the New York Giants, his pet tortoise Mikey, and being in the know on industry gossip, said his friends.
John Kennedy of the Jewelers' Security Alliance, Aida Alvarez of Roberto Coin, Michael Benavente of Bulova, and Diane James of WatchBox shared their fond memories.
Kaiser's family, including his wife Vivian and children Emily and Jeff, accepted the award on his behalf and thanked the industry for their support.
"All of us in the Kaiser family extend our sincerest thanks and gratitude to all of you who are here tonight to celebrate and honor our dad," said Jeff Kaiser.  
"Thanks to all of you, our dad lived an intensely happy and very fulfilling life."
More on Events & Awards