Retailer Hall of Fame 2022: Jennifer Gandia and Christina Gandia Gambale
The sisters have a symbiotic relationship that serves them and their New York City store well.
Editor's Note: This story first appeared in the print edition of the 2022 Retailer Hall of Fame. Click
here
to see the full issue.

Carlos and Milly Gandia opened a jewelry store in 1976 that has persevered through a terrorist attack, a recession, a hurricane, and a pandemic that turned the city it calls home upside down.
Forty-six years later, that New York City jewelry store survives and is run by their daughters, Jennifer Gandia and Christina Gandia Gambale, who have used their respective talents to take what their parents built, make it even better, and move it from Lower Manhattan into a big, beautiful new space uptown. 
Now, these invincible women are marking an impressive series of Retailer Hall of Fame firsts.
Jennifer and Christina are the first two women and only sisters to be inducted into National Jeweler's Retailer Hall of Fame together.
They are also the hall's first Latina inductees.
Finding Their Way Home
Both Jennifer and Christina say they found their way into the jewelry business organically.
As children, they didn't necessarily think they'd grow up to work at their parents' store and their parents didn't encourage them to, either. 
Carlos and Milly wanted for Jennifer and Christina what most parents want for their children—for them to find happiness by following their passions.
They also, Jennifer and Christina would later come to learn, wanted their girls to find a job that was less grueling than that of a small business owner.
Both hailing from Puerto Rico, Carlos and Milly came from modest backgrounds, explains Jennifer, the eldest by seven years.
They built their business from nothing and, with no safety net, felt the constant pressure that weighs on business owners who know they have to make it work.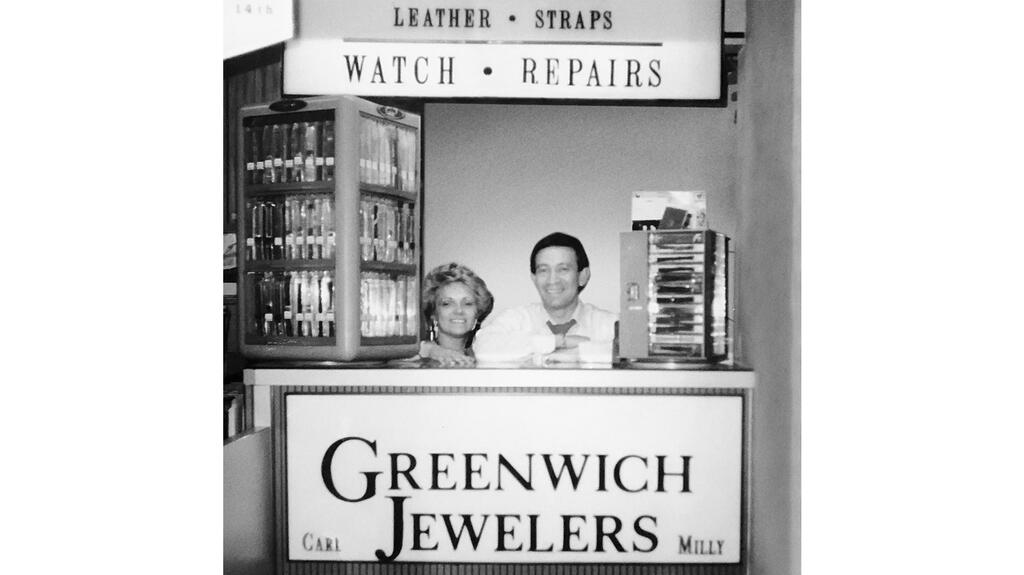 "They gave a lot and they worked really hard at it," Jennifer says. "They thought going and working for someone else, doing a 9-to-5, would be an easier life [for us]. That's how they saw it. And they also wanted us to be happy. They wanted us to do what we wanted to do." 
The more visually creative of the two sisters—the right brain, if you will—Jennifer loved fashion from a young age. 
She graduated with a degree in marketing from New York's Fashion Institute of Technology, eventually earning what she thought was the ultimate job: public relations manager at a major company, NARS Cosmetics. 
Then 9/11 happened. The unthinkable tragedy caused Jennifer to reassess her life.
She determined that her job, the one she had worked so hard to get, wasn't what she wanted after all. 
"I really felt like I was not as happy as I thought I would be doing the work I was doing," she says. "It didn't fulfill me in a certain way. I didn't even really know what that meant. I just knew I didn't want to do it that much longer." 
So she took a year off and headed abroad, settling in Barcelona, Spain. 
As she walked up and down the city's hilly streets, she found herself paying attention to the displays in jewelry store windows, then calling home to share ideas for her parents' store.
She also spent a lot of time thinking about what she wanted to do next. 

Initially, Jennifer thought she might like to open her own business, but then began considering how difficult the post-9/11 road ahead was for her parents.

The original Greenwich Jewelers was on Greenwich Street, less than two blocks from the World Trade Center. The building it was in sustained structural damage in the attack, forcing Carlos and Milly to relocate.

Even though they reopened on nearby Trinity Place, Ground Zero was, and would remain for years, an open pit while companies all over Lower Manhattan were decamping to Brooklyn and New Jersey, taking their office workers with them. 


"It was always meant to be temporary." — Jennifer Gandia on the start of her career at Greenwich St. Jewelers
So, during one phone call home, Jennifer proposed the idea of coming to work at the store.
Carlos rejected the idea at first—"they still felt like, this isn't the path we want you girls to take," Jennifer  says—but she carefully pitched it as a temporary situation.
She would stay for a year—just a year—and use her marketing experience to help the business recover.
"It was always meant to be temporary," she says.
Christina reached her own occupational epiphany after following her lifelong, left brain-like interest in business, sales and operations (she had a scrunchie business in junior high, backed by Milly) through to a career in finance, a path she found similarly unfulfilling.
"I remember being in finance in corporate America and saying, 'I hate this,''' Christina says. "I hated the idea of having to climb this ladder. I hated the politics of it."
By that time, Jennifer already was working with their parents at the store, and it piqued Christina's interest.
She put herself through the Gemological Institute of America's graduate gemology program. While attending GIA full-time, she started to test the retail waters by working at the store on Saturdays.
After she earned her G.G. diploma, her parents suggested she work for other jewelry companies to learn more about the wholesale end of the business before coming into the family business.
Christina worked for Mouawad and spent a little over a year at Temple St. Clair before joining her parents and sister, making Greenwich an employer of five—the four Gandias plus one bench jeweler.
A Vision Takes Shape
Jennifer's first few years at the store were just about helping her parents make the business solvent and rebuilding their clientele.
She started at the store in 2003, her entrance into the fine jewelry industry coinciding with the continuing growth of the independent designer movement. 
Jennifer saw pieces she loved from creators who were her peers, women like Melissa Joy Manning and Jamie Joseph. 
It caused her to have a revelation about fine jewelry: "This is a fashion product. It was almost like I never put those things together," she says, having grown up with the idea that fine jewelry was something one received only as a gift for special occasions.
By the time Christina joined the business in 2007, the sisters were ready to get involved in designer jewelry.
Jennifer and Christina (who'd discovered Jamie Joseph on her own while working in wholesale) leaned into the trend. It was a sage move for the mid-aughts considering the increased weight independent designers carry in the industry today.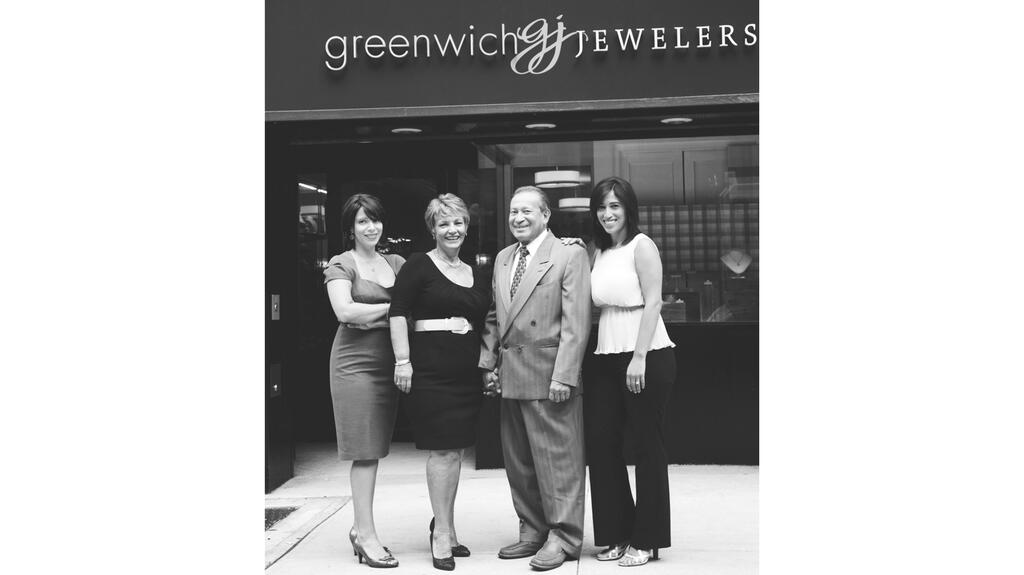 Another change the sisters made when they joined the family business was to introduce bridal.
Selling engagement rings and wedding bands, along with offering a selection of lower-priced bridge jewelry, turned out to be key to helping the store thrive during the crisis that hit not all that long after 9/11, the Great Recession of 2007-2009.
But these changes happened only because Carlos and Milly listened to their daughters and were open to trying new things that ultimately benefited the business, even when it scared them.
Jennifer remembers talking her parents into opening on Saturdays—which turned out to be a big success—while Christina recalls the low-level terror her parents endured when she and Jennifer held a storewide sale to raise money to bring in new designers.
"I just remember, I could see the fear in their eyes at all of their inventory being just like slashed away. [But] they let us do it and it worked," Christina says. "We raised money, we got new jewelry, and it moved us forward.
"As a parent, now I understand just how much courage it took for them to trust us and to give us room to succeed or fail."
The Constant Advocates
Greenwich St. Jewelers was also out ahead of other stores when it came to recognizing the need for the jewelry industry to become more diverse and equitable.
In fall 2018—nearly two years before the murder of George Floyd ignited widespread conversations about racial discrimination, injustice and inequity—J.B. Jones and Bella Neyman, the organizers of NYC Jewelry Week (NYCJW), put together a panel discussion about diversity in the jewelry industry that Jennifer moderated. 
It was packed and the conversation was "incredible," Jennifer says.
The following year, Jones and Neyman asked her to help build on that conversation.
A group of individuals came up with the concept for "Here We Are," which supports diversity in jewelry through an ongoing series of panels, webinars and exhibitions.
At the inaugural "Here We Are" event in 2019, Jennifer stopped to admire the work of a Black jewelry designer named Lorraine West, telling her she could envision a lot of her brass and sterling silver styles translating into fine jewelry and that they should stay in touch, West recalls.
West had been designing custom and bespoke fine jewelry since 2011 but had plans to expand her fine line. Meeting Jennifer provided both confirmation she was on the right path and the connection she needed to make the leap.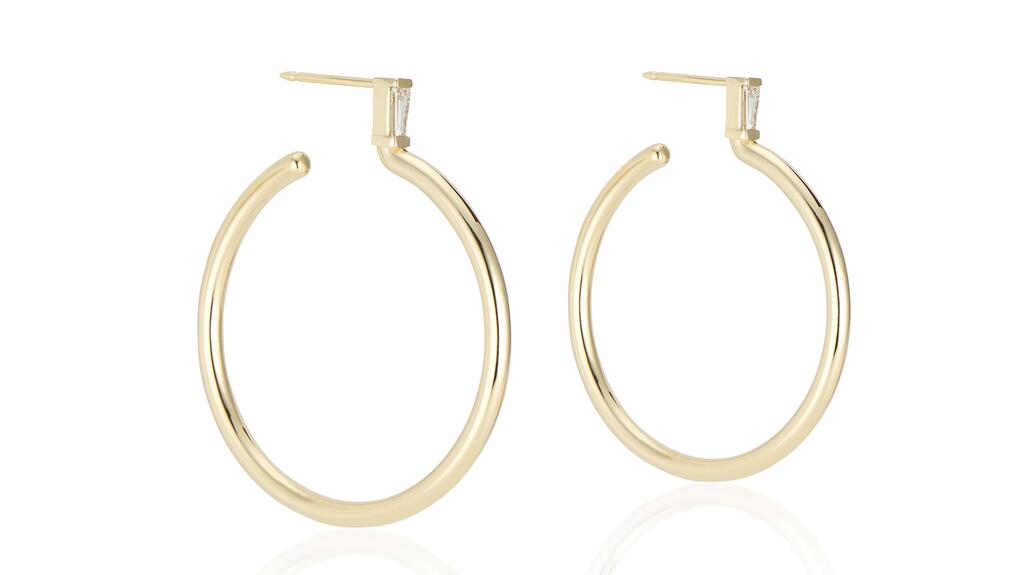 Within a year of that meeting, Greenwich St. Jewelers was selling West's first capsule collection of fine diamond fashion jewelry, "Glimpse." 
West says the collection did "fantastic," with Greenwich St. Jewelers providing her with the solid and supportive partner every designer needs. 
"When I think about being with Greenwich St., I can grow slowly but surely," she says. "And I am growing with them."  
Greenwich St. Jewelers has remained at the forefront of the push for more diversity in the fine jewelry industry, making it part of its brand ethos. 
"We will never stop advocating for diversity, equity and inclusion. As Latinas, our passion is personal and we care deeply about BIPOC [Black, Indigenous, and people of color] and LGBTQ+ representation in the jewelry industry," says Jennifer. 
The store has actively diversified its roster of 40-plus designers and was the first retailer to carry jewelry created by the designers of the Emerging Designers Diamond Initiative, the Natural Diamond Council and Lorraine Schwartz-led program to provide more opportunities and access for BIPOC designers. 
"They are a force to be reckoned with. They've done it from the ground up, and they've had to innovate in their own ways." —Jewelry designer Lorraine West

Jennifer is on the board of advisors for the Black in Jewelry Coalition and NYCJW, the committee for NYCJW's Here We Are initiative, and the Couture show's Diversity Action Council. 

Christina, meanwhile, sits on the board of directors for Diamonds Do Good and has been involved in the creation and launch of the new DDG bracelet campaign.

"They're just such a perfect pair," West says of the sisters. "The love and the respect they have for one another, their families and their staff is [incredible]." 

She likens Greenwich St. Jewelers and its staff to Themyscira, Wonder Woman's home island of warrior queens who are unique, wonderful, and work well together. 

"They are a force to be reckoned with," she says. "They've done it from the ground up, and they've had to innovate in their own ways.

"I enjoy working with them. They know how to work on both sides of the brain. They know how to celebrate and throw a good party. But when it's time for business, they don't play. They are about their business."


 Related stories will be right here … 
The Sketches
Jennifer and Christina officially became co-owners of the store in 2008 when Carlos and Milly retired.
By then, they had navigated an economic downturn that was Great Depression-like in scale. Together, they also faced Hurricane Sandy in 2012—the superstorm that left Lower Manhattan under water—and a global pandemic in 2020 that emptied their neighborhood of foot traffic once again.
As if running a retail store was not complicated enough during COVID-19, Jennifer and Christina were also on the hook for the new store they were building out a little farther north, in Manhattan's TriBeCa neighborhood.
To manage that project and keep their current store going during the pandemic was an amazing feat, says longtime vendor Ari Madilian, the husband half of the husband-and-wife team behind L.A.-based, vintage-inspired brand Single Stone. 
"They are very strong, impressive ladies, I have to say."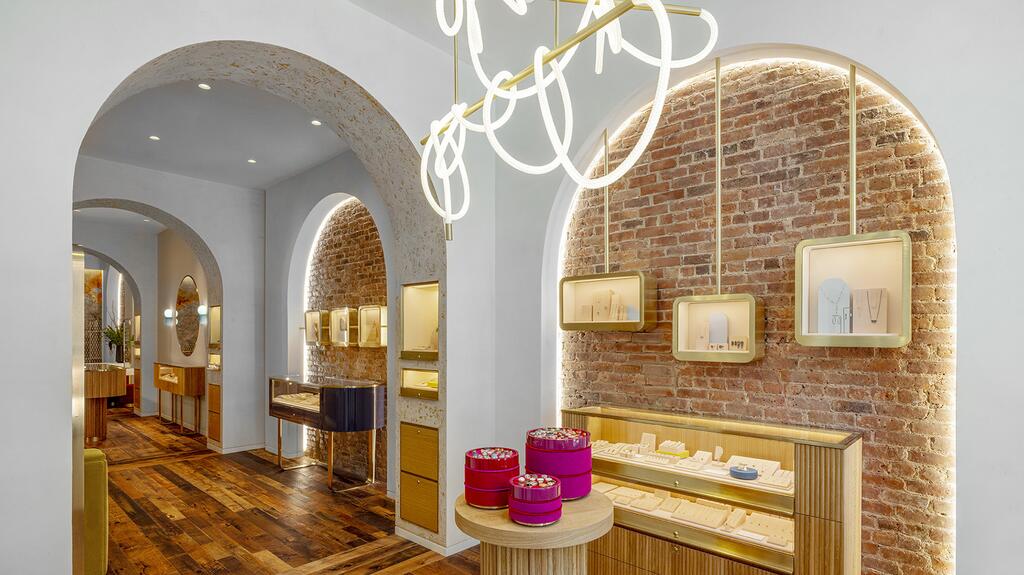 The sisters credit their resilience to being open to change—a cue they no doubt took from their parents—and not getting mired in negativity.   

"When these things have happened, we were open to pivoting and figuring it out. [We said to ourselves], 'This is the situation. We can sit here and fight it and mope about it and feel like it's going to kill our business, or [we can recognize], this is it. How are we going to work with it?'" Christina says. 

Jennifer says their approach is to break down what they need to do into the smallest possible steps and then tackle them one by one.

With each step, they're able to see a little further into the future and then really begin to plan for changes that need to happen. 

"Being open to change is so essential. There's just no way you can be complacent or stuck in your ways running a business today," she says.
Greenwich St. Jewelers officially opened at 93 Reade St. in June 2022, five years after the lease was signed.
Myriad complications delayed the move, including contractual issues with the new landlord on Reade Street and the fact they still had five years left on their lease for the 64 Trinity Place store, which they thought they were just going to get out of.
It was, Jennifer says, a naïve notion.
But they persisted once again, opening a 3,200-square-foot store that pays homage to New York City through various design elements, including exposed brick and its railroad-style layout. The new Greenwich St. Jewelers rivals any independent jewelry store today in its modernity.
Jennifer says they aimed to create a store that felt luxurious but, at the same time, comfortable and homey.
The store has colorful couches throughout that look luxurious but are not so imposing that guests might hesitate to sit down.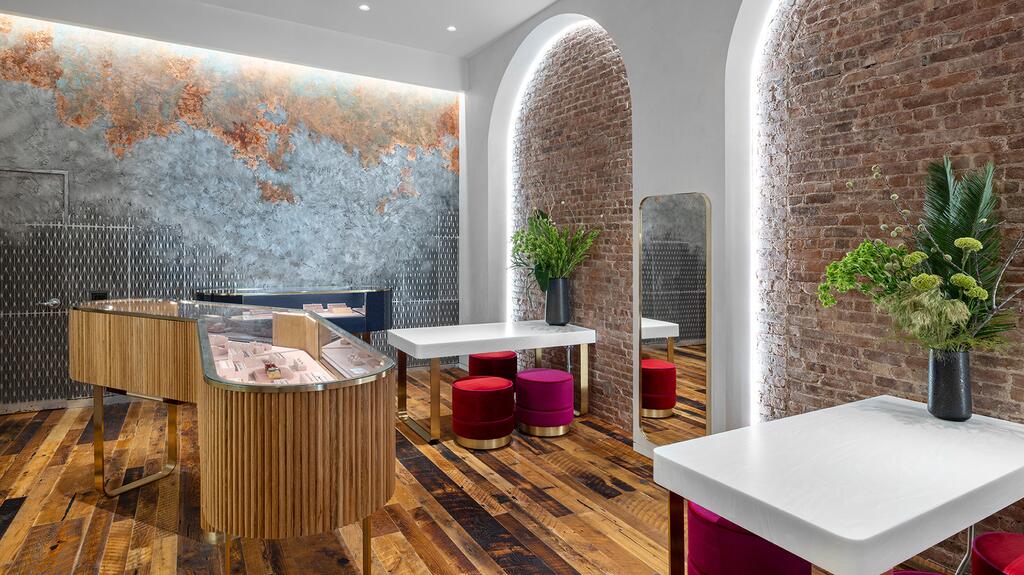 An elegant-yet-playful chandelier at the store's entrance calls to mind a tangle of chain, while the blue sconces on the wall look like they'd be just as at home in an ice cream shop. 
The designer West says the new store represents not only the hallmark of their family—the foundation Carlos and Milly laid nearly 50 years ago—but also Jennifer and Christina's vision for the future.
"This is their vision on a whole new level," West says. "It truly lives up to the Wonder Woman analogy." 
Since the store's opening, Milly has visited a few times to see how her daughters are carrying on the family legacy and she loves it, Jennifer says. 
Their father Carlos died in 2018 at the age of 76, but he is present in his own way. 
Before his passing, Carlos saw the Reade Street space in its unfinished state. 
A few years after his death, Christina was helping Milly unpack in a new apartment when they came across an old sketchbook that belonged to their dad. In it, they discovered drawings of the new store according to Carlos, his visions of what Greenwich St. Jewelers could look like. They had remained undisturbed and unseen since he'd visited Reade Street in 2017. 
Those lost sketches look a lot like the new store.
"Christina and I feel like, oh we've been creating this space with him this whole time. He's been here with his hand on [it], sort of blessing this space and working through this design with us," Jennifer says.
"It's very woo-woo but … woo-woo is what I do, and I believe in that kind of thing. It, of course, makes us emotional but also makes us feel so much joy. Even though he's not with us, he is really part of this space."   
More on Independents