Retailer Hall of Fame 2022: Harvey and Maddy Rovinsky
Even as the store celebrates 60 years in business, the owners of Bernie Robbins Jewelers aren't satisfied with the status quo.
Editor's Note: This story first appeared in the print edition of the 2022 Retailer Hall of Fame. Click
here
to see the full issue.
Bernie Robbins has had many lives.
Five to be exact.
The retailer started out as a small store selling appliances in downtown Philadelphia in 1962 before slowly adding more and more jewelry over time as it grew and changed with the market.
Under current co-owner Harvey Rovinsky's leadership, the store set its sights on bringing in the best brands, and it succeeded.
With wife and co-owner Maddy by his side, the two have turned Bernie Robbins into a leading jeweler in southeastern Pennsylvania and southern New Jersey, strategically targeting the ZIP codes they felt lacked a high-end retail presence.
They now operate four locations across the two regions, running the stores with all the forward-thinking decision-making a business needs to thrive today, along with the focus on top-notch customer service that's been there from the start.
Guiding Through Transitions

Bernie Robbins got its start when Maddy's father, Bernie Rosenberg (better known as Bernie Robbins), got a job as an appliance salesman in Philadelphia. 
When the store passed him over for a promotion to manager, Maddy's mother, Lorraine Rosenberg, decided it was time for the family to go out on its own. 
The original Bernie Robbins carried not only appliances but also Timex watches. 
Maddy's uncle had a jewelry store two neighborhoods away from them in Philadelphia. He gave them a little tray of charms and pendants, Maddy says, and they put those in the case too, marking their introduction to jewelry. 
Her father would eventually come to realize appliances weren't a good business and the store needed to change. 
He hired Harvey in 1966, and with his guidance, the store went through several stages of reinvention. (Harvey also became family along the way; he and Maddy married in 1969.) 
After starting out as an appliance shop, Bernie Robbins added low-end jewelry in the early 1970s, primarily 10-karat gold. 
The store's third life dawned in the mid-1970s when it relocated to a larger space in Philadelphia, added more jewelry, and became a "little bit better of a jeweler," Harvey says. 
Bernie Robbins was a catalog showroom then, which provided a big boost for the store and created a lot more volume for them, he notes.  
It was a wave they rode for a few years, until catalog showrooms started going out of business in the '80s. 
By the middle of the decade, Bernie Robbins was essentially a "middle-of-the-road jeweler," he says, though the store still sold appliances.
The retailer's Somers Point, New Jersey store—its second—opened in 1984, but the Bernie Robbins team quickly found customers weren't interested in a jewelry store with appliances. So, for its fifth and final iteration, the retailer made the move to become a luxury jeweler in 1992. 
"We have driven ourselves in a very nimble way. We keep on changing the way we do things because the marketplace is changing and has been changing." – Maddy Rovinsky
This decision coincided with Bernie Robbins becoming an Official Rolex Jeweler.
"That was a lifestyle change," Harvey says, with the family ultimately deciding there were enough "middle-of-the-road" jewelers but too few luxury retailers.
That's when they really began to elevate the business, bringing in brands and building the Bernie Robbins the industry knows today.
They didn't have a lot of money to spend on advertising then, Harvey says, except for the money Rolex gave the store for advertising, but they used it wisely.
"The way that I believed we should grow and market was to link our name with Rolex, with David Yurman, with Cartier. Then people would understand we were good at what we do."
It was these kinds of ideas that would prove Maddy's father made the right decision bringing Harvey, a third-generation jeweler, into the family business.
"My father was smart enough and confident enough to let Harvey do his thing," Maddy says.
Though Maddy grew up helping her parents at the store, retail wasn't her first choice. She worked as a teacher for a while, which she called her "fairy-tale career."
"I loved it when I started, and I loved it when I left," she says.
Maddy helped at the store after school and on weekends but eventually realized she had to choose.
She joined the family business full time in 1994 as it was going through significant changes and needed a buyer. And that is how Harvey and Maddy became business partners.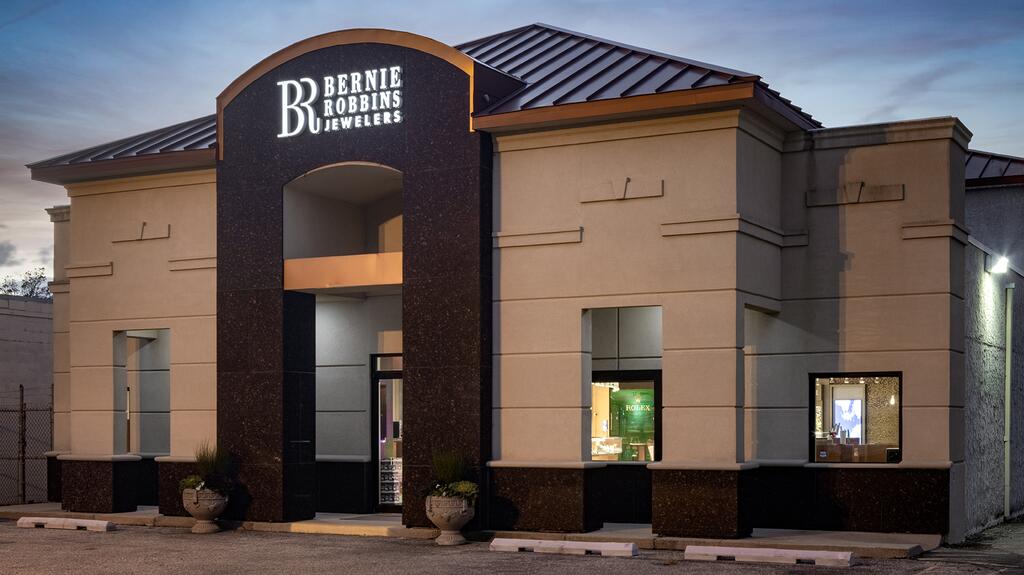 Adapting and Innovating

Being open to change is one of the traits Maddy, Harvey, and their employees all say has contributed to the store's success and longevity. 
"We have driven ourselves in a very, as [Harvey] says, nimble way. We keep on changing the way we do things because the marketplace is changing and has been changing," Maddy says. 
One prime example is their recent decision to start carrying lab-grown diamonds at all Bernie Robbins stores. The move was made "reluctantly" on Harvey's part, he admits, but both he and Maddy acknowledge customers are asking for them, and they need to respond. 
"I'm not going to turn clients away," he says.
It's not a decision they came to easily, however.
Harvey says he doesn't believe in lab-grown diamonds' long-term value and didn't feel comfortable selling them to a client who might not understand that.
But when a potential customer made it clear she didn't care about the resale value because she had no intention of selling her diamond, they started to reconsider their stance. 
Before they made it official, though, Harvey and Maddy say they had to make sure the move didn't compromise their store's culture and integrity. 
"We're trying to understand it so that we can give an authentic 'OK' to selling it," Maddy says. 
Another area in which they continue to innovate is online. 
The internet has been, according to Maddy, their biggest challenge as a jewelry retailer. 
To combat online competition, they hired a digitally savvy marketing staff and social media team. The Rovinskys give them full credit for moving the company forward, and they continuously pour money into the store's website. 
By mid-2022, they were in the middle of their fourth website redesign in about six years, this time doing a full makeover of the site that will be even more e-commerce friendly as that facet of the business continues to grow. 
They're also using Affirm, a "buy now, pay later" option for customers, as well as ClearSale, which offers e-commerce fraud protection designed to addressed chargebacks and false declines for businesses, allowing Bernie Robbins to accommodate even bigger purchases online. 
"Because we were very fashion- and watch-oriented, [our customer base was] getting older. It's not a good thing," Harvey says. "We need to get younger. How do you get younger [clients]? We're now very much focused on the bridal business. And how else do you get young clients? When they see your website, they can relate to it. And that's how they come in."
A great website also helps combat another challenge they've had to face. 
While Rolex might be a coveted brand, it can cause "threshold resistance," Maddy says—carrying the brand gives some younger consumers the impression they can't afford anything in the store. 
With their focus on attracting a younger crowd, especially for entry-level bridal, the website is important for Bernie Robbins to show it offers more than just expensive diamond rings and Rolex watches.  
The store's adaptability also translates to being at the forefront when it comes to jewelry trends and styles, which the team attributes to Maddy's keen eye. 
"The way that I believed we should grow and market was to link our name with Rolex, with David Yurman, with Cartier. Then people would understand we were good at what we do." – Harvey Rovinsky 
Director of Purchasing Sandra Moran says the retailer sets itself apart by being quick to spot trends and bringing those styles into the store.
Bernie Robbins began stocking medallions about three years ago as well as rainbow jewelry and thin diamond tennis necklaces, before other retailers really caught on.
"[Customers] come to us because we have interesting and different things," Moran says. "We have our brand and then we have all the brands we think are the best in the industry to work with. And because of those relationships, we are able to buy and return so that everything looks constantly fresh and our inventory doesn't just sit there."
Always Agreeing to Disagree

Another thing that makes Harvey and Maddy excellent business partners: They can disagree without their relationship disintegrating.
"We don't agree on anything," Harvey says, which, ironically, might be the one thing they agree on.
Maddy adds, "That's why the business is good and the marriage is good—you have to have an opposite view sometimes to get the balance."
Both tend to stick to separate areas of business—Harvey focuses on the big-picture side while Maddy guides sales associates and buying—and both understand when to stand their ground and when to defer to the other.
As Joe Barnard, director of stores for Bernie Robbins, puts it: "They know how to agree and disagree and then still function."
David Friedman, a partner at diamond firm Louis Newman & Co. who has worked with Harvey and Maddy for 40 years, is also in business with his wife, so he understands how difficult it can be, he says.
"To see [Harvey and Maddy] work together … the mutual respect they have for each other is very unique and very special. They play off each other's strengths, and they use it to work together with the team; it's not just a mom-and-pop store where they just work things out together."
'We're Here'

A common question to ask a Retailer Hall of Fame inductee is: What sets your store apart and makes it a success?
It's a question Maddy had been mulling over even before their induction, as the store marks its 60th year in business.
"I've asked that question because we're celebrating our 60th anniversary. 'What got us here and what are we saying at 60 years?' I think the fact is that we're here after 60 years. People trust us. The owners are part of the business. We don't sit somewhere in another state and run this business. We're available."
Their employees notice too.
"My voice is always heard. If I have a question, comment, or idea, I just knock and they're always willing to listen," Moran says.
They also give employees the freedom to do what they were hired to do and empower them in their roles.
"From my standpoint, I am as close to being an owner of a company as I can be without owning a company," says Steve Jaffe, a store manager and diamond buyer.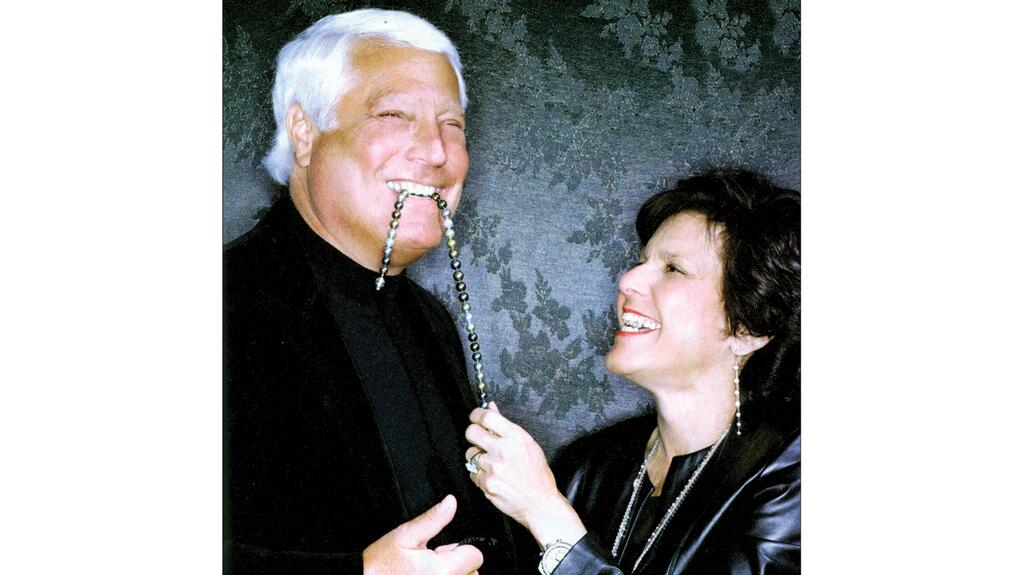 It's no wonder so many Bernie Robbins employees have stayed with the company for a decade or two, or more. 
Jaffe, for example, has been with the retailer for more than 28 years; Barnard and Moran, 32 and 20 years, respectively. 
But showing their employees how much they value them is an extension of one of Bernie Robbins' core tenets—make everyone feel valued and make everyone feel like they're at home.
It started with the letter Maddy's mother used to write to clients about how the business was there to help in any way they could—a copy of which still hangs in Harvey and Maddy's office in the Somers Point store—and continues to this day. 
"They're good to their people, good to their clients, and good to their vendors," Friedman says.
One of Maddy's favorite work memories dates to the early 1970s, and it exemplifies the respect, admiration, and care shown to everyone in the Bernie Robbins sphere. 
After their first store in Philadelphia moved to Sansom Street, they were near Jewelers Row as well as the Philadelphia Stock Exchange. 
There, they had a customer named Kathy who worked as a secretary on the stock exchange and fell in love with a trader. They wanted to get married, but the Catholic Church wouldn't perform the ceremony because she was divorced. 
Harvey decided to offer a solution: have the wedding in the store. They got a judge to officiate, and then sent the couple out for a nice dinner that evening.  
Lo and behold, Kathy became a Bernie Robbins employee in the late '90s. Her husband John joined the team in 2006; he still works in the accounting department at the Somers Point store.  
While many feel lucky to be working with the Rovinskys at Bernie Robbins, to hear Maddy tell it, they feel just as lucky to be a part of the jewelry world. 
"It's my second fairy-tale career," she says.  
More on Independents