Cross Worn by Princess Diana Heads to Auction
The diamond and amethyst cross by Garrard is headlining Sotheby's upcoming "Royal and Noble" online auction.
London—A cross-shaped pendant worn by Diana, Princess of Wales, is going up for auction next month at Sotheby's in London.
The pendant is the headliner of the auction house's "Royal and Noble" online sale, scheduled for Jan. 6-18, that will feature more than 260 lots linked to royalty and aristocrats.
Former British crown jeweler Garrard created the pendant, a Fleurée-style cross set with square-cut amethysts and accented by circular-cut diamonds, around 1920.
Accompanied by documentation from Garrard, the cross is believed to have been a one-of-a-kind private commission for one of its regular clients.
"Jewelry owned or worn by the late Princess Diana very rarely comes on to the market, especially a piece such as the Attallah cross, which is so colorful, bold and distinctive," said Kristian Spofforth, head of jewelry at Sotheby's London.
"We are confident that this unique 1920s piece of jewelry by Garrard, with such an exceptional provenance and only ever worn by the princess herself, will attract the attention of a wide variety of bidders, including royal and noble jewelry collectors, as well as fans of the princess keen to share part of her history."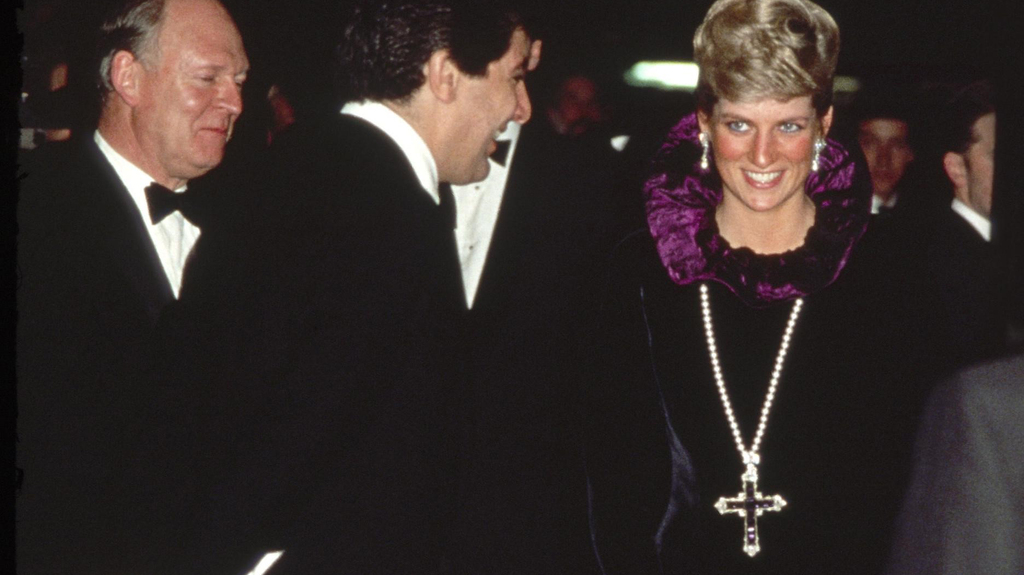 The pendant has a total diamond weight of approximately 5.25 carats and measures approximately 136 x 95mm.
It has a
pre-sale estimate
of between £80,000 and £120,000 ($96,000 and $144,000).
The late princess wore the pendant most notably in 1987, pairing it with a baroque-style purple and black velvet Catherine Walker & Co. dress at an event in support of
Birthrights
, a charity that advocates for human rights during pregnancy and childbirth.
"To some extent, this unusual pendant is symbolic of the princess's growing self-assurance in her sartorial and jewelry choices, at that particular moment in her life," said Spofforth.
Princess Diana had an established relationship with Garrard, choosing her famous sapphire and diamond engagement ring—which now belongs to Catherine, Princess of Wales (Kate Middleton)—from the royal jeweler in 1981.
Garrard was the
Crown Jeweller
from 1843 to 2007, preparing the crown jewels for the coronations of every monarch from King Edward VII to Queen Elizabeth II.
 Related stories will be right here … 
The pendant was a favorite of Princess Diana, according to Ramsay Attallah, whose late father Naim Attallah was joint managing director and then group chief executive of Asprey & Garrard, later renamed Garrard & Co.
Attallah bought the cross from the jewelry house in the 1980s and loaned it to Princess Diana many times, later passing it down to his son.
"Princess Diana and my father were friends and I remember that she often came to see him at the historic Garrard store on Regent Street, where his office was, and she would ask to borrow the pendant on several occasions—she really loved the piece" Ramsay, the current owner of the cross, said.
The cross is believed to have only ever been worn by Princess Diana. After her death in 1997, it was put away and has not been seen by the public until now.
The
Royal and Noble Sale lots
, including the cross, will be showcased at Sotheby's London from Jan.12-18. 
More on Auctions