Here's How 2 Royal Jewels Performed at Auction in Denmark
A princess's tiara fell within its pre-sale estimate while an Art Deco bracelet from a queen doubled it.
Copenhagen—There was strong demand for royal and historic jewels in the Dec. 1 "Jewellery and Handbags" auction held by Danish house Bruun Rasmussen, now owned by Bonhams.
A highlight of the sale was Princess Thyra of Denmark's sapphire tiara, pictured at top of page.
The tiara features five cabochon sapphires, which can be exchanged with turquoise cabochons, and old mine, rose, and single-cut diamonds.
It bears no maker's mark but was presumably made by jewelry manufacturer E. Wolff & Co. in the late 19th century.
The tiara was given to Princess Thyra (1880-1945) as a gift from her parents, King Frederik VIII and Queen Lovisa of Denmark, likely on her 18th birthday in 1898, when she would've made her debut in society.
It was then passed down through the Danish royal family and has belonged to descendants of King Frederik VIII and Queen Lovisa until the auction.
It was estimated to sell for between 600,000 and 800,000 DKK and fell right within that when it garnered 650,000 DKK (or about $92,000 at current exchange rates).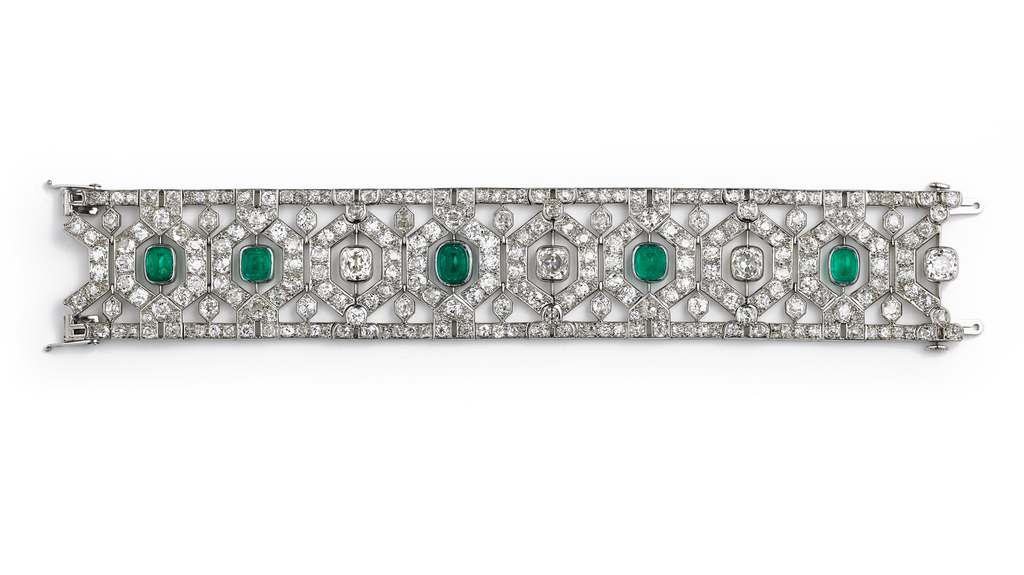 Outperforming that, though, was Queen Alexandrine of Denmark's Art Deco emerald and diamond bracelet, pictured above, which has five sugarloaf cabochon emeralds believed to be of Colombian origin weighing between 1 carat and 2.21 carats.
Accompanying the colored stones are four cushion-shaped old mine-cut diamonds, encircled by numerous rose and old mine-cut diamonds, mounted in platinum.
The piece was estimated at 300,000-400,000 DKK but went for well over that at 700,000 DKK (approximately $100,000).
There were several other notable lots in the auction, including a 2-carat cushion-cut natural fancy yellow-green diamond ring with brilliant-cut pink and white diamonds set in a ring that sold at the low end of its pre-sale estimate at 300,000 DKK (about $42,000).
There was also a 4.35-carat diamond ring that sold for 180,000 DKK (or about $25,000); and a Belle Époque tiara set with old-cut diamonds weighing 14 total carats once owned by landowner and lady-in-waiting Ebba Louise Marie Busky-Neergaard that went for well above its pre-sale estimate when it garnered 170,000 DKK (or about $24,000).
Meanwhile, an 18-karat gold mourning medallion for Grand Duke Nicholas Alexandrovich of Russia (1843-1865), worn by Queen Louise of Denmark (1817-1898), to whom he was supposed to get married, went for nearly double its pre-sale estimate high when it sold for 22,000 DKK (or about $3,000).
To see how all the jewelry lots did in Thursday's sale, visit
Bruun-Rasmussen.dk
. 
 Related stories will be right here … 
More on Auctions