This Sapphire Tiara Once Owned by a Danish Princess Is Going to Auction
The Dec. 1 jewelry sale at Bonhams-owned Bruun Rasmussen will have several other pieces of royal jewelry on the block.
Copenhagen—Royal jewelry buffs should be sure to check out the upcoming jewelry auction at Copenhagen auction house Bruun Rasmussen as there will be plenty of pieces with an interesting provenance.
The house, which was
acquired by Bonhams
earlier this year, will hold a sale Dec. 1 that will include several pieces of jewelry worn by the Danish royal family.
The highlight is Princess Thyra of Denmark's sapphire tiara, pictured at top of page. The princess had a central position in the Danish and European royal houses.
Her tiara features five cabochon sapphires, which can be exchanged with turquoise cabochons, and old mine, rose, and single-cut diamonds.
Designed with five upright foliated and scrolling heart-shaped ornaments, decreasing in size from the middle to each side, in 14-karat gold, rose gold, and silver, it bears no maker's mark but was presumably made by jewelry manufacturer E. Wolff & Co. in the late 19th century.
The tiara was given to Princess Thyra (1880-1945) as a gift from her parents, King Frederik VIII and Queen Lovisa of Denmark. It was most likely given on her 18th birthday in 1898, when she presumably would've made her debut in society.
It was then passed down through the Danish royal family; it has belonged to descendants of King Frederik VIII and Queen Lovisa until now.
It's estimated to sell for between 600,000 and 800,000 DKK (about $83,000 to $111,000 at current exchange rates).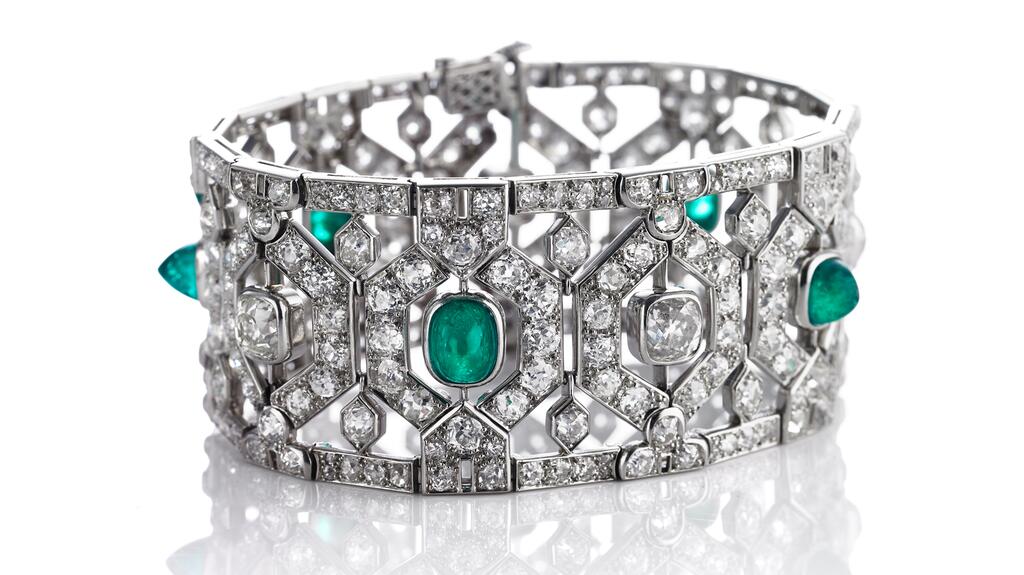 Other royal jewels include Queen Alexandrine of Denmark's Art Deco emerald and diamond bracelet, pictured above, which is estimated at 300,000-400,000 DKK (about $42,000-$55,000).
There is also a garnet and 18-karat gold pendant that was owned by King Frederik VII's mother, Princess Charlotte Frederik of Denmark, formed as a stylized bow with a faceted drop (15,000-20,000 DKK, or about $2,100-$3,000) and an imperial marcasite and silver pendant previously owned by Tsaritsa Maria Feodorovna (estimated at 8,000-10,000 DKK, or about $1,100-$1,400).
There are also mourning medallions in the auction, including one that belonged to Queen Louise of Denmark that contains a lock of hair from the Grand Duke Nicholas Alexandrovich of Russia, who died before he got to marry the Queen's daughter, Princess Dagmar.
The 18-karat gold piece is estimated at between 10,000 and 12,000 DKK (about $1,400 and $1,700).
There is also a set of three mourning medallions worn by Queen Louise of Denmark for her parents, Landgravine Charlotte and Landgrave Wilhelm of Hessen-Kassel, as well as Prince Friedrich of Nassau (8,000–10,000 DKK, or about $1,100-$1,400).
All lots in the Dec. 1
Jewellery and Handbags
auction can be viewed online. 
 Related stories will be right here … 
More on Auctions