This Jewelry Auction Is Raising Money for BIPOC Makers
It features the jewels submitted to MJSA's Responsibly Sourced Design Challenge.
New York—Colored stone supplier Columbia Gem House has launched its annual fundraising auction, with this year's benefitting emerging BIPOC jewelry makers. 
The colored stone company is partnering with nonprofit organization Nest, which supports the growth and engagement of the artisan and makers market economy to build greater gender equity and economic inclusion.
One hundred percent of proceeds from the auction will go toward Nest's Jewelers United program, part of its Makers United initiative, which is focused on elevating BIPOC artisans and providing market access to ensure the maker movement in the United States is open to everyone regardless of gender, race, means, or ability.
The auction is comprised of the jewels submitted to MJSA's Responsibly Sourced Design Challenge.
The challenge asks jewelers to design a piece based on a fictional scenario they've been given. This year's prompt was to create a piece for a woman who had been adopted and wants to learn more about her background.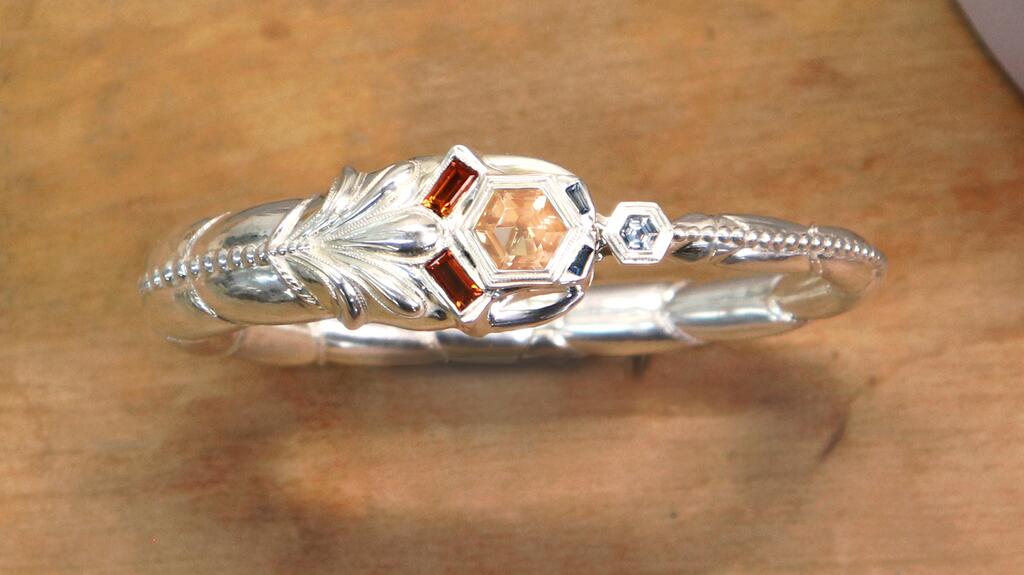 Participating designers used seven gemstones donated by Columbia Gem House in their pieces. The company donated Oregon sunstone, Montana sapphire, Australian sapphire, and Brazilian citrine.
The designers who participated in the challenge and donated their work are as follows. 
--Nashira Arnó, designer and owner of Nashira Arnó Studio in New York City and a previous Jewelers United award recipient;
--Kaelin Cordis, owner of Kaelin Design in Rogers, Arkansas;
--Lauren Davidson, owner of Ellie Air Jewellery in Dorset, United Kingdom;
--Cady Carlson Dill, owner of Cady Carlson Designs in Tulsa, Oklahoma; 
--Jamie Hollier, owner of Balefire Goods in Arvada, Colorado; 
--Kimi Kaplowitz, owner of Theeth Jewelry in Portland, Oregon; 
--David Thorp, co-owner of Mercurius Jewelry in Oakland, California; and 
--Sandrine Valentine, owner of Sandrine B. Jewelry in New York City. 


Winning bidders will receive a book celebrating the designers and sharing the stories behind each piece. 
Voting for the MJSA Design Challenge winner is also still open on
its website
.
 Related stories will be right here …
More on Sourcing
Sourcing
Dec 04, 2023