In India's Lab-Grown Diamond Industry, Change Is the Only Constant
Consumer acceptance in major global markets, changing mindsets and a supportive government have sent Indian exports in the sector soaring.
Mumbai— According to the Gem & Jewellery Export Promotion Council, provisional gross exports of polished lab-grown diamonds soared 61 percent year-over-year between April and September of this year, nearing $1 billion. 
 
Exports totaled $943.6 million, compared with $587.8  million for the same period last year, GJEPC said.
During this period, Indian exhibitors at trade shows all over the world—from Las Vegas to Vicenza, to London, Sydney and Singapore—have witnessed more customers buying lab-grown diamonds and jewelry.
The second edition of what is billed as the world's first business-to-business trade show dedicated entirely to the industry, the Lab-Grown Diamond Jewellery Show 2022, was held in Mumbai at the Jio World Centre in early August. 
Spread across more than 53,000 square feet, LDJS 2022 attracted 25,000 visitors, with international buyers mostly hailing from Singapore, Hong Kong, and the Middle East. 
 
It had more than 100 exhibitors showcasing their varied ranges of diamonds, jewelry and machines.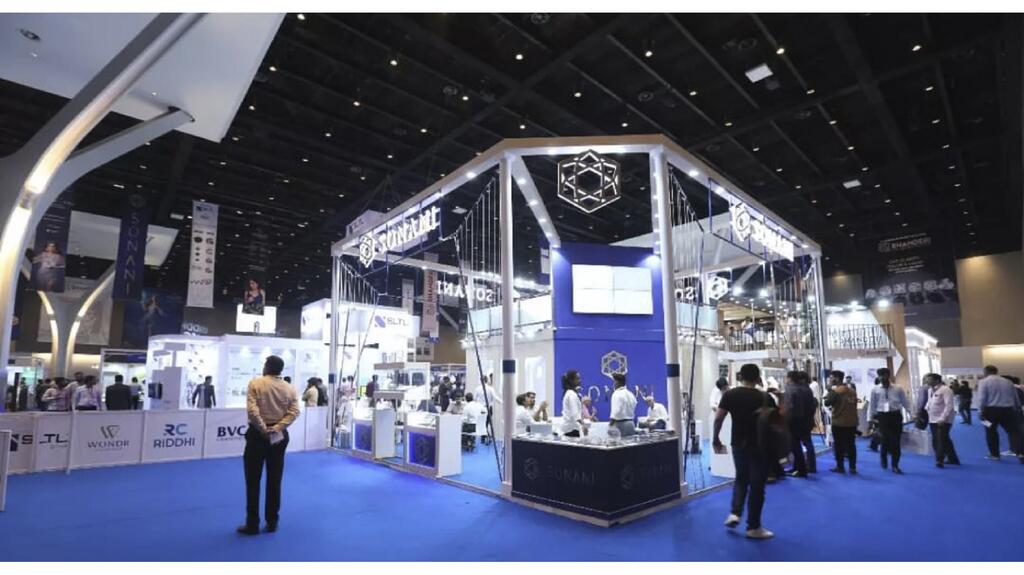 Earlier in the year, lab-grown diamonds came to the rescue of diamond manufacturers in Surat after the United States
imposed a complete ban
on the import of non-industrial diamonds from Russia in response to the country's ongoing invasion of Ukraine. 
It is estimated by
Rough & Polished
that India's natural diamond cutting and polishing factories converted 20 percent of their production to lab grown due to the shortage  of natural rough diamonds from Alrosa.
The growth in business has led to rampant discounting, according to Altr India CEO Ritesh Shah. 
"During the last two months, lab-grown diamonds have been trading at a discount of 97 off RapNet prices as compared with 95 earlier," he said. "Dealers are unwilling to hold stocks, as they are afraid of prices going down still farther." 
If this scenario persists, the midstream players will be wiped out. 
Fortunately, there is a perceptible change among large integrated players—companies like Altr, Greenlab, Sonani Jewels, Bhanderi, and Craft Diamonds—to take a long-term, value-based approach.
From manufacturing to retail, millennials are driving the growth of lab-grown diamond business in India. This well-educated, well-traveled, hard-working, progressive, and proactive bunch have a better understanding of the millennial consumer mindset.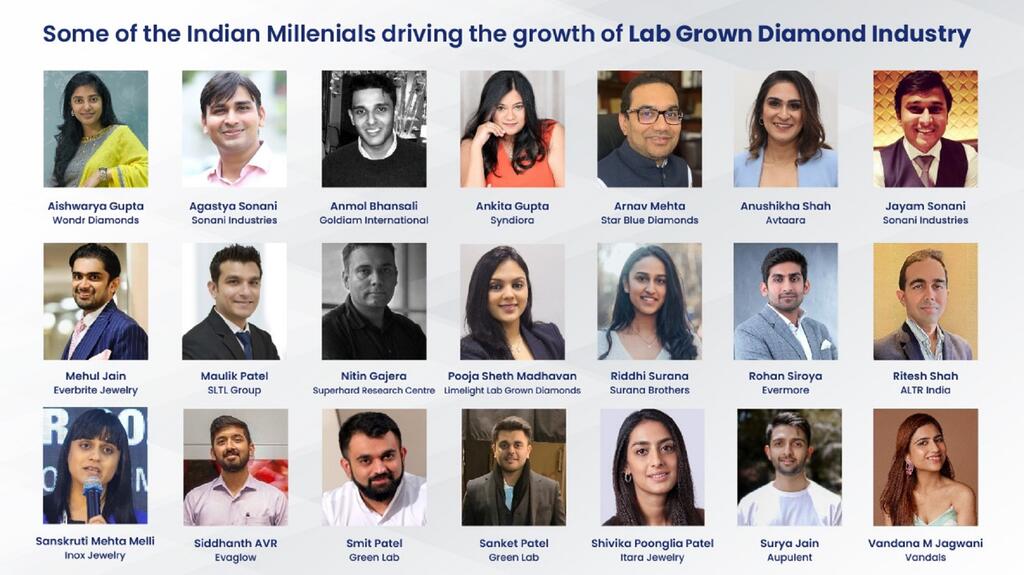 In family-managed companies like Greenlab and Sonani, Gen Y brothers are running the show. 
They have adopted an integrated, holistic "seed to shelf," or "lab to Market" (L2M) approach.
Smit and Sanket Patel are working passionately to fulfill their ambition of making Greenlab the largest global integrated player in the lab-grown diamond sector.
With 1,000 chemical-vapor deposition (CVD) reactors, Greenlab has emerged as one of the largest growers in India. The company has invested in diamond growing, cutting, and polishing as well as jewelry manufacturing.  
Smit along with his father, Mukesh Patel, have close ties to the industry. Smit is one of the youngest conveners associated with the GJEPC for aforementioned panel discussion on lab-grown diamonds.
 Related stories will be right here … 
At Sonani, elder brother Jayam Sonani looks after diamond cultivation, cutting and polishing.  
Agastya Sonani, meanwhile, is responsible for sales and marketing of seeds, polished diamonds, and jewelry. (The company develops diamond seeds in desired specifications for other growers.) 
Sonani has built a global reputation as a reliable supplier of fancy color lab-grown diamonds, delivering intricate, flawless and sustainable lab-grown diamonds.
Both companies have plans to enter into retail partnerships for the last mile of the journey in the value chain.
The total estimated installed base of diamond-growing reactors in India is now 4,500 reactors (up from 3,000 six months ago) as most growers are on an expansion drive. Bhanderi, for example, intends to take their installed base to 5,000 from 1,200 at present, CEO Snehal Patel Dungrani confirmed.
In the initial stages, reactors were imported from Japan, Taiwan, Germany and Russia. With the research and development efforts of companies such as Sonani, reactors are now being assembled and fabricated in India, in addition to some still being imported.
At the LDJS 2022, at least three Indian manufacturers were promoting made-in-India machines. Devngi  Gems, for example, was marketing the very same machines it uses to grow its diamonds.
According to Amit Patel, owner of Supreme Green Diamonds, there has been a marked improvement in the quality and size of lab-grown diamonds. 
"We have been able to grow diamonds up to 20 carats with a better color output," he said. 
The Indian government is working on a policy to promote the in-country manufacturing of CVD and high-pressure, high-temperature (HPHT) machines. 
And the Surat Diamond Association and GJEPC have invited technocrats from Larsen & Toubro, the Tata Group and National Thermal Power Corp. to assess the feasibility of making HPHT machines in India.
In the meantime, Kautil Patel, owner of Surat-based Riddhi Corp., has taken an early lead in this regard. 
"We have been importing HPHT diamond rough from Russia and China since 2014. We cut, polish and export these diamonds to 29 countries," he said.
"In 2019, we imported components of HPHT machines from China, Korea and Russia and assembled them to fabricate the machines ourselves. Four machines are in operation and the result of trial production is encouraging. We have a plan of installing 100 HPHT machines." 
If India manufactures HPHT machines that create lab-grown diamonds, the entire cycle—from seeding and growing to cutting, polishing, and setting the stones in jewelry as well as R&D and sales—would make this sunrise industry 100 percent self-reliant in India.

This story is one of three included in the special India Diamond Report newsletter. The stories are produced by an independent editor based in India. 


More on Lab-Grown