Two Jewelry Trade Shows in Two Days
Associate Editor Lenore Fedow shares her experiences at JA New York and Melee the Show alongside her favorite jewels.
We have a saying at National Jeweler: "Jewelry never sleeps."

We repeat this phrase to one another every time a calm day turns into a news-filled frenzy.

I recently had a week that really drove that phrase home, packed with two trade shows, two earnings reports, putting the finishing touches on my story for our next print issue, and moderating a panel, on top of all the other day-to-day work that has to be done.

"You write exclusively about jewelry five days a week?," non-industry people ask me.

We have a full-time four-person team and there still isn't enough bandwidth to share all the news, I tell them.

But it's a fun job, and some days you just have to roll with the punches.

So, earlier this month, I put on a brave face and traversed my way through two trade shows, JA New York and Melee the Show, in a mere 48 hours.

I suffered through meeting incredibly talented designers and trying on some of the most beautiful, finely crafted jewels I've ever seen.

It's a grueling life, but somebody has to do it.

First stop: JA New York

JA New York was the first jewelry trade show I ever attended, so I have a soft spot for the show. 

The JA New York Summer Show was held Aug. 14-16 at New York City's Javits Center.

The show reminds me of when I was a fresh-faced newbie and the whole show floor was a playground, before terms like "sustainability" and "ethical sourcing" were in my vocabulary. 

Now, I look at jewelry with a better-informed eye, but the thrill is still there. Just when I think I've seen the most beautiful piece of jewelry there is, something else surprises me.

This year, in addition to playing jewelry dress-up, I was moderating an afternoon panel on retail technology trends as part of the show's education initiative, sponsored by National Jeweler's parent company Jewelers of America.

I'd never moderated a live panel before, but I had two fantastic guests, Jennifer Shaheen of Technology Therapy Group and Alexandra Hevia Schlindwein of Kiefer Jewelers, and that makes all the difference.


It was one of two all-female panels that day, and the only all-female technology panel Shaheen said she'd ever been on, so that was a nice feeling.
We spoke to a small but interested audience about the latest retail technology trends, like QR codes and NFTs, and how jewelers could incorporate them into their businesses.
Before and after the panel, I spent my time in the New Designer Gallery, a section that has showcased up-and-coming jewelry brands since its founding 45 years ago, helping brands like David Yurman and Alex Sepkus get their start.
This show marked the gallery's return for the first time since the COVID-19 pandemic.
It showcased six brands: JV Insardi, Kiersten Elizabeth, Nvr Nude, Isabel Alexander, Helannona, and Pracyious Jewels.
The gallery was busy when I attended the show that Monday, but I managed to snag some one-on-one time at a few of the booths.
My first stop was
JV Insardi
to visit with designer Jen Insardi. A former student of The New School's Parsons School of Design and the Fashion Institute of Technology, Insardi has a background in interior design, and her pieces definitely have a sculptural feel.
The brand resonated with attendees and was named the 2022 New Designer Gallery winner.
Next, I visited the
Isabel Alexander
booth. The Moldova-born designer derives her inspiration from architecture, nature, embroidery, and folklore.
Her pieces feature geometric patterns and bright colored gemstones set in classic styles.
My final stop was the
Kiersten Elizabeth
booth, and the visit reminded me how much a jeweler's personality plays into how much I like their jewelry.
The designer Kiersten Elizabeth, and her assistant, were incredibly kind and gracious with their time, and the love and excitement they both had for the pieces was palpable.
I'm a huge fan of vintage and antique jewelry and I was immediately drawn to how Elizabeth incorporated influences from different eras, like Edwardian and Art Deco, into her jewels.
The pieces were so clearly a labor of love, down to every last intricate detail.

The JA New York show will return to the Javits Center this fall from Oct. 23-25.

Stop Two: Melee the Show

The following day, I headed over to Melee the Show at Chelsea Piers.

It's a boutique trade show that bills itself as an alternative to the traditional show format, trading a large convention hall for a smaller, more intimate setting.

This was my first time attending this show, so I wasn't sure what to expect, but I had heard good things.

The show setting was perfect. The Lighthouse at Chelsea Piers is surrounded by walls of windows looking out onto the Hudson River, which gives the space a lot of natural light.


 Related stories will be right here … 
I decided to attend Melee after being invited to a press round table.
David Rees of TenThousandThings led a conversation with Purvi Shah, the new head of ethical and sustainable value chains at the De Beers Group, about the diamond supply chain.
Shah touched on a wide range of topics from De Beers' sustainability efforts and its new Code of Origin program.
In addition to press, there were designers in the audience and they came ready with tough questions, like how to track what's in packets of melee diamonds.
Shah deftly answered each question, and I got the sense the designers could've sat there asking questions for hours.
After the round table, I took some time to walk around and talk with a handful of designers I hadn't met before.
It was a quieter crowd than the JA show, but it was still busy and there were very few booths that didn't have someone visiting.
My first stop was
Susan Highsmith's
booth. We've followed each other on Instagram for a while now, but I'd never gotten to see her jewels in person, and, wow, I was missing out.
She recognized me right away, and we quickly got to talking about her jewelry, trying on ring after ring as I remarked how gorgeous everything was, and I meant it.
My favorite was the below Scorpio signet ring, which is a part of her "Zodiac" collection. I happen to be a Scorpio, but Highsmith said it's a popular style for the other star signs as well based on the look alone.
Next stop was
Disa Allsopp's
booth.
The London-born, Barbados-raised designer brings the warmth of her home island in the Caribbean to her jewelry, hand-picking bright and beautiful gemstones.
I was a total newcomer to her brand, but she had a citrine ring that called to me.
Citrine is my birthstone and a personal favorite, but I'm also just drawn to its warm colors. 
The warmth of the stone paired with the rough texture of the band was bold and fun, and it pained me to hand this ring back.
After visiting with Allsopp, I took a walk over to the TenThousandThings booth. I'd heard a lot about this brand and I was excited to see their jewels.
It was worth the wait, because that booth was jam-packed with colorful, bold jewels.
One of my favorite pieces was the below cuff that had the look of molten metal onto your wrist.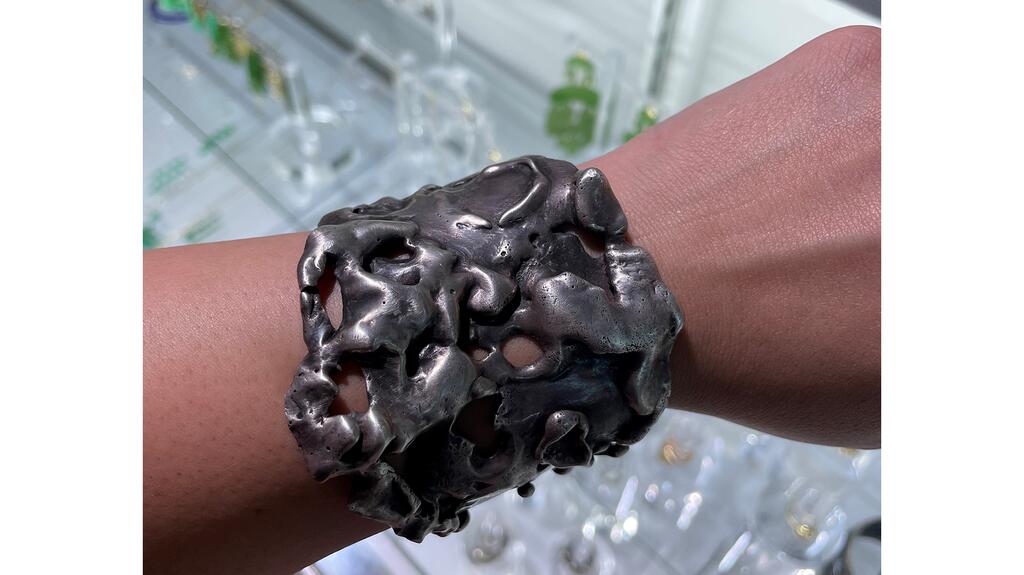 I love silver jewelry, which I've come to learn is a polarizing opinion in this industry, but I'm sticking with it.
Another must-see was a one-of-a-kind, hand-cut lapis pyramid ring, seen below.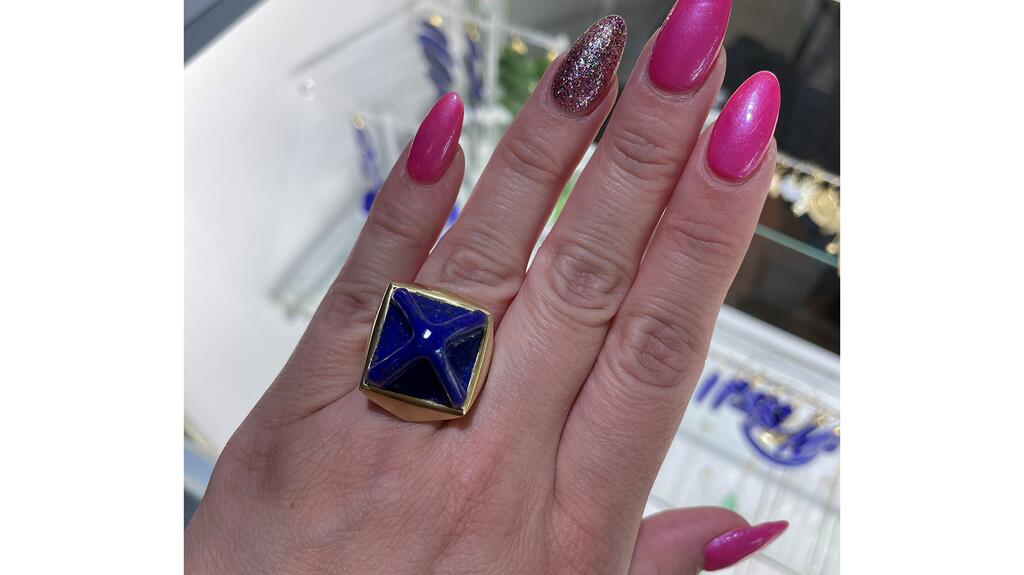 The wonderfully exciting thing about jewelry is you think you've seen every design there is to see and then, behold, you're surprised once more.
At this point in the day, I was running on empty, but there was one more booth that caught my eye.
Januka is a Tokyo-based brand founded in 2012 by Jo Nakamura. The brand takes what you know about basic jewelry concepts and flips it on its head.
Several of its pieces have settings that cross over the face of the gemstone or just encase the stone in a perfectly square box rather than in a traditional setting, two techniques I've not seen before.
A favorite piece of mine was a slice of lapis ring, that was, at the risk of overusing this word, fun.

The next Melee show will be held Jan. 30 to Feb. 1 in Tucson, just ahead of the gem shows.

Adding two trade shows to my work line-up made for a whirlwind of a week, but one of the best things about my job is getting to meet with designers, to hear their stories, and to see their art in person.

I look forward to seeing what the next round of trade shows has to offer.


More on Editors