Cora Sheibani Shows a Magic Garden of Jewelry at Sotheby's
The British-based Swiss designer's "Pottering Around" collection is for sale at Sotheby's East Hampton starting this week.
East Hampton, N.Y.—Cora Sheibani's latest fine jewelry collection is making its U.S. debut.
"Pottering Around" arrives at the Sotheby's East Hampton gallery this week.
The collection was inspired by the British-based Swiss jewelry designer's pandemic gardening ritual, in which she found herself potting and re-potting her plants in her small London garden to bring them to their aesthetic best.
Sheibani began sketching a jewelry ode to plants, finding her groove when she added a trapezoid-shaped "pot" to anchor the designs.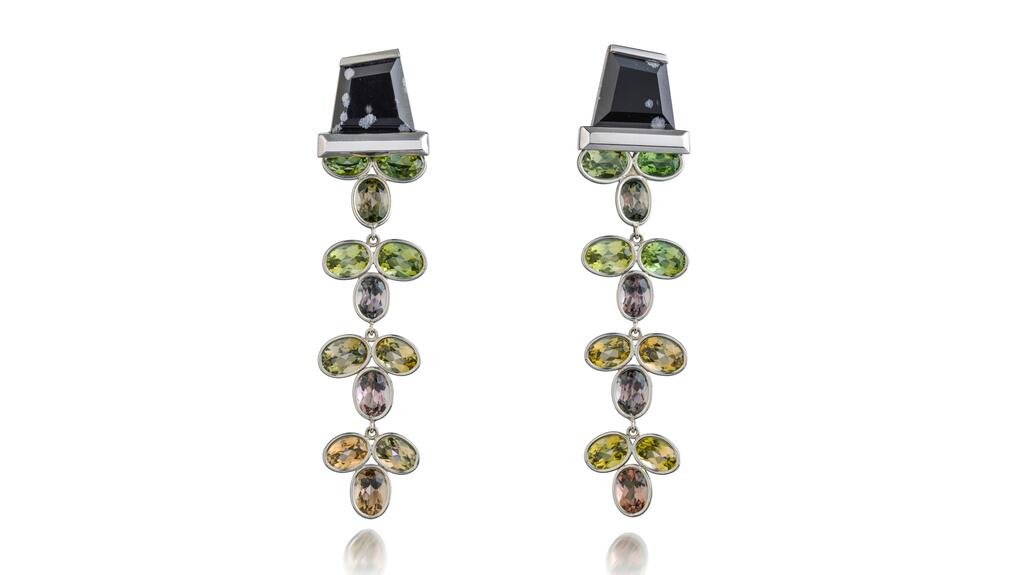 The motif added "much needed weight" to her floral sketches, she said in a statement about the collection, and became a pattern in its own right.
A heavy cuff bracelet features a row of the repeating shape rendered from striking gray pebble with white striation (a lighter titanium version is in the works, too), while a ring showcases two pots in platinum opposite each other.
Materials are of special interest in this collection.
Stones were custom cut to execute Sheibani's vision. The pot has a high, small table Sheibani notes is similar to diamond cut in Renaissance times.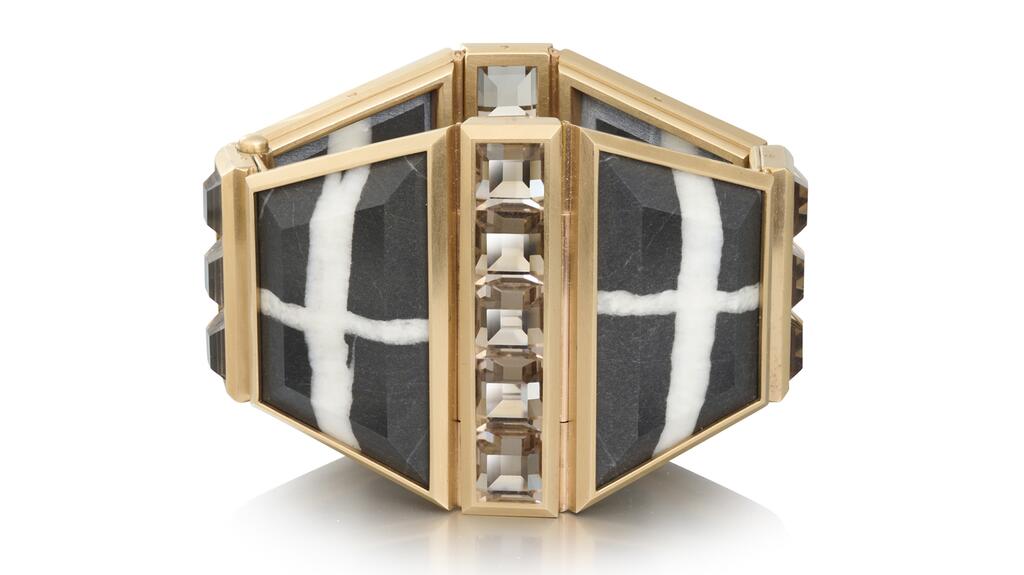 The pots are crafted in materials ranging from titanium and gold to white chalcedony, fossilized dinosaur bone, fossilized coral, Maw Sit Sit jade, and snowflake obsidian.
The designs' plants are rendered from materials including titanium, aluminum, tourmaline, moonstone, chrysoprase, sapphire, and carved walnut wood. One ring features diamonds Sheibani had custom cut in Israel that are meant to resemble pots stacked within each other.
Like a lot of original jewelry designs, each piece's success hinges on the skills of stone cutters and goldsmiths that fabricate Sheibani's designs, brining sketches and plans to life.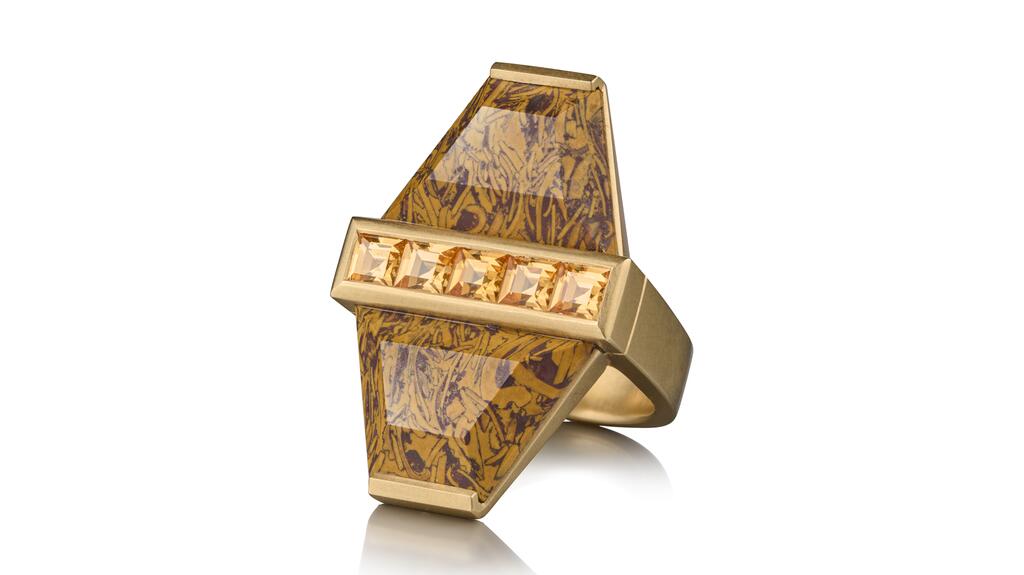 The various gemstone and metal plants are named after specific artisans to pay tribute to them.
Sheibani said she was inspired to do so by a book on Andrew Grima that credited the craftspeople who worked on each piece. Sheibani realized she works with the next generation of artisans employed at many of the same companies as Grima's.
In addition to rings and cuffs, Pottering Around also has long, dangling drop earrings hung upside down from their pots that create a dramatic silhouette.
The most complicated jewel in the bunch is a transformable ring, which presented Sheibani with a new design challenge.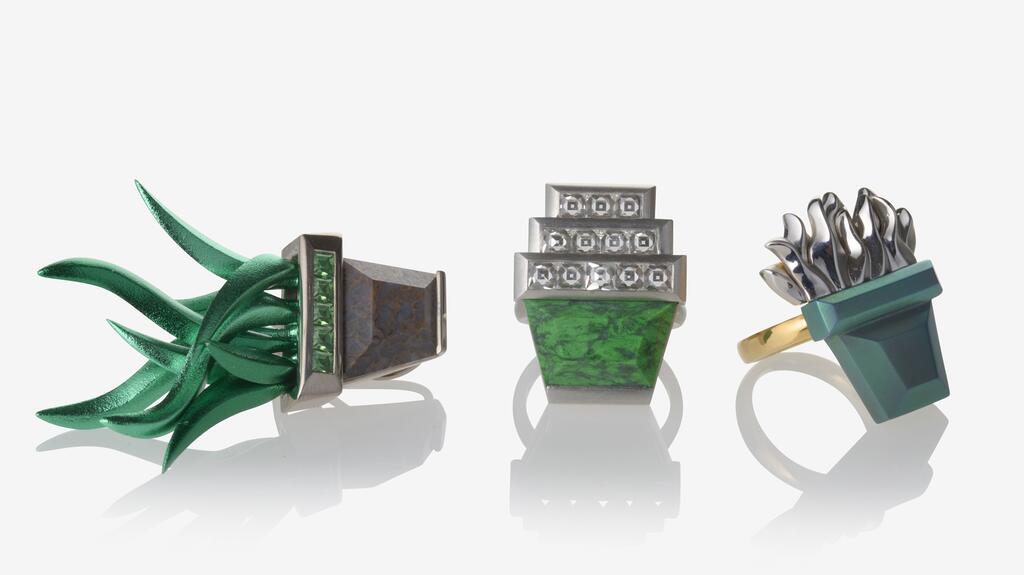 Just as Sheibani "pottered around" moving plants from one pot to the other, the special ring allows the wearer to change the plant in the ring's pot.
The collection is on view at Sotheby's East Hampton from Aug. 11-21. It starts at about $1,700 for a small ring, while the most expensive piece is a $50,700 cuff. Most rings are priced over $5,000 and earrings over $20,000.
Sotheby's East Hampton
is open Tuesday to Sunday from 11 a.m. to 5 p.m.
 Related stories will be right here … 
More on Collections