Antique Show Observations From a First-Time Attendee
Associate Editor Lenore Fedow shares her impressions of the Las Vegas Antique Jewelry & Watch Show and a few of her favorite finds.
This year marked my second trip to Las Vegas jewelry shows, and it was a whirlwind.
After a few days of bouncing between JCK and Couture, my last stop was the Las Vegas Antique Jewelry & Watch Show.
I'd meant to go during my first market week back in 2019, but time got away from me. Whenever I told anyone I hadn't been yet, I got the same response: "You have to go to the antique show!"
So off I went. Sunday morning, I hopped in an Uber and headed over to the Las Vegas Convention Center.
After being at the glitzy Couture show and the bustling JCK show, the antique show seemed quiet and understated. There was no espresso bar or showcase stage; just simple booths set up one row after the other.
What the show floor lacked in pizazz, it made up for in jewelry treasures.
I was certain the first booth I stopped in had the most amazing jewelry I'd ever seen, until I got to the next one, and then something even better would catch my eye, and so on.
At Couture and JCK, I'd made appointments and was running from one to the next from morning to late afternoon.
At the antique show, I had just one appointment, so I was free to roam.
I also enjoyed a sense of anonymity there. Not that I'm famous by any means, but people at JCK or Couture have seen me at events or press previews, so there's a lot more stopping to chat.
While I like to catch up with jewelry friends, it was nice to walk around the antique show undisturbed.
Usually at trade shows, exhibitors perk up when press comes by, excited to tell me all about their jewelry and company.
My experience at this show was somewhat different. I had a handful of painfully awkward encounters where the person behind the counter couldn't care less who I was or what I wanted to see.
Now, I don't need or expect any special treatment. As someone who is not a buyer, I'm mindful of taking up too much of a person's time and keeping them from a sale, especially without an appointment, but a little courtesy goes a long way.
With that being said, one of my first stops was
Bella Antiques
, a New York-based antiques dealer.
They had a treasure trove of beautiful jewelry, including a massive malachite heart and a showstopper of a citrine ring.
Next, I wandered over to
Isi Fischzang Jewelry & Antiques
, another New York-based company, specializing in estate jewelry and antiques.
I received a warm welcome here from the booth attendant, a fellow New Yorker who was happy to show me some jewelry and offer suggestions on other booths I should visit.
Animal motifs are currently trending in jewelry, but designers have been
imagining all kinds of creatures
as jewels for hundreds, if not thousands, of years.
At the Isi Fischzang booth, I saw this gorgeous gold snake brooch, set with diamonds and colorful gems.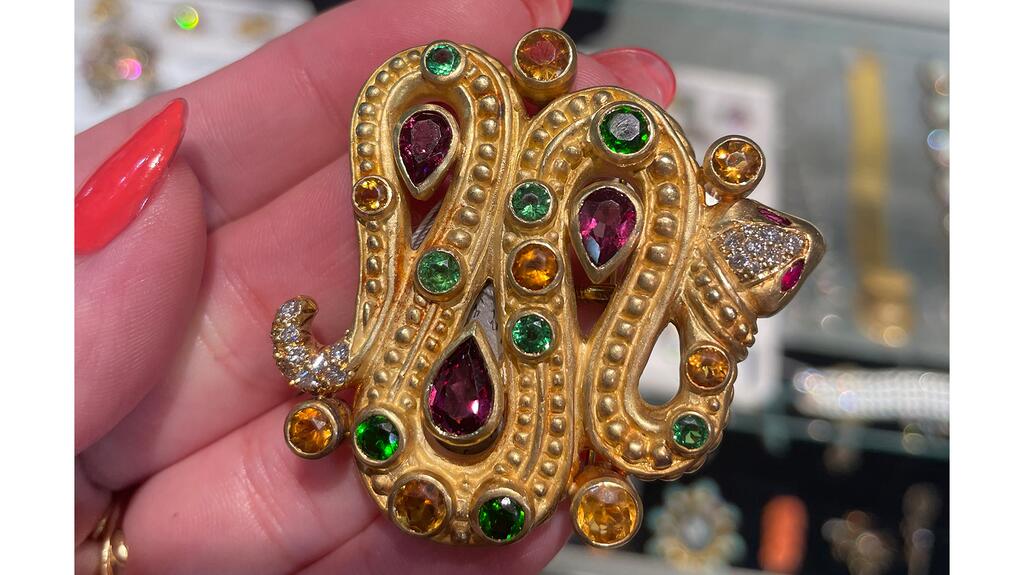 One of my favorite pieces of the day was this stunning crocodile ring, seen in the top image, dripping in diamonds with bright green eyes.

After my visit with Fischzang, I walked over to the Chris Enebo Antique Jewelry booth. The Colorado-based exhibitor's booth was a favorite stop of the day.


 Related stories will be right here … 
As a huge fan of cameo jewelry, I could've stayed there for hours.
The booth attendants were incredibly knowledgeable. For every piece in the case, they had an interesting fact to share.
If you like the phrase, "behind every great man is a great woman," this Hercules cameo may be the perfect fit.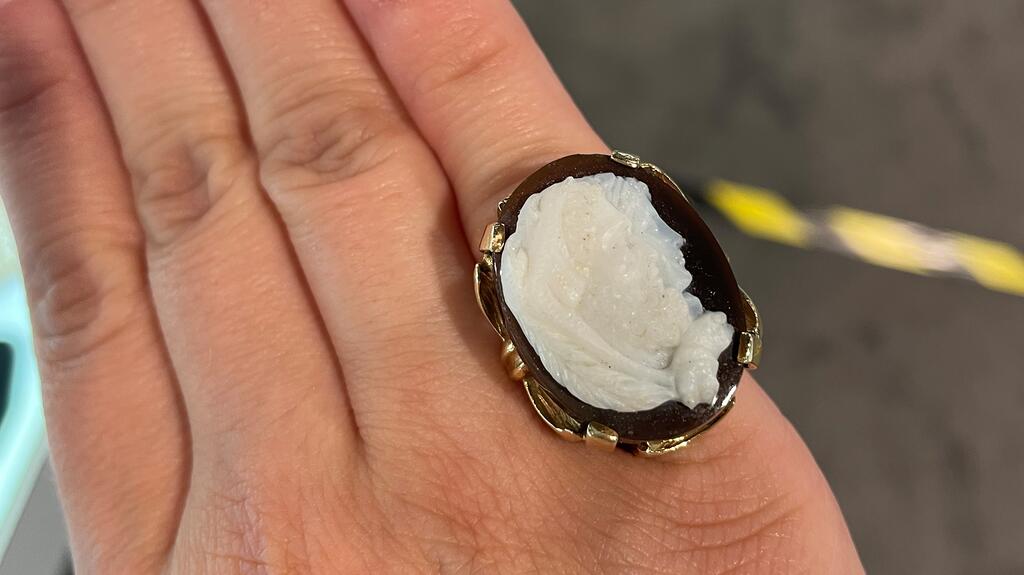 If you just like gorgeous cameo rings, then check out this ring below.
My last stop of the day was my only appointment. I finally got to meet Konstantinos Leoussis of
KIL N.Y.C.
I
wrote about
Konstantinos, who is both a jewelry designer and an antiques seller, last fall, but had yet to say hello in person.
The draw of antique jewelry is the story, and he knows his history.
Konstantinos travels across Europe to source his jewelry, specifically looking for pieces from the late Stuart to the Edwardian era, though he collects pieces that interest him from all periods.
I went through trays and trays of dazzling jewels, but I'll just share a handful of my favorites below.
Overall, I enjoyed my first time at the antique show. 

Next year, the show will be held at the Wynn, where Couture also takes place, which should make it more convenient to visit.

Regardless of the location, to hold that much history in your hands is an incredible experience, and it's one of the many moments during market week that I felt an overwhelming sense of gratitude. 

After several days of trade shows, when my feet were sore and I was in desperate need of a nap, I reminded myself that I have a job that "requires me" to fly to Vegas and spend my days trying on millions of dollars of beautiful jewelry, and the urge to complain subsided. Somewhat.

Covering this industry has been an adventure, one I'm excited to continue.
More on Editors
Editors
Jul 05, 2023