5-Carat Paraiba Tourmaline Ring to Hit the Auction Block
It's predicted to sell for up to $484,000 during the Bonhams Hong Kong Jewels and Jadeite auction on June 22.
Hong Kong—Perfect for the summer auction season, a stellar example of one of the most popular vivid blue gemstones will hit the auction block at Bonhams.
During the auction house's Hong Kong Jewels and Jadeite sale on June 22, Bonhams will offer a 5.09-carat modified shield brilliant-cut Paraiba tourmaline.
The stone has been set in a ring accented with pear and marquise diamonds weighing 1.91 total carats and set in platinum.
The piece is accompanied by reports from both AGL and GIA stating the tourmaline's Brazilian origin.
Bonhams estimates the ring will sell for between HK$2.7 million and HK$3.8 million, or between about $341,000 and $484,000 at current exchange rates. At the high end, this would equate to about $95,000 per carat.
The auction of the stone comes at a time when the Asian gemstone-collecting community is starting to explore new stones beyond the "big three" and diamonds, the auction house noted.
"The market price of Paraiba has soared in recent years. The 5.09-carat Paraiba offered in the spring sale is enormous and an example of this size is hardly ever found at auction. We are expecting fervent bidding among collectors, from Asia in particular."
Other notable lots in the sale include the ring pictured below, set with a 6.99-carat cushion-shaped Kashmir sapphire and 3.00 carats of pave diamond accents in platinum, estimated to go for between HK$3 million and HK$4.5 million, or about $382,000 to $573,000; and a ring designed as a flower, centered on a 4.84-carat round brilliant-cut fancy vivid yellow diamond and diamond pave that's estimated to garner HK$2.3 million to HK$3 million, or about $293,000 to $382,000.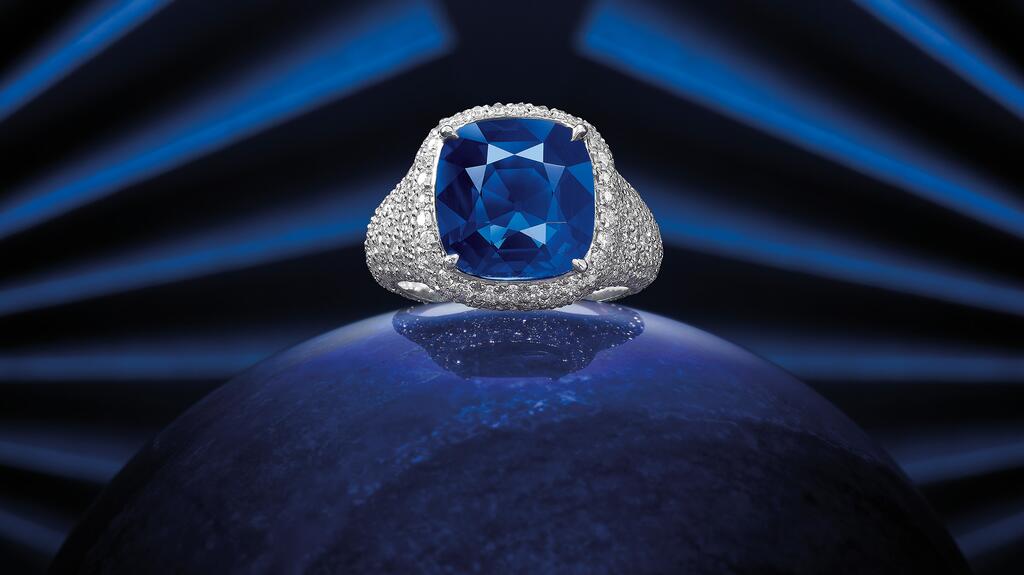 Additional highlights include a bracelet designed as a twin-row of oval and cushion-cut Burmese sapphires (45.00 total carats) interspersed with pear and round brilliant-cut diamonds (24.70 carats), estimated at between HK$1.5 million and HK$1.9 million ($191,000 to $242,000); and a 5.78-carat emerald and 4.10-carat diamond toi-et-moi ring, estimated to garner HK$1.3 million to HK$1.6 million ($166,000 to $204,000).
The auction will also include a collection of more than 20 Buccellati jewels featuring classic designs from the brand from the 1970s to the 1990s.
There's a Buccellati ruby and diamond ring expected to garner HK$160,000 ($20,400) to HK$280,000 ($35,600), and an 18-karat gold and diamond cuff estimated to garner HK$120,000 ($15,300) to HK$220,000 ($28,000).
For more information, visit
Bonhams.com
. 
 Related stories will be right here … 
More on Auctions