JAR Jewels Smash Auction Estimate at Christie's New York
"The Light of Africa" 103-carat diamond also went above its pre-sale estimate, garnering $20 million in the "Magnificent Jewels" auction.
New York—The JAR jewels from the estate of Ann Getty were an undeniable hit at the Christie's New York Magnificent Jewels sale Wednesday.
The 12 jewels that sold during the auction went for a total of $5.1 million, well outselling the $1.5 million
Christie's predicted
the collection might garner. 
Joel Arthur Rosenthal—commonly known by his initials, JAR—is an American designer beloved by discerning collectors. Rosenthal opened his Parisian studio in 1977, crafting one-of-a-kind jewels that reference nature, historical architectural elements, and textile-like patterns.
Getty was a longtime JAR collector, and sometimes loaned pieces from her collection to exhibitions, including the JAR retrospective at the Metropolitan Museum of Art in New York City in 2013, a JAR exhibition at London's Somerset House in 2002, and the "Masterpieces of French Jewelry" exhibition at the San Francisco Legion of Honor Museum in 2007.
Married into the famed Getty family, Ann was a philanthropist, socialite, and publisher.
The top lot from her collection of JAR jewels that went under the hammer Wednesday was the "Parrot Tulip" brooch seen at the top of the page.
Featuring rubies, sapphires, garnets, tourmalines, and diamonds, the 1991 brooch was estimated to sell for $200,000 and $300,000 but ended up garnering $831,600.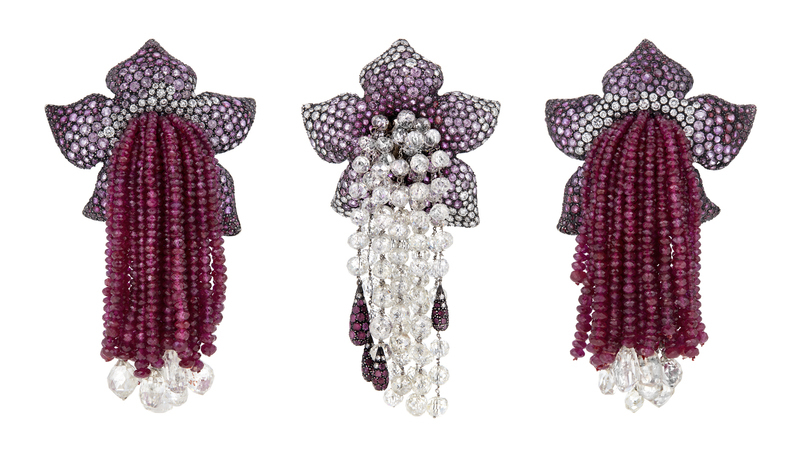 There were also the above three "Fleur Pompons" brooches from 1989 featuring diamonds, rubies, and sapphires. Originally estimated to earn between $200,000 and $300,000, the trio garnered nearly double that at $579,600.
A pair of "Oak Leaf" earrings featuring tourmalines, garnets, amethysts, sapphires, emeralds, and diamonds from 1998, predicted to fetch $100,000-$150,000, smashed that estimate at $504,000.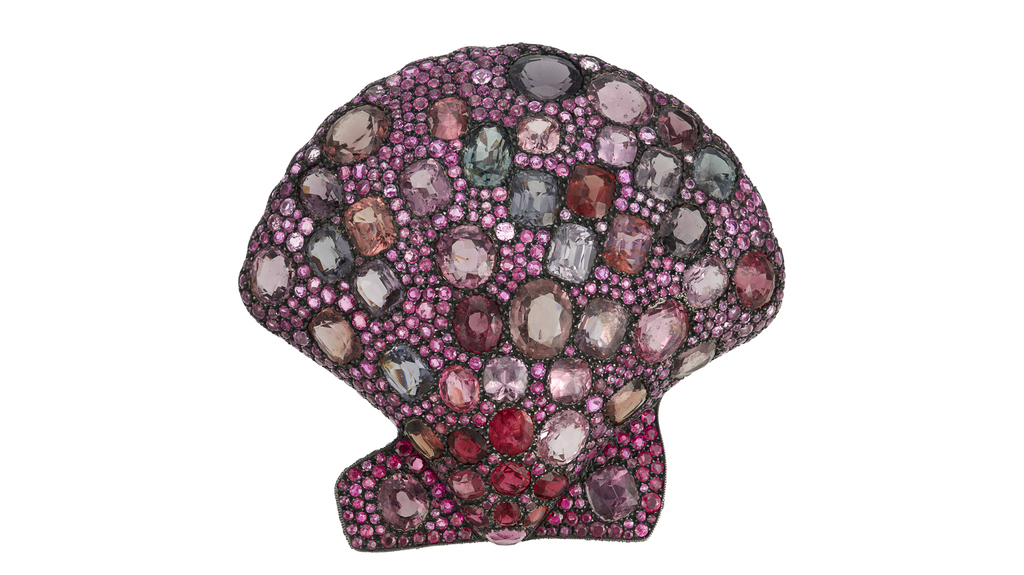 Of the 12 JAR lots on the auction block, there was only one final price that fell within the pre-sale estimate range rather than over it, with many going for at least twice the high amounts.
A portion of the proceeds from the Ann & Gordon Getty Collection sold will be given to a Ukrainian relief fund.
Other notable jewelry lots also shone brightly at Wednesday's auction.
First off was the jewelry auction's top lot, "The Light of Africa," pictured below.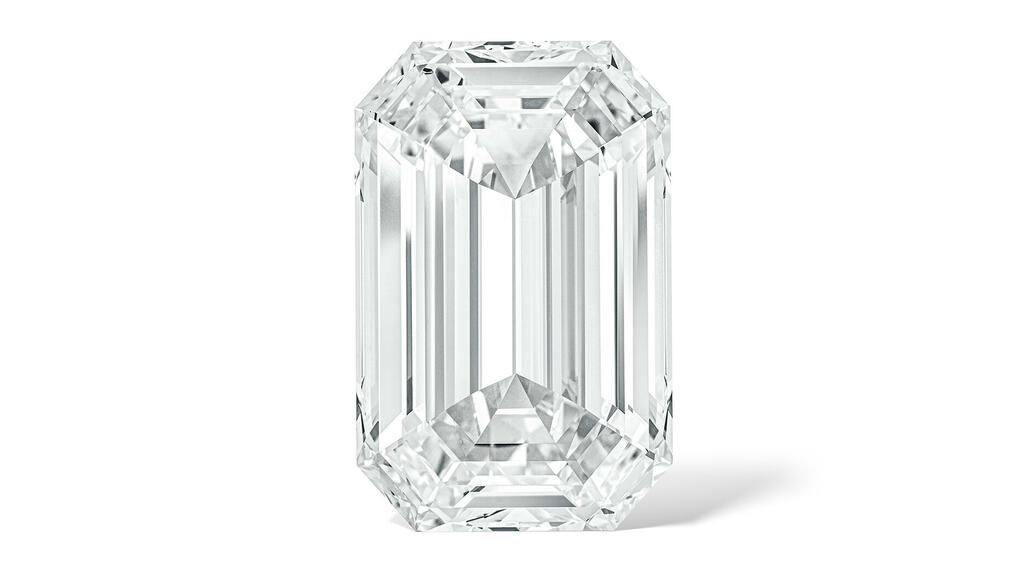 The D-color, flawless, Type IIa emerald-cut diamond weighing 103.49 carats was estimated to sell for between $11 million and 18 million, but ended up garnering $20 million.
It was cut from a 299.3-carat piece of rough uncovered by Petra Diamonds at the storied Cullinan diamond mine in January 2021.
Petra sold the diamond to Dubai-based Stargems in March 2021 for $12.18 million.
Following that was a necklace featuring a heart brilliant-cut diamond weighing 76.46 carats, 46 heart brilliant-cut diamonds between 0.46 carats and 3.03 carats, smaller heart-shaped diamonds, pear brilliant-cut diamonds, and round diamonds in platinum and 18-karat white gold.
It sold for within its pre-sale estimate range with a final price of $4.9 million.
At No. 3 was a Carvin French bracelet comprised of diamonds weighing between 0.10 carats and 0.47 carats in various fancy pink and fancy red hues, cut-cornered rectangular modified brilliant-cut diamonds, 18-karat rose gold, and platinum. It went for just above its pre-sale high estimate, selling for $2.7 million.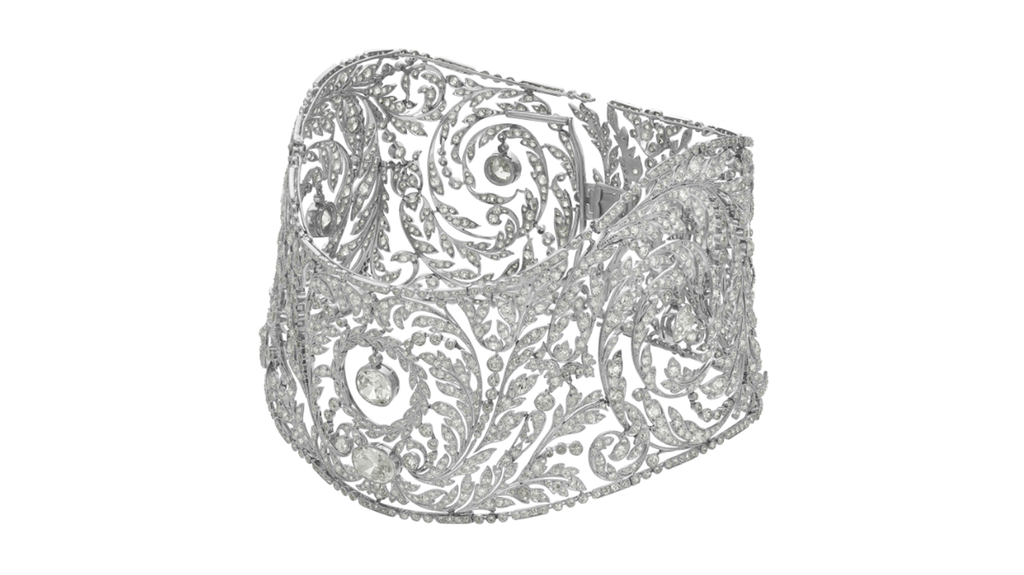 There was also a circa 1955 Harry Winston necklace made with round, baguette, and pear-shaped diamonds in platinum that nearly doubled its pre-sale high estimate when it garnered $970,200, and the circa 1910 Belle Epoque diamond choker necklace pictured above that obliterated its $60,000-$80,000 pre-sale estimate with a final price of $409,500.
The Christie's New York Magnificent Jewels sale totaled $48.9 million on Wednesday. View the full results on
Christies.com
. 
 Related stories will be right here … 
More on Auctions