See the 'Graffabulous' High Jewelry Collection
Graff has shared the first of its six-part 2022 high jewelry array.
London—With an array of stunning jewels in its 2022 "Graffabulous" high jewelry collection, Graff is rolling out designs bit by bit.
The first of six parts to Graffabulous is out today, captured in a special campaign.
Titled "The Legend of the Mermaids," it comprises three elaborate jewelry sets, with a focus on necklaces.
Graff Design Director Anne-Eva Geffroy explained in a statement from the London-based design house that its high jewelry designs are guided by the rare stones they feature.
"As designers, we listen to the songs the stones are singing, focusing on the music and the rhythm," she said.
"Like the ripples that emanate outwards when a stone is dropped in water, the tempo increases as the jewels graduate in size until they reach a crescendo: a central motif where the full force of these natural gemstones is concentrated."
Graff noted that the new high jewelry collection's precursor, the
"Tribal" collection
, also proved to be inspiration.
As with Tribal, accent diamonds used in Graffabulous were often cut into fancy shapes to better harmonize with larger stones.
The Legend of the Mermaids chapter isn't overtly sea-inspired. Rather, it focuses on fancy vivid yellow diamonds that call to mind the ocean's horizon line as the sun rises and sets.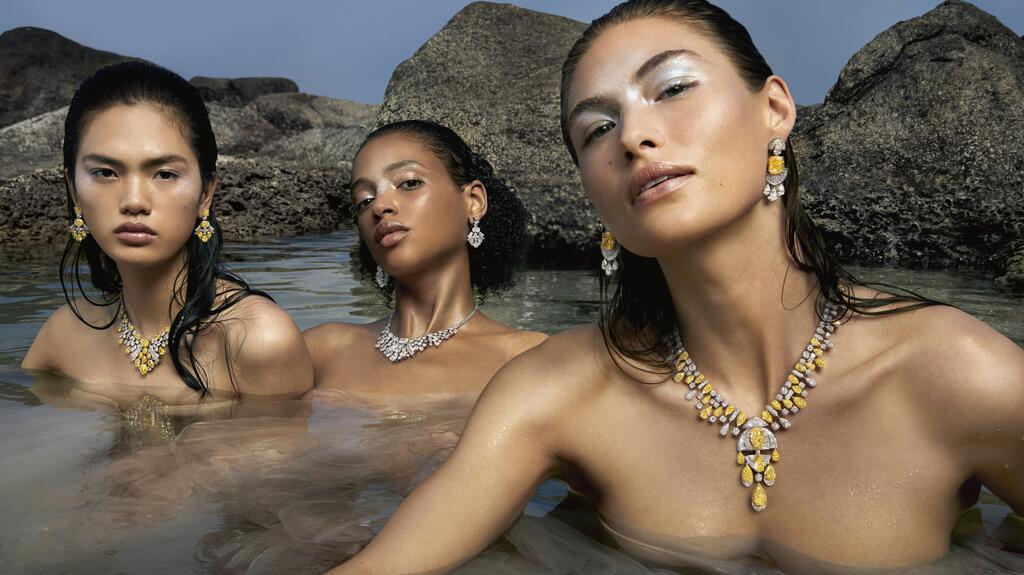 The campaign for the first chapter, however, is a more obvious reference to the mythical goddesses of the sea.
Graff enlisted three models—Grace Elizabeth, the company's new muse; as well as Aya Jones and Qun Ye—pictured on a rocky coast and partially submerged in the sea to depict its mermaid interpretation. 
Each is wearing a different Graffabulous suite, led by an elaborate necklace and complemented with earrings, bracelet or cuff, and ring. 
Two sets mix fancy vivid yellow diamonds and colorless diamonds, while one features only colorless diamonds. 
The company said to expect more superb color in the forthcoming five chapters, and not just colored diamonds.
In total, Graff said Graffabulous features more than 3,600 carats of gemstones: 1,877 carats of white diamonds, 678 carats of yellow diamonds, 616 carats of sapphires, 414 carats of emeralds, and 101 carats of rubies.
In total, there are 20 necklaces and 25 rings.
Explore more of Graff's high jewelry offerings
on its website
.
 Related stories will be right here …
More on Collections
Collections
Nov 27, 2023