All About J. Lo's Rare Green Diamond Ring
It's the most unique of the entertainer's engagement rings yet.
New York—Jennifer Lopez has debuted her rarest diamond engagement ring yet. 
News broke over the weekend of the actress-singer-entrepreneur's engagement to rekindled flame Ben Affleck, with Lopez sharing a video engagement announcement via her newsletter.
In the video, she sported a large green diamond, estimated to weigh 8.5 carats, on a platinum or white gold band, flanked by two white diamond side stones.
A clip from the video shared by a J. Lo fan account can be seen below. 


According to the Gemological Institute of America, green diamonds are extremely rare. They are found in South America and Africa. 
From 2008 to 2018, diamonds with a "pure" green, blue, or red color comprised less than 0.07 percent of all diamonds the GIA received for grading worldwide. 
In an article published in
"Gems & Gemology"
in 2018, Christopher M. Breeding, Sally Eaton-Magaña, and James E. Shigley wrote that green diamonds are the result of structural defects from radiation exposure, or nitrogen, hydrogen, or nickel impurities. 
Since the 1940s, people have used laboratory irradiation treatments to achieve a green color in diamonds, mimicking the process that happens as a result of radiation exposure. 
Therefore, the authors wrote, it can be difficult to ascertain if a diamond's green color is naturally occurring or man-made. 
There is record of large, naturally occurring green diamonds, however. The largest is the 41-carat "Dresden Green" recovered in India from the famed Golconda mines sometime prior to 1722. 
In the modern era, natural green diamonds have fetched millions per carat at auction. 
The 5.03-carat
"Aurora Green"
sold for $16.8 million, or more than $3 million per carat, at auction in 2016, while the 5.5-carat "Ocean Dream" blue-green diamond earned $7.8 million, or $1.4 million per carat, in 2014. 
Experts underscore how rare and unexpected Lopez's green diamond is. 
"A green diamond is a bold and unique choice, appropriate for J. Lo," said Ben Bridge Jeweler President and CEO Lisa Bridge. "A ring like this may cost upwards of a few million dollars."
Colored diamond expert Brian Denney of
Gems of Note
said from the photos he's seen, he would guess Lopez's rock is a fancy intense green-yellow diamond. 
"I think it's one of those unique stones that has almost a neon appearance due to strong green fluorescence," Denney told National Jeweler. 
Fluorescence can create a glowing effect. Certain colored fluorescent diamonds "almost look like a highlighter," Denney explained. "It's a really unique characteristic and one of my favorite color features in diamonds. They just glow."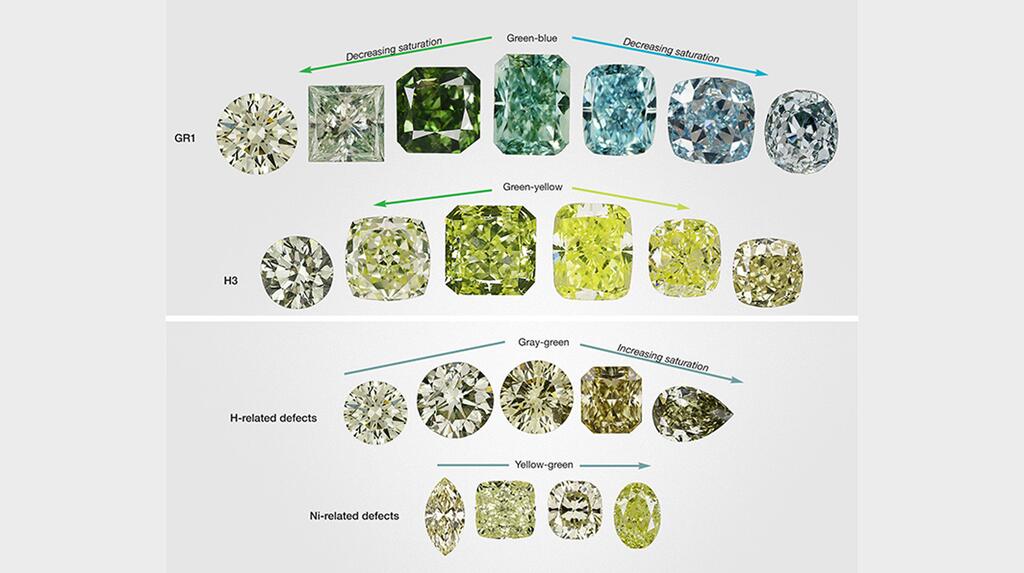 Denney estimated Lopez's rare green-yellow diamond to cost $1 million per carat, for a total price tag of $8.5 million. 
Brittany Wyeno,
Shane Co.
's director of stone inventory, has a more conservative price in mind.
"In comparing it to similar natural fancy diamonds currently on the market, our guess is that the retail price of this 8.5-carat ring falls anywhere from $1 million to upwards of $5 million," she said, noting the stone is "incredibly rare." 
Lopez's newest ring continues the colored diamond trend for the celeb. Of Lopez's six known engagements, three have featured colored diamond center stones.
Most famously, Affleck proposed to Lopez the first time around in 2002 with a Harry Winston pink diamond (see below) reported to be 6.1 carats and costing between $1.2 and $2.5 million dollars.
SEE: Jennifer Lopez's 2002 Diamond Engagement Ring from Ben Affleck 
Embed from Getty Images
"After their first engagement with a pink diamond, doing an even more rare colored diamond seems appropriate for their love story," said Bridge. 
Arguably the most famous couple in the world at that time, Bennifer 1.0 called off their wedding and split in January 2004. 
She famously moved on with singer Marc Anthony, and the below light blue diamond, in June 2004. It was reported to be an 8.5-carat blue diamond, also from Harry Winston, costing $4 million. 
Anthony and Lopez had two children together but split in 2011. 
SEE: Jennifer Lopez's Diamond Engagement Ring from Marc Anthony 
Embed from Getty Images
Lopez's first marriage was to Ojani Noa from 1997 to 1998, and there is little information available about Lopez's ring from the pre-J. Lo era, but other relationships have shown her affinity for white diamonds as well. 
When she was married to dancer Cris Judd in 2001 she wore what appears to be a large emerald-cut white diamond solitaire on a platinum or white gold band, as seen in the close-up below. (The two split in 2002 and their divorce was finalized in 2003.)
SEE: Jennifer Lopez's Diamond Engagement Ring from Cris Judd
 Embed from Getty Images
A-Rod also chose a white diamond for his bride-to-be in 2019. 
Alas, the two split in 2021 amid rumors of infidelity on the former baseball player's part.
SEE: Jennifer Lopez's Diamond Engagement Ring from Alex Rodriguez
  Embed from Getty Images
Lopez and Affleck's 20-years-in-the-making romance resumed shortly afterward, with the two confirming their relationship on Instagram with an
interesting piece of jewelry
in August. 
 Related stories will be right here …
More on Sourcing