Kendra Scott, Balfour Commemorate Greek Life
The new Kendra Scott Greek jewelry collection from Balfour & Co. represents 108 fraternities and sororities.
Dallas—Kendra Scott is partnering with graduation products company Balfour & Co. to celebrate Greek life at colleges across the U.S.
The new Kendra Scott Greek jewelry collection from Balfour & Co. offers customizable jewelry for fraternity and sorority members.
The collection includes rings, necklaces, and pendants, representing 108 fraternities and sororities, with additional Greek organizations being added over the next few months. 
There are eight jewelry styles available, including three women's rings, three women's necklaces, and two men's rings.
"Bringing these styles to an exclusive Greek life allows us to offer additional pieces they can't get anywhere else," said Jaclyn Cannon, Balfour's chief marketing officer, in a press release about the partnership.
The customizable pieces are available exclusively through Balfour's
website
.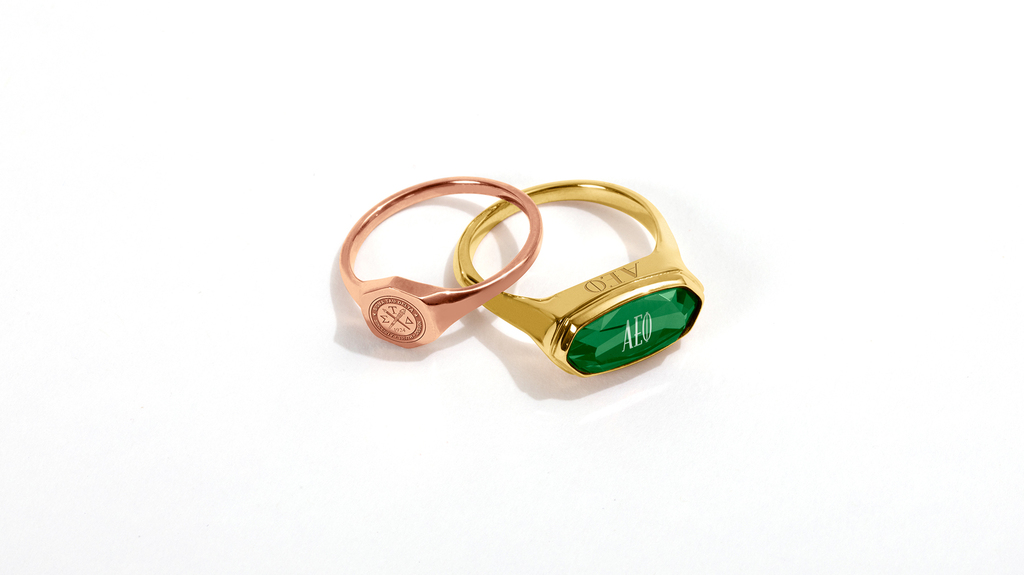 Students can choose from a variety of metal options, including sterling silver, argentum, and 10-,14-, and 18-karat gold in white, yellow, or rose.
Stone choices include mother of pearl, black onyx, and synthetic navy blue spinel, as well as doublets of simulated golden topaz, turquoise, and simulated Kyocera opal, each backed by a synthetic spinel.
Prices vary by style, ranging from $220 for a sterling silver ring without a stone to $791 for 18-karat gold ring with a stone.
The pieces can be engraved with the organization's Greek letters, crest and logo, and other details, like a member's initials, pledge date, and offices held, can also be added.
 Related stories will be right here … 
"We are proud to offer our customers such a remarkable way to commemorate their Greek experience and make it truly unforgettable," said Ryan Esko, CEO of Balfour & Co.
Balfour has partnered with Kendra Scott before on a line of class rings for both high school and college graduates, which Esko described as "highly successful."
"The response from customers on the Kendra Scott class rings collection has been beyond our expectations," said Scott Blevins, chief product officer at Balfour & Co.
Balfour operates as a one-stop-shop for graduation products, offering custom class rings as well as yearbooks, caps and gowns, and through GradImages.com commencement photography. Its brands also include ArtCarved and KeepSake.
"We are excited to further our partnership with Balfour, to offer our customers beautiful and custom jewelry to celebrate their Greek experience and to have as a forever keepsake," said Tom Nolan, CEO of Kendra Scott. 
"The quality of this exclusive collection is something we are proud to continue providing to fraternity and sorority members with Balfour & Co."
To learn more about the collection, visit Balfour's
website
.
More on Majors