Clarté Is Your Source for Accessible Modern Classic Fine Diamond Jewelry
Clarté's attainable fine gold and diamond designs are created for the modern, working woman.
Brought To You By Clarté Jewelry 
Manvi Golcha's Clarté Jewelry, a maker of gold and diamond designs in classic forms with fresh finishes from a Gen Zer, debuted at JCK Las Vegas with a clear goal: to offer fine fashion-forward jewelry at accessible price points for working women.
Manvi's emerging career in jewelry design is partly fated—she is the fourth generation of a family of jewelers—but also a result of quarantining with her mom during the COVID-19 pandemic. In the spring of 2020, Manvi and mother Rimi Golcha bonded over their mutual love of jewelry and fashion. This move gave way to an idea for a company, one that would make modern fine gold and diamond designs more attainable for women like themselves, professionals who want to look good whether wearing a suit or in jeans.
Manvi designs while Rimi handles strategy, pricing and sales. Their target customer? The Clarté shopper wants fine jewelry with real value but can feel alienated by high-end jewelry brands with out-of-reach prices and whose prestige sometimes delivers a chilly reception to would-be clients.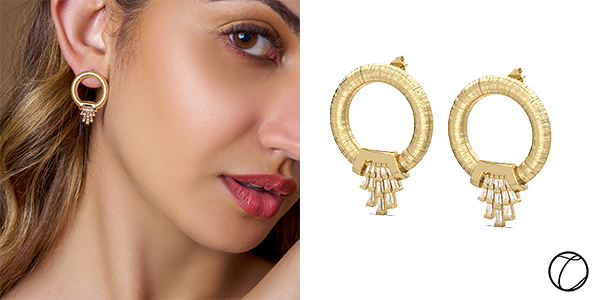 "We see ads for established retailers with amazing craftsmanship and prices that can make you feel like you're not good enough to wear it," explains Manvi. "Then there are more affordable lines, but the jewelry is often quite thin, with very few diamonds. Clarté wants to offer much more—double the diamonds and intricacy of design at better prices than much of what's currently offered in the market." 
Clarté is French for clarity and speaks to the budding brand's desire to be fully transparent in every move it makes. Pieces are handmade largely in New York City (and sometimes overseas during rush periods) by seventh-generation craftsmen who are treated like family, working in safe environments with paid leave.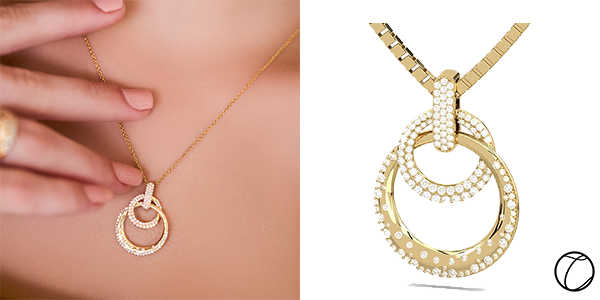 Materials, meanwhile, are sourced from the best dealers in the world, including diamonds that come from those who adhere to Kimberley Process guidelines. (The diamond quality used in designs is VS SI.) Gold comes from certified recycled dealers, and colored stones are from sellers vetted to be certain they are running ethical practices and providing safe working conditions. 
Manvi sketches styles first, then transfers them to the CAD system. Her Fashion Institute of Technology education consists of studies in fine arts and marketing and communications, but her jewelry learning comes from watching her father work at his Valentine Jewels NY Inc., also in the city. Rohit Golcha moved to the States in 1998 to expand operations and sales of his high-end diamond and tanzanite jewelry collections.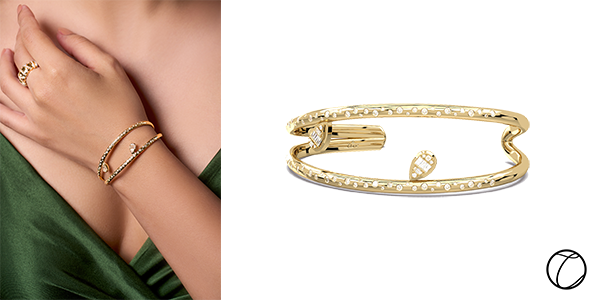 When Manvi's interest in jewelry design became evident at age 10,  he encouraged his oldest daughter to pursue it, giving her free reign to design an initial pendant. She made a flat one, set asymmetrically on a chain, with textured gold spilling over into a petite cluster of diamonds. Years later, a Valentine client tasked Manvi with making a modern version of a five-stone marquise-cut sapphire band, which she executed with a threaded effect that is now part of her design DNA.
More signature looks exist in über delicate handset milgrain (no cast beaded effects), yellow gold, the mixing of finishes like satin, hammered, high polish and clever current applications of illusion settings refined in her dad's line. A tiny diamond accent is also embedded into each piece. "It's another way I can give more to the customer," says Manvi.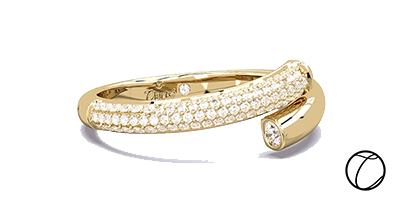 Clarté's debut collections include plenty of fun link designs like curbs, paper clips and more, as well as distinct collections like Formes (geometric shapes), Gatsby (Art Deco influenced), and Essentials (her basics). And while the firm is in its infancy, designs are already finding their way into collector's hands. 
Boston-based Victoria Castura Boylan, a private shopper, met the Golchas in Las Vegas, ordering three Clarté pieces for herself. 
"Her display of jewelry stopped me in my tracks because it was so beautiful," she says. "And I love her mission to empower women to be able to buy and afford their own jewelry."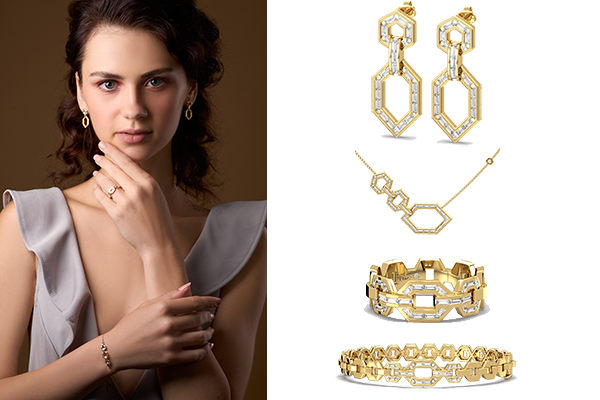 It's a similar scenario for Praveen Gupta of Jewelry Diamond Expo in San Francisco. He snapped up 50 pieces of two different styles at JCK Las Vegas. For Gupta, the designs, craftsmanship, and price points were too good to pass up and were much different than his existing inventory. "I have never seen designs like hers with the added combination of fair price and quality workmanship."
Clarté retail prices start at $800, and designs are delivered within three weeks. Each year, a percentage of sales will be donated to St. Jude Children's Research Hospital as pediatric cancer studies are a cause close to the Golcha family's heart. 


"Every time you buy a piece of Clarté, you will be helping someone," adds Manvi. 
More on Collections