Peek Into Tiffany's Basquiat-Inspired Advent Calendar
Plus, a look into the controversy surrounding the use of the artist's work in the jeweler's new ad campaign.
New York—Brooklyn-born artist Jean-Michel Basquiat was a star of the Neo-Expressionism movement of the 1980s, creating works of art that doubled as commentary on wealth inequality, the experience of being Black in America, and other social issues.
Now, his 1982 painting "Equals Pi*" is the design on the front of a Tiffany & Co. advent calendar.
"Composed of mathematical equations, text, figures, expressive gestures, and symbols, the artwork exemplifies his raw yet methodological approach to his craft," said Tiffany in a press release about the calendar.
The four-foot, white oak calendar opens, like "a cabinet of curiosities," and holds 24 Tiffany Blue boxes filled with jewelry and other gifts.
Each box is numbered with custom symbols that reflect Basquiat's aesthetic. It starts at $150,000.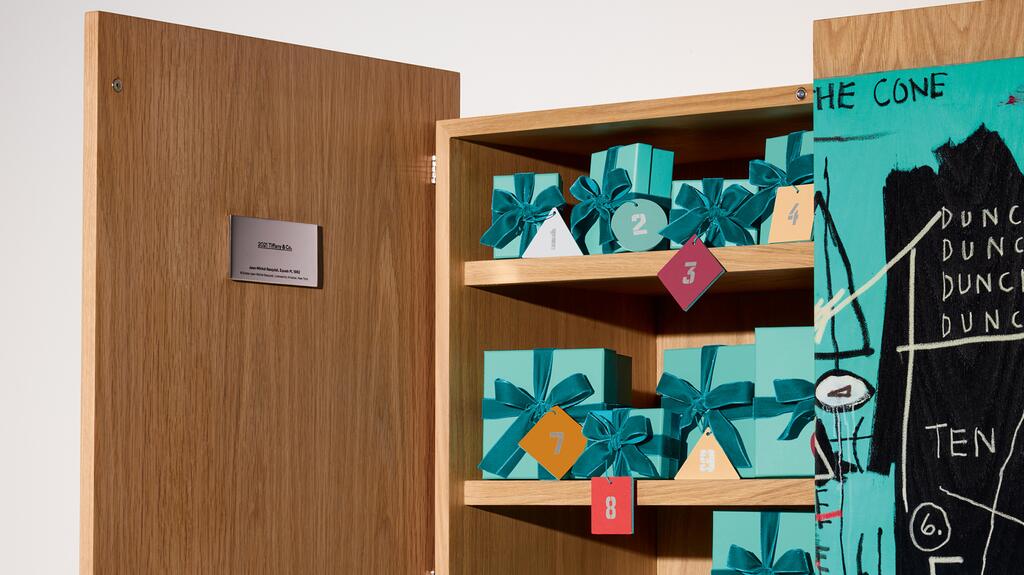 Tiffany is leaving what is inside the boxes a surprise.
The
2019 version
cost $11,200 and included jewelry, watches, ornaments, and perfume.
The painting that inspired the calendar's design was part of a private collection since its creation, but made its first public appearance in
Tiffany's new "About Love" campaign
, starring Beyoncé and Jay-Z.
The unveiling of the painting via an ad campaign for luxury jewelry didn't sit right with some, who took to social media to share their thoughts.





insane to me that rich people can just buy art from artists who have passed and no one else gets to see it, kinda gross imo like these pieces should be able to be seen by everyone, thats literally what basquiat woulda wanted https://t.co/GVb3lRSkAE

— 🌷💫 (@__lukec) August 23, 2021


 
Some argued it was unfair for the wealthy to hoard art away from the public eye and that it was in poor taste to use Basquiat's work in an ad campaign, while others countered it would be impossible to know what the artist, who died at 27, would have wanted.
Basquiat's estate has collaborated with other brands, including Saint Laurent, Coach, Doc Martens, and phone case company Casetify.
The work of his contemporary, Keith Haring, has received a similar treatment, appearing on shirts, tote bags, and a slew of other items.


Alexis Adler, who lived with Basquiat briefly,
told the Daily Beast
she was "horrified" when she saw the painting in an ad.
"The commercialization and commodification of Jean and his art at this point — it's really not what Jean was about," she said.


 Related stories will be right here … 
Adler said Basquiat, who she described as an anti-capitalist, would have preferred his art to hang in a museum where the public could see it, particularly since Black artists are underrepresented in many Western museums.
Tiffany described the calendar as an homage to the artist's work and his "use of unconventional mediums," adding that, in his early career, he painted on everyday objects like windows and doors and used materials like cardboard and plywood. 
Tiffany will donate $250,000 from advent calendar purchases to the organization, with additional details to follow.
More on Majors