Meet the 2022 Gem Award Nominees
They're nominated in the jewelry design, media excellence, and retail excellence categories.
New York—The nominees for the 2022 Gem Awards have been announced.
The Gem Awards honor individuals, stores, and brands that raise the visibility of fine jewelry and watches.
Nine individuals and brands are nominated in three categories, as selected by a panel of judges. Winners will be announced live at the awards ceremony in January.
The jewelry design nominees are: Lauren Harwell Godfrey of Harwell Godfrey, Brent Neale Winston of Brent Neale, and Beth Bugdaycay of Foundrae.
Harwell Godfrey
references ancient textiles and patterns of the African Diaspora, interpreting them in 18-karat gold and gemstones, including bold inlay and ethically sourced diamonds.
California-based designer Lauren Harwell Godfrey designs every piece with healing energy in mind. Her work alludes to block printing and weaving, bringing historical influence into modern pieces.
Harwell Godfrey has a philanthropic ethos. Its "Charity Hearts" series, launched in the early days of the pandemic, donates 100 percent of proceeds
to nonprofit organizations
important to the designer. 
Brent Neale
has created a distinctive brand of playful luxury.
Designer Brent Neale Winston is proud to produce entirely in New York City, relying on her team of local gem dealers, cutters, and bench jewelers to collaborate on her pieces.
A
rainbow of colors courtesy of unique gemstones
complements Brent Neale's signature chunky, bold gold aesthetic. Winston's collection is a garden right out of a fairy tale, made of mushrooms, rainbows, and flowers that awaken one's inner child.
Foundrae's
work is rooted in the timeless power of symbolism.
Co-founded by husband-and-wife team, Murat and Beth Bugdaycay, the brand distills life's purest values—like harmony, wholeness, and true love—into heirloom-worthy keepsakes designed by Beth.
The personal nature of Foundrae's motifs speaks to the universality of jewelry as totems to be carried through a lifetime.
Beth Bugdaycay also was nominated for the 2019 "Emerging Designer of the Year" by the CFDA and the
Gem Award for Retail Excellence
for
the Foundrae store
in 2020.
In the Media Excellence category, the nominees are: Annabel Davidson, Melanie Grant, and Daisy Shaw-Ellis.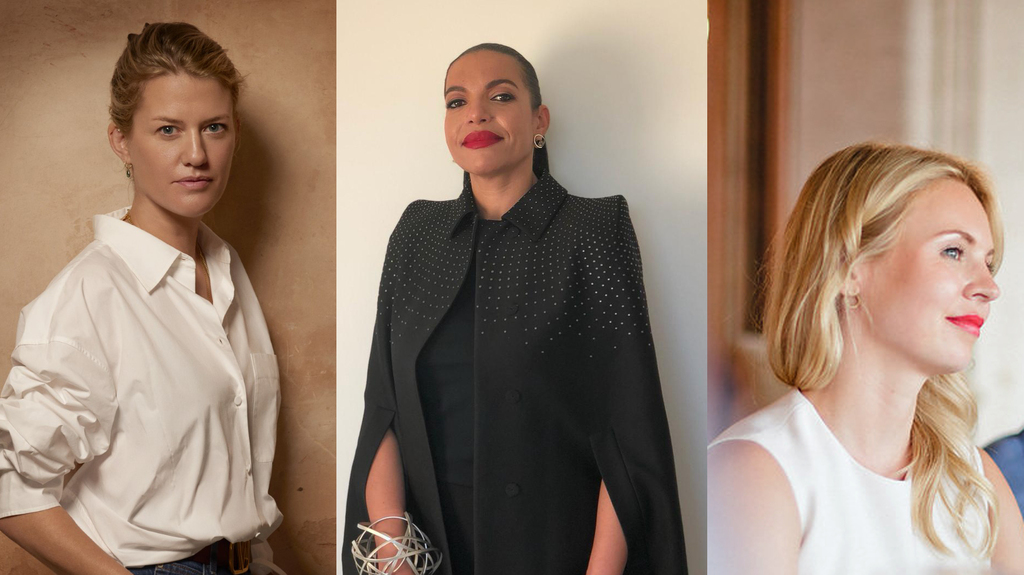 Annabel Davidson
is editor of Vanity Far on Jewellery, a special issue of Vanity Fair produced annually in the United Kingdom.
She is also the jewelry expert for Telegraph Luxury and a contributor for Vogue.co.uk. She has also contributed to British Vogue, Robb Report, and The New York Times.
Davidson is one of the founders of the Jewellery Futures Fund, a nonprofit addressing racial inequality in jewelry. She is also a jewelry partner for the Fashion Minority Alliance, in which she mentors designers from minority backgrounds.
Melanie Grant
is the luxury editor at The Economist's 1843 Magazine.
A journalist with more than two decades of experience, Grant produced a book on jewelry as art, "Coveted: Art and Innovation in High Jewelry," in 2020.
A guest lecturer at several leading institutions, she recently curated the Sotheby's exhibition
"Brilliant & Black: A Jewelry Renaissance."
Daisy-Shaw Ellis
is Vanity Fair's accessories director and Vogue's jewelry director.
Constantly embedded in the jewelry market, she presents the best and brightest talents in collaboration with world-renowned stylists, photographers, and celebrity talent.
Shaw-Ellis writes for Vanity Fair's print edition and contributes digital features to both publications. She is also an annual contributor to Vanity Fair UK's On Jewellery supplement.
The nominees in the Retail Excellence category are: Marissa Collections, Muse, and Saks Fifth Avenue.
Marissa Collections
opened in 1975 with a simple storefront with clothing, jewelry, and accessories that Marissa would personally select and style for individual clients.
The personal attention to each customer remains today, though the store has expanded its Naples, Florida location to a 10,000-square-foot space that is the jewel of the Gulf of Mexico.
Next up for the retailer is a second location planned in Palm Beach.
Muse
has become a multi-faceted fine jewelry entity since originally launching as a sales showroom in 1999.
Founded by Jennifer Shanker, Muse currently operates an e-commerce site and New York City storefront that often doubles as an event space.
The company's charitable initiative, Have a Heart, brings together some of the world's greatest jewelry talents to benefit myriad causes.
Founded in 1924,
Saks Fifth Avenue
is a premiere destination for all things luxury.
Today's customer interacts with Saks via a digital experience, as well as in-store at one of its 41 locations across North America.
In 2019, Saks created a world-class fine jewelry and watches destination with
"The Vault"
in New York City.
As
previously announced
, Stephen Lussier of De Beers will receive the Gem Award for Lifetime Achievement.
The ceremony taking place on Jan. 14 at Cipriani 42nd Street in New York City will mark the event's 20th anniversary.
Proceeds help fund programs that aid Jewelers of America's mission to increase consumer confidence in jewelry and watches.
For sponsorship and advertising opportunities, visit the
JA website
.
 Related stories will be right here …
More on Events & Awards